Hormann Electric Garage Door Offer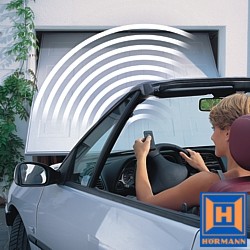 A State of the Art Remote Control Electric Garage Door Package from only £585!!!
Installation not included
Take advantage of our 2017 bundle offer on the superb Hormann Steel Up and Over garage door and electric operator package.
As the leading UK manufacturer of steel garage doors you will be purchasing one of the very best garage doors available as well as a leading state of the art remote control electric operator offering all the benefits of security and convenience as well as excellent reliability.
The Electric Garage Door Bundle Includes:
Garage Door Panel & operating gear
Choose from 4 different high quality Hormann Series 2000 up and over door garage door designs with white powder-coat finished, galvanised steel panels complete with choice of operating mechanisms.
The best and most robust one piece steel up and over garage door you can buy in the UK!
Remote Control Electric Operator
The fabulous new Hormann Promatic Series 3 remote control operator, quiet smooth operation with 2 state of the art hand held remote transmitters as standard. Single piece boom for easy installation.
Option to upgrade to the Supramatic E operator if required for extra functionality
Choice of Gear Mechanism
Retractable operating gear is included as standard. We can also offer the door using canopy operating gear with a bow arm canopy converter kit if you have restrictions internally preventing the use of the retractable gear or need to maximise your drive through width - SAME PRICE!!
VAT is included in the prices shown below. Extra delivery charges may apply for remote areas, please call to check.
Step 1: Select your door design
| | |
| --- | --- |
| 2001 Vertical only £585 | 2002 Horizontal only £585 |
| 2104 Marquess only £685 | 2004 Georgian only £685 |
Step 2: Select your door size
7'0" x 6'6"

7'0" x 7'0"

7'5" x 6'6"

7'5" x 7'0"

7'6" x 6'6"

7'6" x 7'0"
Step 3: Select your fixing subframe
No sub frame required - already have a timber sub frame in place? + £0

70mm steel fixing sub frame + £75.00
Step 4: Select your electric operator
| | |
| --- | --- |
| Promatic Series 3 - included in bundle price + £0 | Supramatic Series 3 - Bi Secur + £55.00 |
All Hormann remote control operators come with 2 handsets as standard. Additional handsets can be purchased on request. Both electric operators are the latest Bi Secur technology Series 3
Please be aware that whilst The Garage Door Centre will make every effort to satisfy all customer requests, we do reserve the right to restrict the areas for which we offer a supply service and that these area restrictions may change at any time without notice.
In addition all orders are subject to survey and the right is reserved to decline any order at the point of survey. How To Order To order your new garage door online simply go to the bottom of this page and choose the appropriate offer and proceed to the secure area.
You will then enter your personal information & card details for the deposit only - deposit will only be taken once we have called and confirmed all information with you. After you have sent these details we will contact you within 24 hours to check the size, colour and any other items you may wish to add to your order.
Alternatively order your new garage door by telephone. Call us during normal office hours directly on (01933) 229135. We can discuss your requirements, arrange the correct size door and process your order for the fastest delivery.
We can also arrange installation if required as a seperate price with a survey if you are nor sure of your dimensions.
Each installation is priced individually. Installation Prices for installation are subject to location & other various factors but will vary from £250 - £450 inc. VAT. and we will survey as required if you are not sure about the best size to order, remove the old doors, carry out any cladding required and other services.
All our own installers are trained, insured and their work fully guaranteed. It may be necessary to recommend the services of a local 'partner installer' to ensure you get the best possible service and price if you are in a more remote location of the UK. Your door and operator will be fully guaranteed once installed and give many years of trouble free use.