Hormann Aluminium Entrance Doors

Hormann Front Entrance Doors
Hormann Aluminium TOP Entrance Doors are made exclusively to your requirements. This range will be replaced shortly by the new ThermoSafe and ThermoCarbon range from Hormann, offering even higher levels of security and insulation for your home. Please call for details now.
When you specify a Hormann TOP entrance door you get the ultimate in German precision engineering and an aluminium front entrance door made to your specification from the ground upwards.
Choose your colour and finish, glazing, locking, handles and of course size to suit the opening perfectly. There are also numerous side elements and top transoms available for wider openings to let the maximum amount of light through to create the perfect entrance to your home.
The insulation properties, the paint and woodgrain finishes. the glazing and seals and the security mechanisms on these entrance doors are some of the best available in the world today and being a precision German made product the whole door is a dream to operate with smooth, balanced hinges and a super low threshold for ease of access.
If you really want to make the best first impression when entering your home then choose a Hormann entrance door
TOP Prestige Style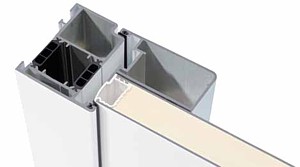 The elegant overlapping-leaf version
In the TopPrestige version, the infill design is mounted onto the leaf profile, thus appearing generous and elegant when viewed from the outside. Inside, it has a pleasing slim leaf profile without strips and without a visible seal.
High thermal insulation
The glued composite structure of leaf and style infill of the TopPrestige versions offers you an entrance door with very high thermal insulation. Its thermal break profile system and the PU-foamed infill ensure that barely any heat escapes to the outside. Depending on the style, we offer you TopPrestige entrance doors with a k-value of up to 1.3 W/m2 K.
Double thermal insulation glazing
For TopPrestige entrance doors with large glazing areas you receive a version with top thermal insulation values. All TOP Prestige doors are double glazed as standard.
They give you the benefit of thermal insulation glazing as standard with a k-value of up to 1.1 W/m2 K.
Created for comfort
The beautifully designed three-way hinges allow the TopPrestige entrance door to be variably adjusted. You can always rely on your entrance door being optimally sealed and falling smoothly and securely into its lock.
TOP Prestige Plus Style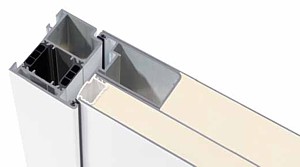 Added thermal insulation and design
With the TopPrestigePlus entrance doors, you can enjoy the highest degrees of comfort. This is because TopPrestigePlus versions are distinguished on the outside and the inside by infills overlapping the leaf. The flush-fitting interior view of the door harmoniously matches the doors of your home.
Use the thermal insulation that sets benchmarks
TopPrestigePlus entrance doors feature an 80 mm thick profile system with thermal break and a 70 mm thick insulated styled infill. With thermal insulation values of up to 1.0 W/m2 K, they are especially suited for fitting into low-energy houses as well as houses with energy consumption values of KFW 40 to KFW 60.
For your additional comfort: triple thermal insulation glazing
Enjoy the triple glazing as standard in all Prestige PLUS models with a k-value of up to 0.7 W/m2K. The resulting minimum thermal loss translates into true energy and financial savings for you.
Functional elegance: Guide rollers
Our standard guide rollers offer you optimal comfort with an understated functional look. Their design guarantees simple and convenient adjustment of the door leaf, allowing you to comfortably and securely close your new entrance door at any time.
Product Range

Download the Colour PDF Brochure (48 pages)
See the Thermopro Steel Range of Entrance Doors

Information on the New ThermoSafe and ThermoCarbon Entrance Doors