Winter Weather
The benefits of adding remote control electric operation to any garage door are obvious to most but the security gained by using a properly specified motor drive unit and ancillary items can be enormous. Basic remote control operators will only lock the garage door at the top part of the door panel but a bit more effort can mean three point locking on your door and a lot more security.
The brand new range of Bi Secur electric operators from Hormann offer state of the art security via 128 bit encypted radio controls and 2 way communication to enable you to see if your garage door is open or closed from an led light on the hand transmitter.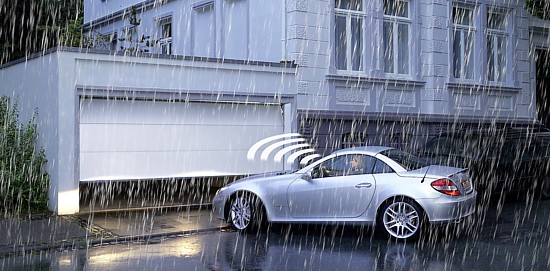 Take advantage of our special offers - click here!
In addition to the discomforts caused by inclement weather personal safety is also an issue that may make you consider an electric opener for your garage door – rather than leaving your car to open your door in the dark, unaware of any opportunist mugger, simply use your remote control handset to open your garage door and drive straight in and close the door behind you. Safer and also infinitely more comfortable than slipping around on snow and ice or getting soaked in a downpour. A further benefit of an electric garage door is the built in courtesy light that automatically operates when you open your garage door. Even if you do not have access to your house from your garage and you have to come out of your garage to enter your house the illumination will provide a safer situation and deter potential felons.
Remote controlled electric garage door openers can be retro fitted to most garage doors – for further information call 0800 525442 or click here to email us directly.
Have a look at just some of the latest remote control electric operators we can offer for your new or existing garage door



Information on automating Up and Over Garage Doors >

Information on automating Hinged Garage Doors >

Information on automating Canopy Up and Over Garage Doors >