Hormann Rollmatic
Save up to 25% on the Hormann Rollmatic insulated double skinned aluminium roller shutter!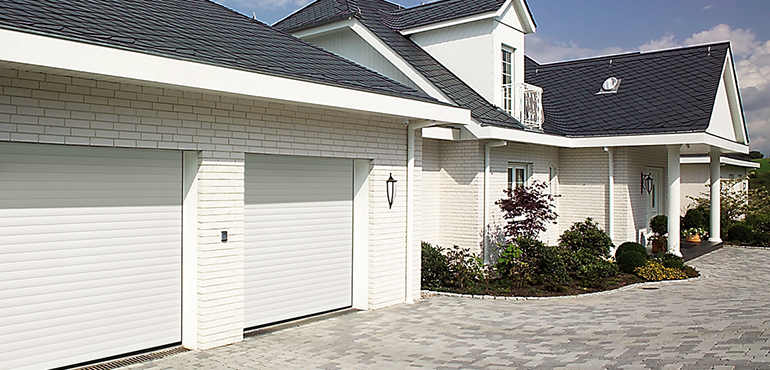 If you want a remote control roller garage door without any hidden extras and a full blown specification as standard, and is fully compliant with every requirement then look no further.
Save up to 25% with professional installation included and fully qualified guarantees all included as well as a professional survey to ensure the perfect size and specification is ordered for your garage.
What is the Hormann Rollmatic?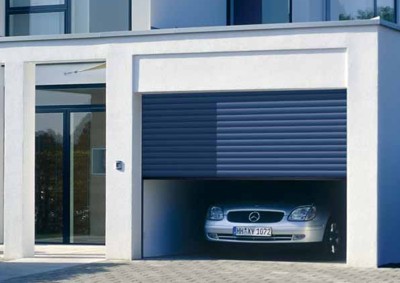 The Hormann Rollmatic is an all new electric operated aluminium roller shutter garage door constructed from the highest quality double skinned aluminium foam filled slats to produce a very strong, smooth finish curtain that is always tailored to suit the garage opening perfectly.
It is electrically operated as standard with control of the door using any of the enormous range of current Hormann control accessories already offered for their many other electric operators. Standard operation is with 2 remote control handsets and an internal push button on the control panel with integrated light and manual override.

Why is it so different?
The Hormann Rollmatic has been designed from the outset using the tried and tested technology of the very successful Hormann low voltage 24V DC motor from their existing garage door operators sold in thousands every month. Driving the door curtain from the left hand side via a gear drive with tension spring balance on the other side the overall door balance is perfect.

Emergency manual override operation in a power failure is a simple pull cord release internally to then be able to open and close the door effortlessly bacuase of the spring balancing system rather than using a winding handle system as on all other insulated roller doors.
Download Hormann Rollmatic colour brochure PDF >
What this Offer includes!
Hormann Rollmatic (Single)

Up to 2250mm x 2250mm - Now only £1885

Price includes survey and installation*

Hormann Rollmatic (Double)

Up to 4500mm x 2250mm - Now only £2380

Price includes survey and installation*
*Subject to location.
Please be aware that whilst The Garage Door Centre will make every effort to satisfy all customer requests we do reserve the right to restrict the areas for which we offer an installation service and that these area restrictions may change at any time without notice. In addition all orders are subject to survey and the right is reserved to decline any order at the point of survey.
Standard Equipment
Absolutely everything is included in the basic door package for most peoples applications:
Internal impulse control panel with courtesy light.

1 mini HSM 4 button transmitter and 1 micro HSE 2 button transmitter all with the new Bi Secur technology from Hormann

Automatic safety cut out with obstacle detection

Soft start and soft stop operation

Emergency release from inside garage with simple pull cord

Full aluminium powdercoated hood to enclose roll and provide a fascia at front

Colour matched guides and fascia for ALL colours even Decograin finishes

Wind load rating Class 5 from standard storm anchors in the guides

Integrated mechanical door security kit

Insulated fully colour finished surface

Fully CE compliant with new regulations from July 1st 2013



Optional Accessories
Emergency exterior manual release if no pedestrian access is available

Emergency Battery back up for operation in power cuts

Acoustic door alarm security kit for added security

Glazing sections (maximum of 10 rows in any door) for natural light

Chamfered bottom profile for sloping floors

All the Hormann accessories for control in the standard garage door operator range including various transmitters, finger readers, card readers, timers and many more.
This special promotion offer does not include any trims, fascias or infills. Power must be available within 3 metres of the electric generator head unit. This offer is restricted to the counties listed below:
Installation Areas for Offer Prices Shown
| | | |
| --- | --- | --- |
| - Northamptonshire | - Leicestershire | - Bedfordshire |
| - Warwickshire | - Cambridgeshire | - Buckinghamshire |
| - Oxfordshire | - Hertfordshire | |
We can also supply and install throughout the UK - phone 0800 525 442 or email for additional installation prices if applicable. Prices subject to survey and specification.