Road Works
Coming to see us and our showroom? Let us show you several route options to avoid some current roadworks...
PLEASE NOTE: Ignore signage saying 'Road Closed' as, although the road is closed, it is the railway bridge section only and access to us is normal.
If you follow the current suggested 'alternative route' you will end up the wrong side of the bridge to get to us!!
This route refers only to our SHOWROOM address - The Garage Door Centre's Spares Department is based at a different location.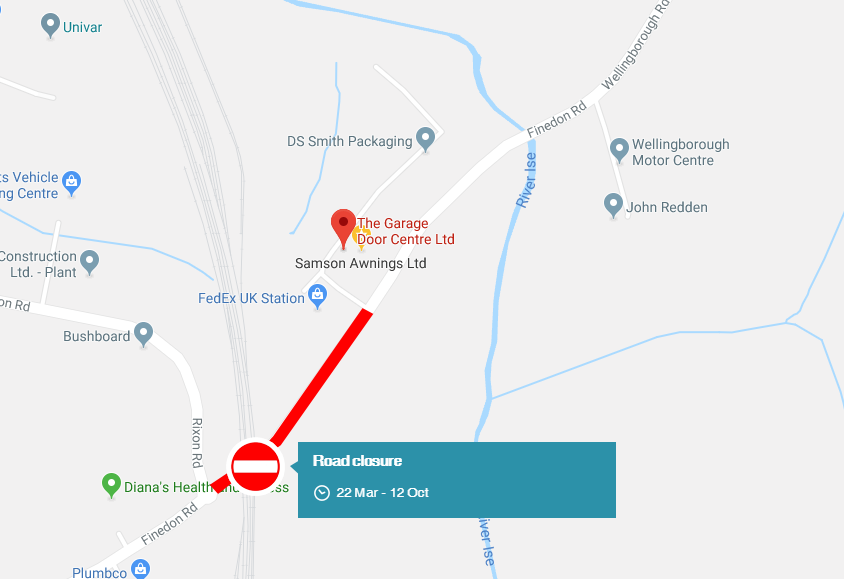 The Garage Door Centre
6-8 Meadow Close
Finedon Road
Wellingborough
Northamptonshire
NN8 4BH
Opening Times
Monday 8.30am to 5.30pm
Tuesday 8.30am to 5.30pm
Wednesday 8.30am to 5.30pm
Thursday 8.30am to 5.30pm
Friday 8.30am to 5.30pm
Saturday 9:00am to 4.00pm
Sunday Closed
More details... Get Directions
Due to Roadworks on Finedon Road starting 22nd March 2018 - October 2018 there will be a diverted route to access the The Garage Door showroom
Information for Road Users
1 Cause: Roadworks
Closure in force: All the time
Name: TTRO(17/18) 984
Description: Network Rail closure of bridge structure to allow the demolition and reconstruction. Closure between Rixon Road and Meadow Close.
Diversion Routes