Sectional Overhead Doors

Sectional Garage Doors are fast becoming one of the most popular garage door type on the UK market. Thanks to their unique vertical opening system a sectional garage door gives you with more space on your driveway and a more secure form of garage door security. The effortless operation at any size is a refreshing change to hoisting up a one piece up and over door.
2 of the highest quality sectional garage doors available in the UK today and industry leaders in Europe - Hormann and Carteck sectional garage doors are available from The Garage Door Centre.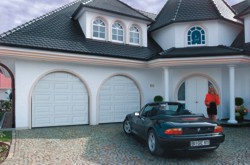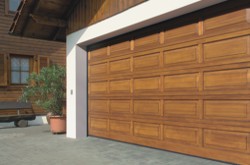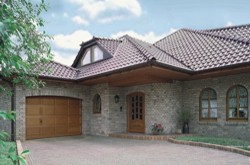 The Garage Door Centre can supply only and deliver or supply and install throughout the UK any of the Hormann or Carteck steel or timber sectional doors. We have been specifying and installing these doors for over 20 years now and more recently the range of these sectional doors has become enormous with almost every size, colour and operational type catered for to ensure your new sectional garage door is perfectly suited to your garage internally and externally.
We guarantee to offer the best deals on sectional garage doors in the widest range of sizes, colours and designs.

Click on a Sectional Garage Door manufacturer for more information
---

Hormann Sectional Garage Doors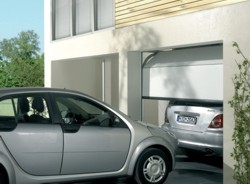 Hormann are a world leading manufacturer of garage doors - especially sectional garage doors in steel or timber
Hormann offer a wide variety of sectional garage doors to cater for every need ranging from the basic single skin LTE 40 to the 42mm double skin LPU 40 and finally to a specialised SPU 40 or ALR40 commercial sectional door tailored for domestic use offering either a design your own facility or a fully glazed sectional door for the most discerning customers.

Any Hormann sectional door can be standard or purpose made to suit the exact garage size but as they do not swing out during operation then you can install standard sizes in non standard openings and this gives great flexibility in making your garage opening work to the best advantage. The double skinned insulated versions of the sectional door also offer some of the highest levels of insulation for any garage dorr available in the UK today.
| | |
| --- | --- |
| LTE 40 | Single Skin Galvanised Steel |
| EPU 40 | 20mm Double Skin Insulated Steel |
| LPU 40 | 42mm Double Skin Insulated Steel |
| LTH 40 | Solid Timber Hand-Made Door Panels |
| Combidoor | Domestic Sectional Door Using Commercial Operating Mechanism |
| SPU 40 | 42mm Commercial Specification Insulated Door (upto 8m wide) |
| ALR 40 Vitraplan | Fully glazed sectional door for specialist applications |
Full Information on Hormann Sectional Garage Doors
Featured Article on Hormann Sectional Garage Doors
View Hormann Sectional Garage Doors in the Product Catalogue
---

Carteck Sectional Garage Doors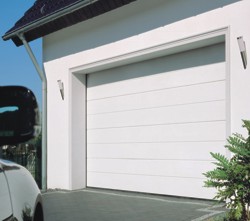 Carteck Sectional Garage Doors are manufactured to extremely high specifications to ensure top quality standards are always met. Their sectional garage doors combine safety, style and security as standard in a variety of different designs.
Carteck Sectional Garage Doors are available in either a Classic Georgian Panelled design or a Horizontal Ribbed Design. Doors are available in white, a choice of colours or some woodgrain laminate foiled effects.
Rubber sealing is applied as standard to the ceiling section and sides as well as a large rubber bottomstrip to prevent leaves, dust, rain and the like from entering your garage.
Carteck garage doors are available with a variety of different finishes depending on model. The available finishes are stucco surface, micro-profiled surface, woodgrain surface and a smooth surface.
More Information on Carteck Sectional Garage Doors
View Carteck Sectional Garage Doors in the Product Catalogue
---

Gliderol Sectional Garage Doors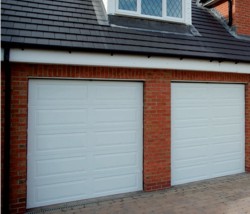 The Gliderol range of sectional garage doors are a visually engaging high quality selection of garage doors manufactured to offer varying levels of insulation. They offer the Safe-T-Glide and the Insul-Glide.
The Safe-T-Glide is a non-insulated steel single skin door panel which offers high levels of strength and security at a budget price.
The Insul-Glide is a 42mm insulated double skin door panel offering heat conservation, added insulation, high strength and a trusted level of security.
Gliderol offer a range of panelled and ribbed doors.
The two panelled models in the Gliderol Sectional Garage Doors range are the Oxford and the Hampton. A panelled door offers a simple yet effective design which can offer a fresh look to your home.
The two ribbed models in the Gliderol Sectional Garage Doors range are the Tuscan and the Madison.
Information on Gliderol Sectional Garage Doors
View Gliderol Sectional Garage Doors in the Product Catalogue
---

We also supply, deliver and install sectional garage doors from Garador, Wessex, Amarr and Novoferm and can offer the best purchase prices available on any of the sectional doors from these manufacturers.