Type and Price Guide

The Garage Door Centre - Price & Type Guide
Our garage door type and price guide helps you understand the likely installed prices for various types of garage doors and other products and includes average costs for installation and accessories to finish the installation. Most garage doors will vary in some way or another on every installation and online headline prices offering low prices are ultimately misleading. We have been sellling garage doors for over 32 years now and our aim is to get you the RIGHT garage door for your need and specification.

We can also supply only and deliver any of the doors we offer if required and we make sure you get the right size and specification of door!
Please note prices will vary considerably by location and not all the doors we sell are shown in this guide, some garage doors and other products are far too complex to give accurate guide prices and a more detailed discussion is required. We are here to help!!
Use the filter below to help narrow down your door search or if you know what door type you want click on the images below for examples.
We would really prefer to speak to you in person as it is the fastest way to get the most accurate price and recommendation, call us on 01933 229135 during normal working hours and we can talk you through and assist you for any type of garage door or electric operator system.
Please tick here to only show doors with an electric option.
Double Width GRP Door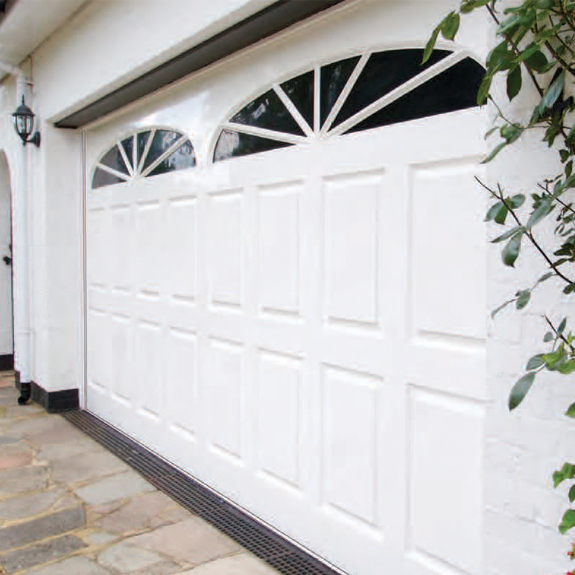 Double Size GRP Up and Over Door
Application Notes:
Up & Over garage doors are still the most common garage door type installed within the UK.
Their simple one piece panel construction makes them very easy to use and provides both a low-effort and zero hassle operation whilst having incredible versatility in the panel designs available.
When we say basic GRP up and over we normally refer to simple designs without glazing or designer elements built in. All our GRP doors are of the highest quality and have excellent durable finishes, strong construction and quality operating mechanism and furniture.
GRP offers fantastic wood grain design doors without the maintenance of timber. They are strong and stay looking good for many years with just an occassional wash down.
Price
Expect to pay between £2500 and £3300 inc. VAT installed for a one off installation of a high quality double width standard GRP garage door all factory finished in a wide choice of wood effect colours. Several styles will be available and all simulating designs of far more expensive timber doors but without any of the hassle of maintenance on the door surface.
Many GRP doors are made to measure as standard but standard sizes are frequently used as they are replacing an old standard size double door and there used to only be one standard width of 14'0" (4267mm) and either 6'6" or 7'0" high.
Additional Costs
Other sizes
It is impossible to generalise on the prices for odd sizes as there are so many standard UK and purpose made sizes to choose from, and a double door category is right up to 16 feet wide in standard and non standard sizes. The price does tend to be related to the size however unlike many other doors - i.e. smaller width less money, larger than 14'0" being more money.
Different Colour
GRP garage doors are all pre finished in a choice of various woodgrain and smooth finishes and there is no extra charge unless it is a special RAL colour not in a standard range.
Steel Fixing Sub Frame
To replace an old timber sub frame and always required on a new garage opening without a frame already in place – about £150 - £180 more for a standard white or brown finish.
Other sub frame options include timber and GRP or Upvc clad timber sections and these can be anything from £250 - £530 depending on section size and finish.
These are truly desirable options as you remove all exposed timber and maintenance issues but also get a much higher level of security and tighter tolerances on the factory fitted frame with smaller gaps around the door panel.
Remote Control Electric Operation
This will depend on a few different factors but for double size GRP retractable doors allow between £480 - £550 for a good quality European manufactured model with 2 transmitters and appropriate safety mechanisms. (This assumes the operator is being fitted at the same time as the door for the price)
We recommend the use of a European manufactured operator in the UK to ensure compliance with regulations and ensure a trouble free operation without issues with radio control frequencies and internal electronic components. Look at Hormann, Somfy, Garador, Carteck as 4 recommended manufacturers.

The finer details such as welded corners and the use of a pre built box section chassis rather than older construction methods will be of interest to anyone who wants a GRP garage door to truly last.
Issues regarding the finish on the rear of the door panel are also a consideration for some clients and all this can be recommended by what you want the door to look like inside.