Type and Price Guide

The Garage Door Centre - Price & Type Guide
Our garage door type and price guide helps you understand the likely installed prices for various types of garage doors and other products and includes average costs for installation and accessories to finish the installation. Most garage doors will vary in some way or another on every installation and online headline prices offering low prices are ultimately misleading. We have been sellling garage doors for over 32 years now and our aim is to get you the RIGHT garage door for your need and specification.

We can also supply only and deliver any of the doors we offer if required and we make sure you get the right size and specification of door!
Please note prices will vary considerably by location and not all the doors we sell are shown in this guide, some garage doors and other products are far too complex to give accurate guide prices and a more detailed discussion is required. We are here to help!!
Use the filter below to help narrow down your door search or if you know what door type you want click on the images below for examples.
We would really prefer to speak to you in person as it is the fastest way to get the most accurate price and recommendation, call us on 01933 229135 during normal working hours and we can talk you through and assist you for any type of garage door or electric operator system.
Please tick here to only show doors with an electric option.
Basic Single Skin Steel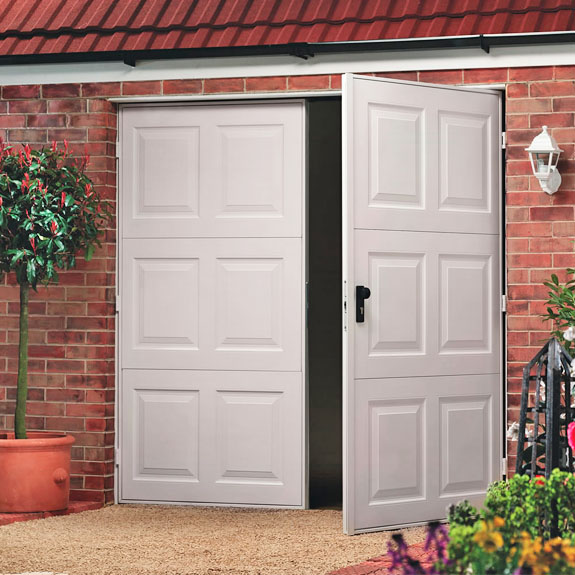 Steel Side Hinged Doors - Single Skin
Application Notes:
This steel type of side hinged door set is very popular but you are always best to buy the complete door and sub frame set as they are completely factory assembled and with the steel sub frame the total package is so much more secure than with the timber sub frame and incorporates very good weatherseals as well.
Price
Expect to pay between 1100 and £1300 inc. VAT installed in a standard design and the factory white finish. The steel sub frame is always included as well as all the necessary locking and furniture required with door stays usually the only desirable option at about £50 extra.
Replacing an existing up and over garage door that is one of the old standard sizes of either 7' x 6'6" or 7' x 7' is one of the most common installations carried out and side hinged doors are normally installed in-between the garage opening so getting the new door frame sizing correct is essential. The price is based on one of about 4 standard sizes offered with minimal trimming around the framework.
A design like the Horizontal or Vertical ribbed in a standard white powdercoat finish with modern euro profile cylinder locking and black furniture is the standard door type.
Additional Costs
Other Sizes
To have these doors made to order will cost about 10% more in general and the largest standard size will add about £120 to the price indicated and a purpose made single size door category is right up to 8'0" feet wide plus the sub frame size
Alternative Designs
There are pressed panel designs available in steel side hinged with variations in the panel layout and sizes. These panelled designs are generally about £100 more
Windows are only available in limited designs and add about £200 - £250 to the overall price.
Different Colours
The standard colour is as usual for a steel door product, white RAL9016, different colours are available and will add about £100 to the price.
Remote Control Electric Operation
Side hinged doors can be easily automated using 2 different methods and allow between £550 - £650 for a good quality European manufactured model with 2 transmitters and appropriate safety mechanisms driving the swing door conversion kit available for all side hinged doors up to 9 feet wide. Using this electric operator method gives the door stay facility as part of the mechanism, holding the doors open at a predetermined position.