Type and Price Guide

The Garage Door Centre - Price & Type Guide
Our garage door type and price guide helps you understand the likely installed prices for various types of garage doors and other products and includes average costs for installation and accessories to finish the installation. Most garage doors will vary in some way or another on every installation and online headline prices offering low prices are ultimately misleading. We have been sellling garage doors for over 32 years now and our aim is to get you the RIGHT garage door for your need and specification.

We can also supply only and deliver any of the doors we offer if required and we make sure you get the right size and specification of door!
Please note prices will vary considerably by location and not all the doors we sell are shown in this guide, some garage doors and other products are far too complex to give accurate guide prices and a more detailed discussion is required. We are here to help!!
Use the filter below to help narrow down your door search or if you know what door type you want click on the images below for examples.
We would really prefer to speak to you in person as it is the fastest way to get the most accurate price and recommendation, call us on 01933 229135 during normal working hours and we can talk you through and assist you for any type of garage door or electric operator system.
Please tick here to only show doors with an electric option.
Insulated Double Skin Aluminium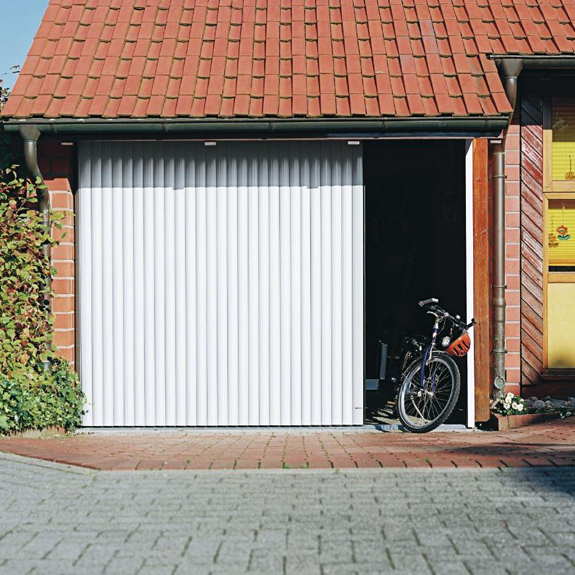 Aluminium Insulated Round the Corner Door System - Single Size
Application Notes:
The Vertico round the corner aluminium garage door is a brilliant solution for any garage with very little or no headroom or for anyone who regularly enters their garage on foot as you can partially open the door to behave like a pedestrian door. Of course the sliding sideways action also offers other benefits - It does not swing out at all inside or out meaning short driveways or short internal garages can be optimised for vehicle parking. It is very well priced at the much larger size widths compared to any insulated and fully finished door type with remote control automation. You can have this door in almost any colour whether that is a paint or laminate foil coating finish. All the Vertico doors are remote control electric operated as standard with a manual override facility in case of emergency.
The curtain is manufactured from 77mm wide double skinned foam filled slats offering great strength and a reasonable degree of insulation although the door is not sealed to the floor in any way.
Price
Expect to pay between £1,800 and £2,800 installed for quite a large size banding in single width sizes.
These doors are always made to measure and are always fully finished in a choice of standard colours.
2 hand held transmitters are supplied to control the electric operator with other control devices available to suit your home.
Other Colours
The Vertico is available in a massive range of laminate foil coatings offering woodgrain effects in about 40 options as well as single colour finishes. The standard range of colours is about 12 paint finishes.
You can have the door curtain in a special RAL or BS colour if necessary and all these different options are priced by the square metre anywhere between £40 and £60 per square metre of curtain.

The short video below shows the main features and side room requirements for the Vertico system