Type and Price Guide

The Garage Door Centre - Price & Type Guide
Our garage door type and price guide helps you understand the likely installed prices for various types of garage doors and other products and includes average costs for installation and accessories to finish the installation. Most garage doors will vary in some way or another on every installation and online headline prices offering low prices are ultimately misleading. We have been sellling garage doors for over 32 years now and our aim is to get you the RIGHT garage door for your need and specification.

We can also supply only and deliver any of the doors we offer if required and we make sure you get the right size and specification of door!
Please note prices will vary considerably by location and not all the doors we sell are shown in this guide, some garage doors and other products are far too complex to give accurate guide prices and a more detailed discussion is required. We are here to help!!
Use the filter below to help narrow down your door search or if you know what door type you want click on the images below for examples.
We would really prefer to speak to you in person as it is the fastest way to get the most accurate price and recommendation, call us on 01933 229135 during normal working hours and we can talk you through and assist you for any type of garage door or electric operator system.
Please tick here to only show doors with an electric option.
Aluminium Roller Door - Manual Operation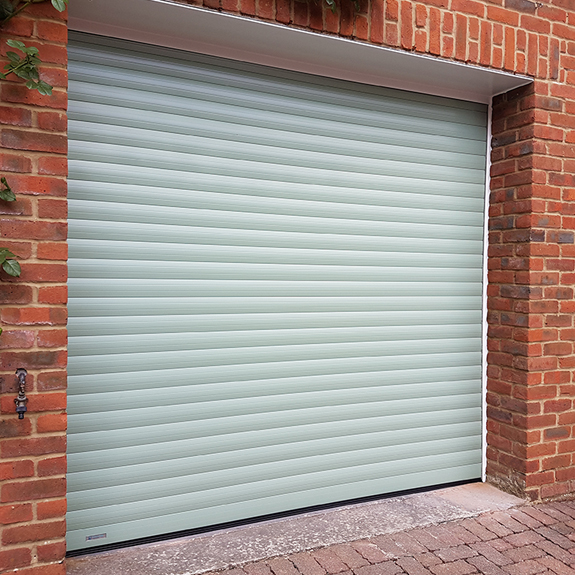 Single Size Insulated Aluminium Roller Door
Application Notes:
A manually operated, sprinf assisted, insulated aluminium roller door is generally purchased by customers with low daily useage, or simply where there is no electricity in the garage. The door is spring assisted and has a centrally positioned lock throwing 2 bars out to the sides to locate in the side guides and secure the door.
They are all made to order like most roller doors.
Price
Expect to pay between £1,200 and £1,400 inc. VAT installed for a good quality, manually operated insulated roller door in one of the standard colour choices available.
Replacing an existing up and over or pair of garage doors that is one of the old standard sizes of either 7' x 6'6" or 7' x 7' is one of the most common installations carried out, but with a roller door the door normally fits to the inside of the garage opening and is therefore wider and higher, giving more space for drive through dimensions. Normally this size is about 7'6" and 7'2 high on most garages.
Additional Costs
Other sizes
This manual insulated roller door is only available up to 3000mm wide, so the larger sizes in comparison to the standard will not be a lot more money than the price above.
Finishing
Trims around the edge of the door, or even full cladding to cover old damaged brickwork, is common place when fitting a roller garage door behind the opening. The costs for this can be small, however they can escalate if they are special colours and large sections.