Cedar


The majority of Cedar garage doors supplied and installed by The Garage Door Centre are constructed using Western Red Cedar. The range of cedar garage doors we offer provide elegant period designs to enhance the appearance of your home. The natural warmth and elegance of our doors is achieved by the skill of our manufacturer's craftmen.
This type of timber is known for its exceptional beauty, richly textured woodgrain look combined with a palette of warm, mellow colourations ranging from light amber to a deep honey brown.
It's fair to say that despite progressions within the garage door industry to replicate the look of a timber garage door, no man-made material can truly duplicate the depths of cedar woods natural lustre. It's subtle aroma remains with it for it's long life span and this characteristic fragrance adds another dimension to its universal appeal.
Cedar wood, especially Western Red Cedar, contains natural oils that act as preservatives to help the wood resist insect attack and decay. This dimensionally stable wood remains in a consistent shape lying flat and keeping straight. All doors are hand prepared and finished to the highest standard and give full weather protection when fully furnished. This is why Cedar is the preferred material for many outdoor construction which require visual harmony combined with stability and durability. When properly finished and maintained, Western Red Cedar ages gracefully and endures heavy use for many years.
Beauty aside, the purely practical pound-for-pound value of cedar doors against other timber offers more benefits: the cedar woods cellular structure creates interior air spaces that give it a secure level of insulation - much higher than that of most woods and much higher than brick or concrete.
Our main manufacturers of Cedar garage doors are Cedar Doors. Manufacturing cedar doors for 20 years, they have unquestionable levels of experience and knowledge when dealing with cedar doors.
Up & Over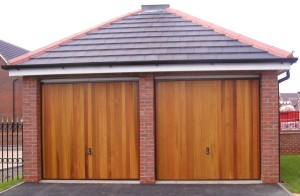 There are 3 types of up & over Cedar garage door:
Traditional Boarded
Traditional Panelled
Traditional Solid Panelled
All of these doors are manufactured to a high quality to enhance the appearance of any modern or period designed home. They are tough All doors are available in made to measure sizes from 6ft to 18ft wide by 5ft 6ins to 8ft high.
Cedar Doors Traditional Range
Cedar Doors Sherwood Range
Side-Hinged
The range of Side-Hinged doors are an alternative option to the Up & Over method of doors giving a more conventional opening style of garage door. These are traditionally constructed with solid cedar stiles and rails, with panels of either plywood or solid cedar. All joints are morticed and tenoned, glued and wedged - this is why it is the strongest joint method in door construction.
Doors are available in made to measure sizes upto 6ft to 10ft wide by 5ft 6ins to 8ft high, with choice of hardware combinations to suit your style.
The Cedar Doors Side-Hinged garage door range comprises of various models from the Up & Over range which are converted to use Side-Hinged gears.
To view the entire range of Cedar Doors Side-Hinged garage doors, view our product catalogue.
Sectional Cedar Doors
Vertical lifitng doors are a new concept in cedar domestic garage door operation.
The Cedar Doors range of sectional overhead doors offer all the same advantages of up & over doors and are constructed to the same high standard and specifications as the traditional range of doors, but with a totally different method of operation. The tracking system takes the cedar panel sections up and down vertically with curved tracks taking the individual door panels into the garage on horizontal rails neatly sitting higher up than the opening height. Sectional doors do offer greater practicality, gretaer weathersealing properties and greater security overall.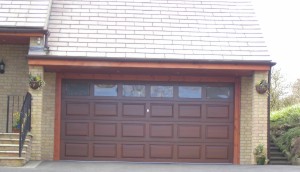 The Cedar Door Sectional garage door range comprises of various models from the Up & Over range which have been designed to use Sectional garage door gears. To view the entire range of Cedar Doors Sectional garage doors, view our product catalogue.
Related links: