Guide to Buying Sectional Garage Doors

Overview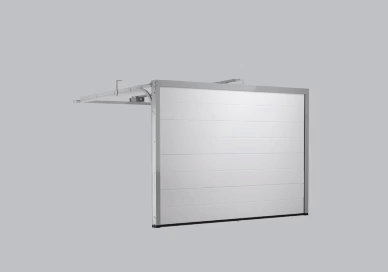 The sectional garage door is fast becoming the most popular garage door in the UK after seriously lagging behind our European and American neighbors over the last 20 years.
It really isn't hard to see why this is one of the best garage doors for almost any size of garage when you start doing some research on various garage door types.
The sectional overhead garage door is primarily made up from several horizontal door panel sections (typically there are 4 in a standard height door) which all slide vertically using several large rollers either side, each sliding inside a robust steel guide track system. The panels then curve around and continue sliding horizontally into the garage in the same tracking system to end up laying way above your head against the ceiling.
Many people think they don't maybe like the sectional door because of these tracks but you have to be aware they are not like a normal retractable up and over door and the tracking will end up higher than the door height because of the mechanism and this means the door is out of the way once opening and if specified correctly probably up high against the ceiling and without any side arms obstructing anything either.
What You Get as Standard:
Vertical Operation

Maximise Driveway Space

High Insulation Properties for Energy Saving

Excellent Security

Excellent Weathersealing

Wide Range of Made to Measure and Standard Sizes

Wide Range of Designs and Colours

Various Track Configurations to Maximise Internal Garage Space

Provides Maximum Width and Height for Drive Through

Easy to Operate and Very Safe
The door panels used are nearly all double skinned, galvanised steel sections with a solid foam filled insulated core and a thickness of around 40 - 67 mm. These panels offer fabulous insulation, strength and stability, which in turn when fitted with the right locking system or electric operator, provides excellent security against a forced entry. The panel strength also means large widths can be achieved, typically up to 8 metres wide and the height isn't a problem either with domestic doors nearly all manufactured up to 3 metres high and commercial doors up to 8 metres high!
We highly recommend a sectional garage door If you want a reliable, super sturdy and practical garage door solution. They are particularly relevant on large garage opening sizes because of their strength and stability. Not only do sectional doors come in almost limitless colours and styles to match your home's aesthetic, but they also offer several benefits that can make the general use of your garage easier and safer.
What Sizes are Available?
As mentioned, the leading manufacturers will offer door widths up to 8 metres wide and heights up to 3 metres in a standard configuration with special adaptions perhaps on the electric drive mechanisms on the larger sizes, larger motors and maybe even 3 phase drives to cope with the weight and provide sufficient torque to move the door initially.
Any high quality door manufacturer will provide sectional garage doors in purpose made sizes down to the millimetre, both in width and height. The standard sizes often stocked will generally be in imperial UK sizes and offered in feet width increments and 6 inch height increments. This is more of a hang up from the smaller size ranges of garage doors available in the 1970's and through to the start of the 21st century. We simply cannot give up to the metric measurements completely in the building world in the UK!
In the UK now there are European metric sizes readily available and these are in different size increments and always worth checking as they may suit modern building sizes far better, particularly in the height.
Height has always been a strange issue with garage doors, with so many doors produced at a standard 2134mm (7 feet) high when in fact most garage lintels end up working out at 2250mm high (7'41/2") and this has meant manufacturers producing infill sections for years!! Crazy when you think about it, but true, except now you can readily obtain sectional garage doors with a 2250mm ordering height and optimise your garage opening and access. Whenever there is not sufficient headroom inside a garage there will be the need for a fascia infill section and these are available in single and double skin sections depending on your requirements.

Extra Large Sectional Doors
We have seen a huge increase since 2017 in the demand for garage doors at 16 feet (4877mm) and wider with triple width garage openings being quite frequently built now. We actually don't think a garage can actually ever be too big, as most households will fill a garage with everything except cars!!
One thing to be very aware of with larger width sectional doors is that some manufacturers will place strengthening support bars onto the rear of the panels when the door is over a certain width and these bars are deep and can impose on the headroom when the door is open. If the internal space and drive through dimensions are important because of a certain vehicle then be sure to mention this when looking for options on sectional doors.
Different operating mechanism configurations will also affect the final height of the open door so be aware of this too. The bottom panel on the door can hang down quite significantly with some models and their spring balancing set up so please check if the height is important to you and getting maybe a 4x4 vehicle inside.
The very large sectional doors maybe using 3 phase electric drives will usually require more sideroom to accommodate the motor and mechanism. On the larger doors the motor is a shaft driven system and sits on one side at high level driving the torsion spring and support bar.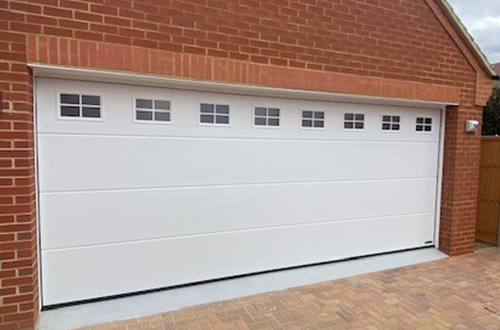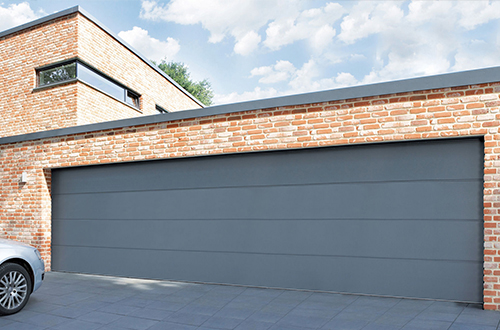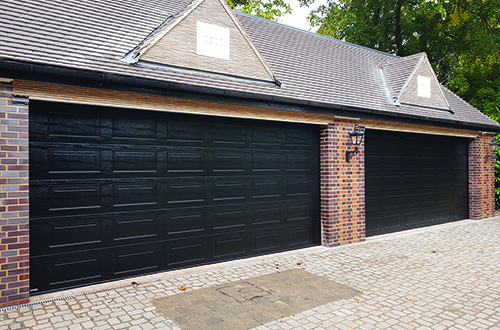 How are Sectional Doors Fitted?
Sectional garage doors were originally designed to only be installed to the inside face of the garage aperture, with direct fixing of a steel channel framework to whatever the garage was constructed from.
Now it is possible to install most sectional doors and have the door and framework and therefore the operating mechanism, IN BETWEEN the structural opening, using a series of special brackets and also frame profile sections to finish the outer sub frame aesthetically.
Most manufacturers will offer pretty much any RAL or BS colour for the door panels externally, but the fixing frame is supplied primarily in white, so be careful to check what final finish you want when the door is going in between the opening as the entire frame will be seen from the outside.
Fitting your new sectional door BEHIND or IN BETWEEN the structural opening will give a quite different visual appearance as well as providing very different final drive through dimensions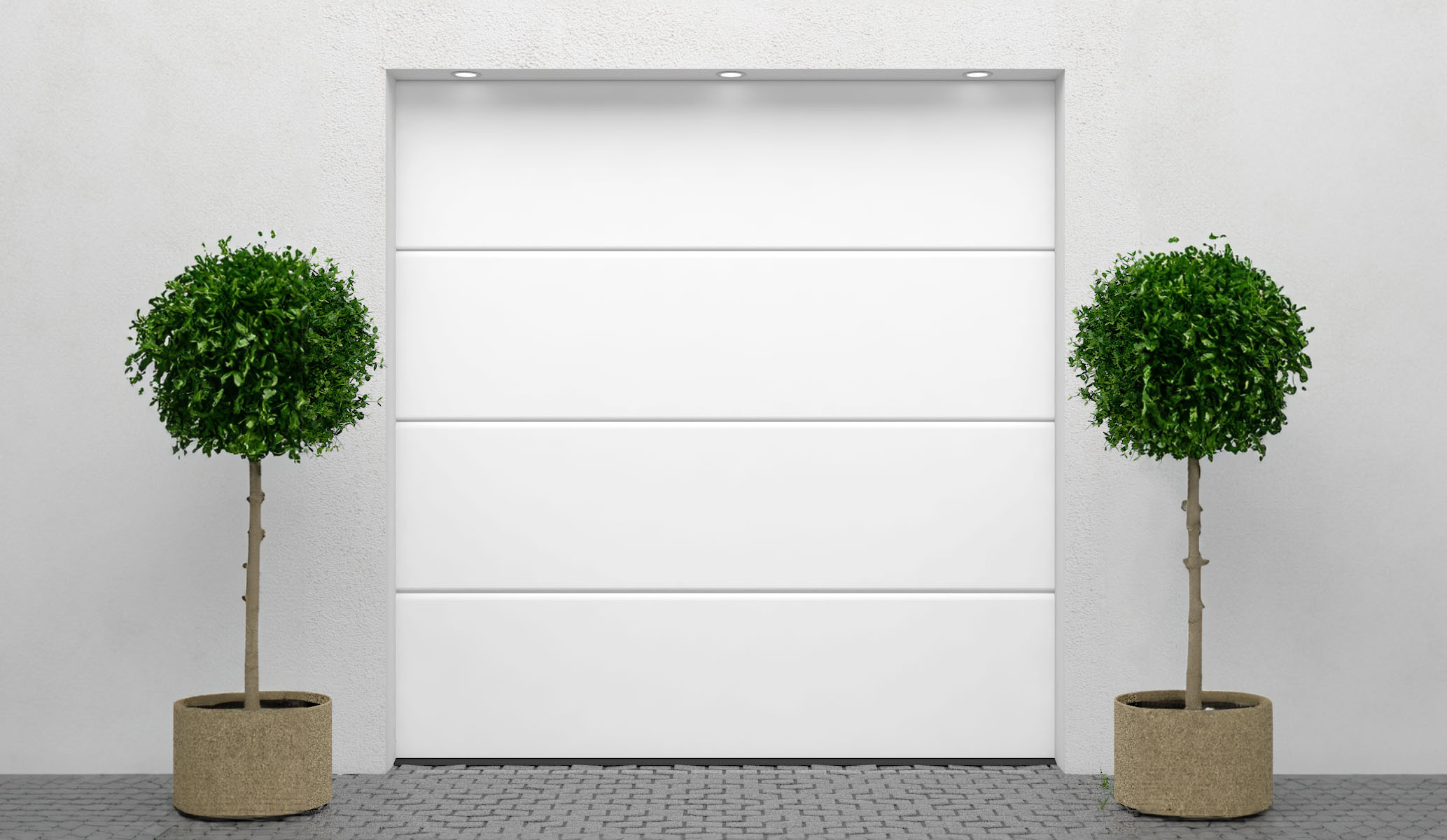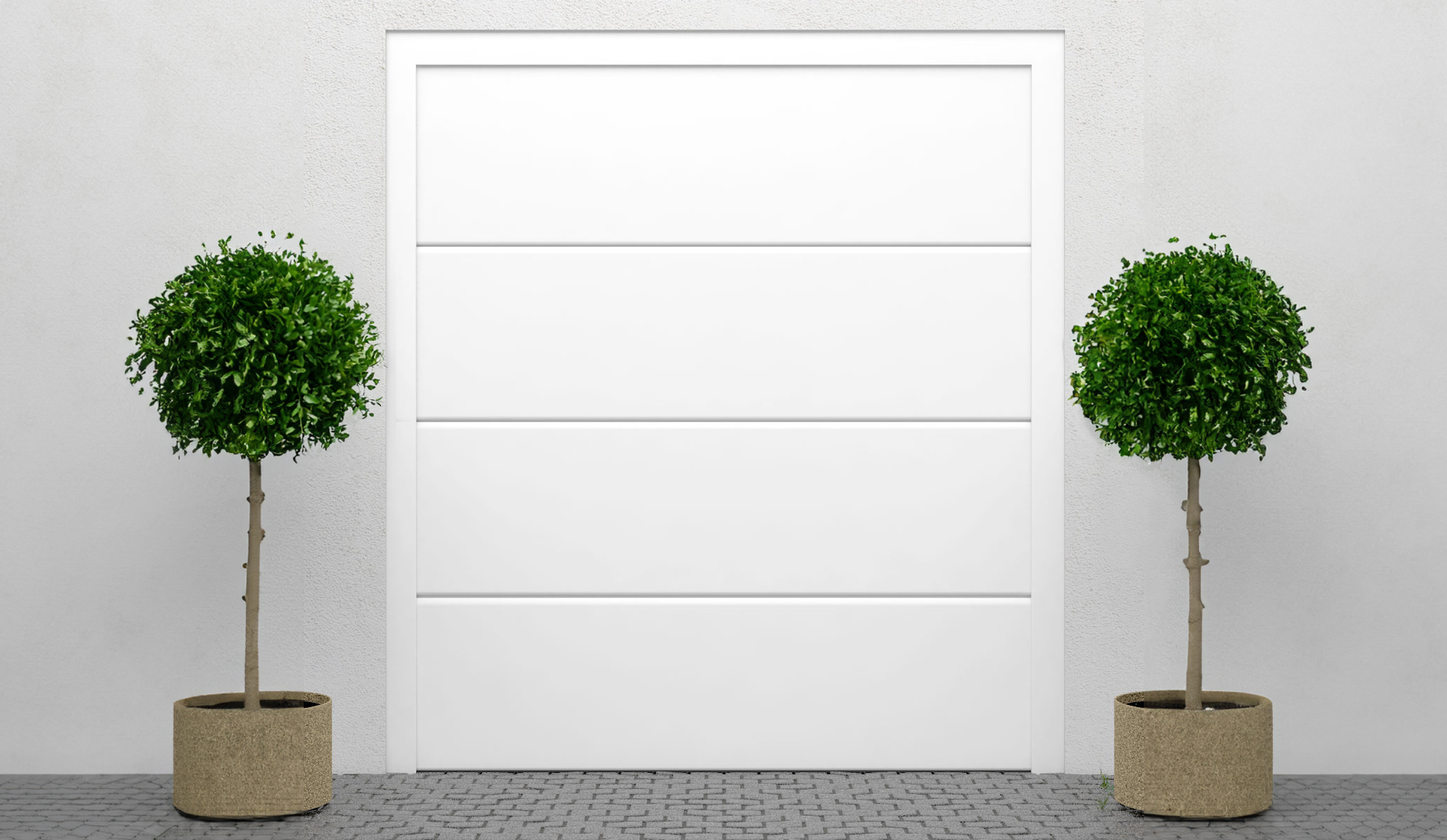 No timber sub frame is actually ever required and anyone suggesting using one has to have a very good reason, perhaps matching some other doors or windows on site.
Sectional doors take far longer to install than normal up and over doors, with many more fixings and a real need to get the tracking totally square and level to avoid operational issues. There are many more moving parts in a sectional door and these need to be properly fitted and adjusted to ensure the best and easiest operation. However during operation a sectional door will never have major moving parts or panels touching each other, unlike a roller shutter door where the curtain sections roll over each other when operating all the time.. A badly fitted or inferior quality roller garage door will deteriorate very quickly indeed because of the principal of the operation.
What Materials and Finishes are Available?
As mentioned, double skinned insulated steel panels are the majority of all sectional doors sold, but of course for some people timber may be important and the preferred material. A handful of manufacturers manufacture high quality timber sectional doors in various timber species and designs. The designs are usually either raised and fielded panels or horizontal boarding but it is possible to have a solid engineered set of timber panels and then get a computer to route a design in from an image provided so you can have almost any design at all in timber.
Just be aware with all sectional doors there are the horizontal break lines between each panel (usually 4 panels in a standard height door so therefore 3 horizontal break lines).
With the majority of steel door designs you also have a choice of external face finishes and the actual steel the doors are produced from and this includes woodgrain embossing, stucco, micrograin linear pattern and the modern silk grain finish, which is in fact totally smooth, but for any manufacturer of quality doors these panels will use a thicker gauge steel to avoid any distortion, making the panels otherwise look awful in certain light conditions.
Teckentrup are now able to colour match to any colour required, other manufacturers offer a wide range of popular colours.

The surface finish of the panel can affect the final appearance of the chosen RAL or BS colour for any door. Most manufacturers will offer a more limited range of colours other than white and these may match other door types available in their range easier. Be aware of the gloss levels if this is important to you, most sectional doors with a paint surface finish have a 40% gloss finish.
Some manufacturers will have 'signature' finishes which will be quite unique to their doors and use flecked or metallic paint finishes for increased depth and durability of paint.
| | |
| --- | --- |
| Teckentrup Trend and Trend Plus Colours | Hormann Renomatic Colours |
View Teckentup Sectional Doors HERE
A very popular finish is the laminated foil coating which can replicate actual woodgrain and wood colour graining to a very high level of detail. These are tough finishes and a good alternative to higher priced real timber doors of any type. The latest trend is in special finishes which offer a more matt or grainy feel to the surface and special paint effect finishes too.
It is also possible to have printed external finishes, which with one manufacturer means you can have literally anything printed on the face of your garage door.. Anything…
Insulation
If insulation is important to you the sectional door is probably the only real door to provide reliable and low U values and can keep a garage cool in the summer and warmer in the winter, important if your garage is integral and you are concerned about energy costs now.
The sectional door is one of the only garage doors really capable of potentially sealing a structural opening on all 4 sides - top, sides and bottom. Because the door panels glide up behind a framework which incorporates a rubber seal when the door is closed the panels can push against these seals and the bottom panel can also push against the floor with a large rubber bottom seal providing a 4 sided seal.
This however is fully dependent on a totally level floor along with square and true pillars and lintel. The sectional door panels for most manufacturers are just over 40mm thick with a foam filled core sandwiched between 2 sheets of galvanised steel. Some offer a 67mm or even a 100mm thick sectional panel for ultra low U values and are used on Eco Homes quite often.
The basic insulation values when fitted behind a structural opening will be in the region of U = 1,4 W/(m2·K) and this is for the fitted doors and NOT just the panel itself in isolation, a very important difference often misleading buyers.
Better insulation values can be achieved using optional enhanced weather seal sets and larger rubber seals creating a thermal break for the door surround.
Which Manufacturer is Best?
We don't want to appear biased here of course and it does in some ways depend on the final specification required anyway. Teckentrup and Hormann are the UK market leaders and both these companies are of German origin with the main manufacturing in Germany and only assembly, special painting and special cutting carried out in the UK factories.
The Seceuroglide sectional door is a great product as the doors are priced to be all special sizes as standard, to follow their roller door principal. Why adjust and pack out for standard sizes when you can have your door completely made to order as standard? There are many other manufacturers and brands in the UK but for sheer choice and the best value for money the market leaders will offer the best packages overall.
Our Thoughts
A sectional garage door is possibly the very best value for money garage door you can buy in the UK right now. It has everything in terms of performance in a standard door, let alone the enhanced specification models. We are far behind our European neighbors and have used one piece up and over doors for many years now, and they have their place, but the future is the sectional door and the features and benefits offered by this superb piece of engineering.
By comparison to even a half decent roller garage door you will get far more performance and certainly a longer life span.