Garador Garage Doors


We are an approved supplier and installer of the significantly expereienced manufacturer, Garador Garage Doors, who supply a comprehensive range of garage and front entrance doors.
Garador are one of the oldest garage door manufacturers in the UK with years of experience and expertise; today they offer a wide variety of door mechanisms for a range of different applications including Up & Over, Side-hinged, Sectional, and Roller doors, all of which have various features and additional extras available.
Installations are controlled from our dedicated showroom in Northamptonshire, where our engineers are specially trained to ensure that your garage door attains the perfect fit.
You can read-up on the types of garage doors Garador manufacture below and follow the links to view the ranges. Alternatively you can view the full Garador collection here.

Up & Over Doors
Garador's Up & Over garage doors are available in steel or timber finishes with a range of ribbed and panelled designs. The timber doors are in two ranges: the Solid Cedar range and Elizabethan range, which is made from plywood and solid red cedar. The GRP doors are produced in either white or timber finishes, meaning the style of your door is adaptable to your home and personal taste. Garador's Up & Over doors require little maintenance, and are equipped with rust-resistant panels to sustain their appearance. These panels are placed in a rigid box section chassis, resulting in them serving as long-wearing, sturdy doors.
Side Hinged Doors
Garador's Side Hinged doors are reliable, traditional garage doors consisting of either steel or timber materials with convenient pedestrian access. They are manufactured with equal leaves, with the right leaf leading as standard – other leaf configurations can be dealt with upon request. The side-hinged doors allow for optimisation of your garage space as they open outwards, not effecting wall space or utility equipment. Equipped with weather seals and two bolt latches, your garage door is sure to protect itself against intrusive weather conditions or burglaries.
Roller Doors
Garador roller doors are manufactured to provide you with a convenient and space-saving entrance to your garage. Made from insulated aluminium laths, the roller doors are electronically operated to allow ease of access as they vertically lift and roll above the door to allow for space to be saved within your garage. The roller sheets are easy to maintain; they appear modern and sleek, and are available in various colours, finishes and timber-effect coatings.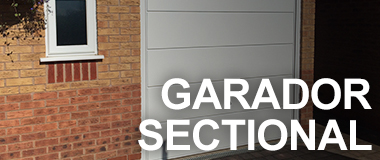 Sectional Doors
Garador sectional garage doors rise vertically upon opening, allowing for driveway space and access for wider vehicles. Whether you use your garage to store your car or for other domestic uses, the sectional doors are manufactured with either single skin or thermally insulated sections to suit its function. A variety of colours, finishes and styles will allow any customer to be satisfied with not only the convenience, but the appearance of Garador's Sectional Doors.