SWS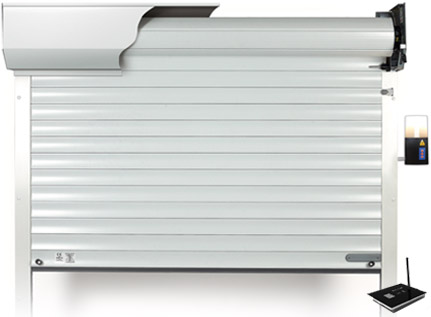 SWS are the market leaders in Roller Shutter Doors, and can proudly claim to have created the first 'Secured By Design' shutter door. Owners of an SWS Roller Shutter Door can sleep soundly knowing their possessions are secure, with these doors designed to withstand forced entry and break-ins. A patented locking system (with an internal manual override) provides a self-adjusting locking mechanism built into the door axle.
As well as security, this range of doors employs safety features, fully compliant with the latest UK regulation. SWS Seceuroglide Roller Shutters feature a leading bottom edge safety sensor connected to the operating mechanism, preventing crushing when closing the door automatically.
Insulation is another reason to choose SWS when looking at Roller Shutter Doors, with insulated foam-filled slats across all Doors. Combining these slats with the rubber seals and high curtain means that SWS Roller Shutter Doors offer impressive insulation, assisting in improving energy efficiency and reducing pesky heating bills, especially for garages used as gyms and similar purposes.
It's not just security and safety that is offered by the SWS Roller Shutters, with a rubber seal along the bottom of the doors providing resistance against the elements, and unwanted pests and critters.
Another advantage to the SWS Roller Shutter Door range is that the doors give you ability to drive a vehicle right up to the door, on either side. This differs from more traditional Up & Over Doors which require space to open and 'swing out'. SWS Roller Shutter Doors open straight upwards, and neatly roll away into a sleek and discreet opening. A full box hood is also available to cover the roll at the top, as an optional extra. With this spatial economy comes a large drive-through capacity, suitable for large vehicles and SUV's. The tight roll doesn't encroach into the overhead space of a garage, meaning any overhead storage is unaffected.
On top of all these practical benefits, there are a range of stylistic benefits that these doors offer. Available in a range of colours and finishes (and RAL Colours), SWS Roller Shutter Doors can be installed to suit any purpose or exising structure. These Roller Shutter Doors are also extremely quiet, combined with smooth operation due to interior nylon webbing rather than endlocks.
SWS Roller Shutter Doors are made to measure, meaning there is no compromise on sealing, on all 4 sides. Fitting behind the opening also means the final installation sits neatly within the design of any opening, and flush with the rest of the building.
If a Roller Door is what you are looking for, then call our experienced team on 0800 525 442 to get more information, or take a look at the links below.
| | | | | | |
| --- | --- | --- | --- | --- | --- |
| The SeceuroGlide is the standard Roller Shutter from SWS, as seen on thousands of garages nationwide. | The Compact is a smaller version, perfect for limited headroom applications | The LT is a basic version of the SeceuroGlide, a great alternative | A more secure door, with improved spec. The Excel comes 'Secured by Design' for added peace of mind. | SeceuroShield is the industrial option, perfect for commercial applications or large openings. | See the full SWS Roller Shutter Door Range |