Rundum Meir Range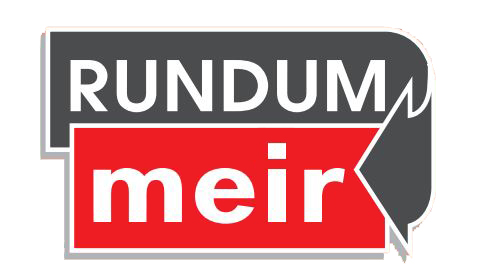 Rundum Meir have been manufacturing timber and steel bespoke garage doors in Europe since 1968. Manufactured in Germany, the doors have a reputation for outstanding quality and versatility. The factory gained certification for outstanding environmental production methods in 1998 from the Bavarian State Minister for the Environment.
The opening and closing operation of a Rundum Meir garage door, sliding sideways, can be carried out with minimum effort and causes no problems for vehicles parked directly in front of or behind the door. Open the door just a little and you have a convenient pedestrian entrance, open halfway for one car on a double width garage, or open fully for both cars. There are no restrictions on width for triple, quadruple and wider openings in a single door unit or a bi-parting system. Our biggest door width to date has been approximately 20 metres and the door was easy to operate manually when required.
Rundum doors are manufactured as what is either known as an 'original' round the corner door made from individual timber or metal slat sections to almost any size required, or as a 'side sectional' door constructed from individual but larger joinery made timber sections, enabling almost any design to be created in the panel sections. There are 2 build levels for this side sectional which is basically a single or double skin construction panel technique.
Rundum Meir - Highest Quality Round the Corner Garage Doors
Again, the side sectional doors are simple to use and maintain in either manual or remote control electric operation. The large choice of timber species available for the door construction means you can create the perfect match with other doors, windows or architectural features.
Fully finished options are available from the factory in either paint or wood stain colours.
Click on the links below to see a Rundum side sectional in operation.
The Rundum Meir door conveniently combines the functions of both a garage door and a pedestrian door in one with partial opening always possible to allow pedestrian access if the garage is used frequently by pedestrian traffic.
The door can either be supplied as a single parting or bi-parting system, giving almost limitless sizing options.
The doors available from Rundum Meir are in three distinct categories:
The Rundum Original is a unique round the corner door system manufactured entirely from timber or steel and is designed in such a way as to be able to manoeuvre around obstacles in a garage such as a brick pier or pipework, etc.
The tracking system can be curved to follow walls and maximise space inside the garage or indeed enable the design of unusual shaped entrances. It uses a vertical ribbed style appearance using small individual slats, giving it a high level of manoeuvrability.
The doors are available in manual or electric operation at any of the sizes with the usual options for access control - hand transmitters, keypads, and key switches and so on.
The design of the Rundum Meir Original door system allows great flexibility in the path the door can travel inside the garage itself to make it easy to specify these doors in almost any garage.
Almost any shape or obstacle can be overcome with the flexible top and bottom tracking system to maximise the use of room inside the garage. Of course because they do not swing out they can also be installed behind any shape of garage opening.
As the doors can be either single or bi-parting (2 doors) it is possible to install the door in some very strange and very large openings if required. The flexibility of use is almost endless.
The high quality of the sourced timber prevents any problems with movement affecting door operation in the future, with high quality factory treatments available at extra cost to ensure your door is installed and ready to use on the day without further decoration.
Any size door can be manually or electrically operated.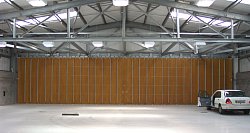 This is a 20 metre by 4 metre Rundum installed by The Garage Door Centre on a large salt store. The combination of timber and stainless steel components gave the best option for use in this environment. The enormous size presents no problem in operation, manual or electric.
In either manual or electric operation the Rundum Meir is a smooth, almost silent-running garage door and has no springs or cables to adjust or wear out over time.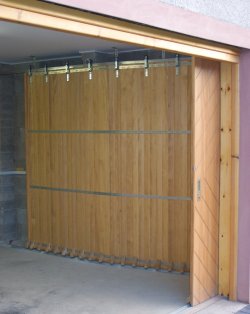 Internally, the headroom requirements are minimal and optimise headroom for larger vehicles, as no drive through height is lost when the door is open. Where the door runs alongside the internal wall a false wall system is available to enable shelving, etc. to still be fixed whilst the door runs neatly behind.
Rundum Doors can be manufactured from timbers such as superior spruce, hemlock, larch, oak and staple as well as some other species if required.
All these timber options are hand selected from the highest quality source to be virtually knot free and can be supplied factory stained or paint finished.
Alternatively round the corner garage doors can be constructed from insulated double skinned aluminium or galvanised steel sections with almost any colour finishes available. The type of property one of these doors suits is limitless as almost any design or colour is available; traditional or modern, these doors make a real statement.
The Rundum Meir side sectional gives you the ability to create a very individual and unique design in the exterior face of the door, as well as choose from some very traditional standard designs.
Unlike the other manufacturers of sectional timber doors the Rundum doors do have options on the timber species available, with bespoke designs their strength.
The door principal for the side sectional is exactly the same as the Rundum Original in the basic tracking offered, albeit these doors will require a twin track near the garage entrance. The side opening is obviously the same but the door is constructed from individual timber cassettes thus enabling infinite designs to be created either by traditional joinery methods or by computer routing a design into a composite timber cassette. Options including windows, false hinges and other types of ironmongery can be used with a side sectional door, as the individual panels are sizeable compared to the narrow individual timber slats of the 'Original' door.
This door (shown right) has a design routed into the face of each cassette and optional windows installed. The lines are created by a state of the art computer controlled routing machine which cuts a groove into the face of the timber to either certain standard designs or designs created especially to match the architectural features of the building or period.
Rundum Sectional Overhead
The Rundum Sectional Overhead Doors are exclusively constructed from high quality timber and the range offers garage doors in Hemlock, Larch, European Oak, Mahogany, Cedar and Iroko as well as several other timber species all bespoke and made to your exact requirements.

The sectional doors are available up to 5000mm wide and 3000mm high with various headroom options for the operating mechanism in manual or remote control options.

Standard designs are available but Rundum specialise in producing mainly bespoke designs for various prestigous projects.