Up and over garage doors

Overview
All up and over garage doors manufactured and sold in the U.K. fall into two main categories for their type of operation - canopy or retractable. This is primarily a description of how the door panel opens during operation, and both mechanisms have their uses in different applications.
An up and over door is a one piece panel lifted up and down by one of the 2 mechanisms and is always fitted into a sub frame to accommodate the mechanism used.
The illustrations below show both garage door types with the optional steel fixing subframe. Timber sub frames are quite acceptable and normally used for timber door panels or where unusual sizes or shapes are required due to structural requirements.
Canopy Garage Doors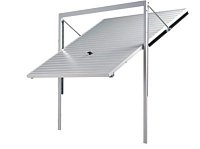 The canopy type garage door had been the simplest and most common type of garage door mechanism used for years, its name derived from the fully opened garage door panel protruding about a third forward of the sub frame to form a canopy.
It gives the maximum drive-through width when open and is the easiest door to install. The door panel is balanced and assisted in operation by torsion springs positioned above the door panel on the head of the fixing frame.
Important Note: The canopy door mechanism is generally only available up to 8 feet (2438mm) wide. It is not normally used if the garage door is to be controlled by an electric garage door operator for automatic opening with a handset. It is a basic mechanism for small doors without electric operation.
Retractable Garage Door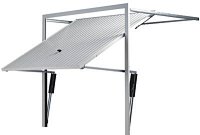 The retractable garage door is fast becoming the more popular type of garage door mechanism of the two in the UK, its name derived from the garage door panel retracting fully into the garage when open. It is the mechanism that will convert easily and safely into electric operation with the least equipment.
The drive-through width on a retractable mechanism is always reduced as the lifting arms at either side sit in between the sub-frame when the door is opened. Be careful when limited for opening width that you do not restrict access too much and compromise your vehicle access.
The retractable mechanism can take much heavier loads, with the adjustable tension springs at the sides easily increased in size and strength.
Note: Retractable operating gear is generally used for garage doors over 8 feet wide and heavier door panels such as hardwood. All double garage doors have retractable gear only.
Manufactures of Up and over Garage Doors
For more up & over garage door designs, view our product catalogue
General Sizing Information
When talking about up and over garage door sizes the reference is always to the internal fixing sub frame dimensions. This is the frame for fixing the door panel itself to go along with the operating mechanism and locking, and is either produced in a timber or steel box section.
A 7 foot by 7 foot garage door (2134mm x 2134mm) ordering size refers to the daylight opening size of the sub frame and the garage door panel itself is smaller for operating tolerances.
Sub frame dimensions themselves vary depending on the gear and manufacturer used – so beware of overall size dimensions when ordering!
The actual drive through width and height of any up and over garage door will never be the same as the ordering sizes. The door panel always hangs down in the opening and reduces the height depending on the thickness of the door panel itself and the width can be reduced as mentioned above when using retractable door gear. The optimum single garage door size is about 8'0" wide (2438mm) to allow easy access of a vehicle, the height depends on other factors such as building restrictions or taller 4 x 4 vehicles, but always try for 7 feet as minimum.
Installation Positions
Up and over garage doors with sub frames can be installed either inbetween or behind the structural garage opening, but not in front! The installation position is usually dependant on sizing restrictions or the finish and depth of the garage piers, although aesthetics quite often is a major factor.
A door fitted onto the inside face of a garage opening can be wider and higher than a door fitted inbetween the same size opening. If you are not sure please call or email us, it could mean the difference between getting your vehicle into the garage or not!
Materials
The up and over garage door is still the most versatile when it comes to different materials and designs. The one piece panel structure means that doors can be manufactured from steel, fibreglass, Upvc and most types of timber.
We have designed and manufactured many wonderful timber garage doors over the years along with some very large steel and GRP doors. More recently however the maximum available width of a one piece up and over garage door has reduced due to stricter safety legislation and the sectional type garage door has stepped in for larger garage door sizes. Steel is still the most economical choice of door panel material by far.
The choice of timber species is the most varied with up and over doors offering Cedarwood, Idigbo, Oak, Accoya, Hemlock and Nordic Pine as standard with other more exotic timber also possible depending on sizes.
Check out our product catalogue section and choose from different material types:

Automatic Garage Doors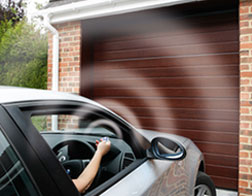 All new up and over garage doors can be remote control automated using a ceiling mounted boom type electric operator along with the appropriate length of boom and towing arm.
Automating a canopy type up and over garage door will require the use of a bow arm converter if installing with a traditional boom type operator, and not all canopy doors can have this retrofitted. A retractable up and over door is always preferable if the option is available, as a height reducing bow arm is then not necessary.
Adding a remote control operator to an existing garage door is possible for about 90% of doors currently in use in the U.K.
Unfortunately some garage door have a very odd geometry and cannot be safely made automatic by any means, and therefore would need replacing with a new complete door and mechanism.
The range of controls available today are vast with wall mounted internal and wireless external access controls and a selection of remote control devices to cover all requirements.
The most advanced remote control electric operators will use very hi tech encryption systems for the remote signal transmission and will also have 2 way communication to provide signals back to the hand transmitters.
High Security Garage Doors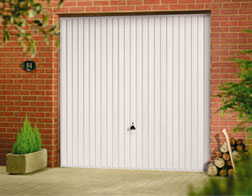 Security is a high priority for many households these days and with an up and over door it is possible to specify a steel up and over door manufactured by Garador with far higher levels of security.
The Guardian range of doors has reinforced steel bracing on the inside, steel plates at critical attack points and 4 point locking all as standard.
The door is independently tested and approved to Level 1 by the LPCB and is a 'Secured by Design' approved product.
See the Guardian range in our Catalogue
'Special' Up and Over Doors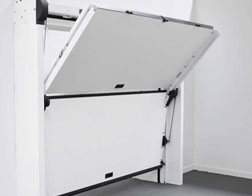 Although we talk about canopy or retractable type doors here, there is another type of garage door - the Overlap.
This is a 2 piece door system using counterbalance weights to lift the 2 panels vertically and is unique as there are no tracks internally at all.
The door panels are all double skinned and insulated as standard with excellent levels of security.
This is a bespoke door system offering sizes in 50mm increments in width and height and a vast array of panel designs and finishes.
The Silvelox one piece up and over door is also another option using a one piece panel construction but also using the counterbalance system for operation. This is a timber door and has the option of a pedestrian access door inset into the main door panel for easy pedestrian access in and out of the garage. See the Silvelox Doors
Matching Garage Doors and Pedestrian Side Doors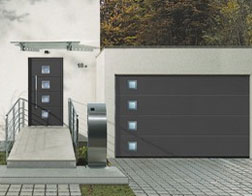 A range of matching side doors are available with the majority of the Hormann range of up and over garage doors.
These are manufactured in either single skin or double skinned steel or timber and are generally an exact copy of the garage door itself in a range of very useful standard and purpose made sizes.
Garador also offer a limited range of single skin steel side doors to match their up and over doors.
For additional sizing, technical and other information on these doors, view our specialised Up & Over Garage Doors information page.