Steel Side Hinged | Quality Steel Garage Doors | Garage Door Centre
Side Hinged Garage Doors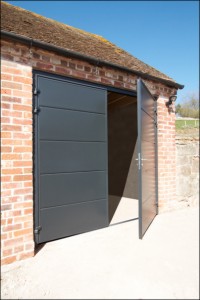 A side hinged door is a garage door which is firmly joined at each side with bi-parting door leafs which swing outwards onto your driveway. We offer a quality range of steel side hinged garage doors from The Garage Door Centre manufactured by Garador.
Garador's steel side hinged garage door range consists of 4 fantastic hinged doors each with a steel fixing frame, all hinges and locks factory-fitted ensuring the easiest installation process possible is achieved; perfect for all you DIY buffs out there. Usually installing a set of steel side hinged doors required the skill of a carpenter however now it's very simple. The current Garador side hinged door catalogue of doors is shown below - feel free to click on each door to view its individual catalogue page.
The main advantage with these garage doors is the fact they operate as a dual-leaf door allowing the option to open either one or both sides. This can come in very handy when the garage is used as an office, gym, storage facility, utility room or used to store general everyday items such as bicycles, lawnmowers, ladders, motorbikes and washing machines which require regular, easy access from a reliable point.
The Vertical design of the Carlton also allows for a 1/3rd and 3/2rd split to be achieved if required with an even split. The other designs are possible but within the constraints of the panelled sections so will differ in the widths. This is perfect for a pedestrian access at any time.
Steel Side Hinged Colour Options
Optional colours give you the opportunity to personalise your garage and set it apart from the rest.
Powder coated in RAL 9016 (White) as standard, Garador steel side hinged garage doors are also available in Green, Red, Blue, Black, Brown and Dark Blue as standard. Each door is available in any RAL colour at an additional charge.
Flame Red
RAL 3000

Gentian Blue
RAL 5010

Moss Green
RAL6005

Fir Green
RAL6009

Anthracite Grey
RAL7016

Light Grey
RAL7035

Window Grey
RAL7040

Sepia Brown
RAL6014

Grey Aluminium
RAL9007

Cream White
RAL9001

White Aluminium
RAL9006

Steel Blue
RAL5011

Quartz Grey
RAL7039

Jet Black
RAL9005

Signal Blue
RAL5005

Terra Brown
RAL8028

Steel Side Hinged Garage Door Handles
Each garage door comes with a black nylon handle as standard however white, gold and chrome handles are available at a surcharge.
Our Gloss White, Brass Effect and Chrome Metallic handles not only look much better than the standard black handle but they offer both additional strength and visual character to the door.
| | | |
| --- | --- | --- |
| Gloss White | Brass Effect | Chrome Metallic |
Steel Side Hinged Garage Door Windows
Windows are becoming an increasingly more popular addition to UK steel side hinged garage doors. Initially the most popular in America, window sections offer ideal levels of lighting to allow you to spend time in the garage without the lights on. Garador provide 3 innovative window choices - Standard, Diamond and Crossed patterns.
Not only is this practical, but it also saves money on lighting bills!
Safety Features
Garador offer a variety of high level security features on their side hinged doors to maintain their place at the peak of the steel side hinge garage doors market. Some of the safety features they provide include:
High Security Lock
with fixed knock ensuring security everytime the door is closed.
(Optional external lever handle is available)
Internal Handle
providing easy operation.
Steel Hinges
securely fixed to each frame and door leaf ensuring reliable function.
Centre Style
providing a seal between the leaves and prevents forced entry to the locking system.
Weatherstrips
around 3 sides of the door to help prevent draughts.

Ordering Sizes
When ordering a Garador side hinged door, please note that the measurements taken are that of the internal frame size; the overall door and frame size will always be bigger. Garador standard side-hinged garage doors order sizes and overall frame sizes as delivered.
Have a unique garage door size? We can always purpose build you a garage door too! Our standard sizes are shown below.
Order Size

Internal frame opening
Width x Height
(mm x mm)

Overall steel frame size
Width x Height
(mm x mm)
| | | |
| --- | --- | --- |
| 6060 | 1810 x 1830 | 1930 x 1890 |
| 6660 | 1964 x 1830 | 2084 x 1890 |
| 6664 | 1964 x 1931 | 2084 x 1991 |
| 6666 | 1964 x 1981 | 2084 x 2041 |
| 6670 | 1964 x 2136 | 2084 x 2196 |
| 7060 | 2114 x 1830 | 2234 x 1890 |
| 7064 | 2114 x 1931 | 2234 x 1991 |
| 7066 | 2114 x 1981 | 2234 x 2041 |
| 7070 | 2114 x 2136 | 2234 x 2196 |
| 7564 | 2239 x 1931 | 2359 x 1991 |
| 7566 | 2239 x 1981 | 2359 x 2041 |
| 7570 | 2239 x 2136 | 2359 x 2196 |
| 7664 | 2264 x 1931 | 2384 x 1991 |
| 7666 | 2264 x 1981 | 2384 x 2041 |
| 7670 | 2264 x 2136 | 2384 x 2196 |
| 8064 | 2419 x 1931 | 2539 x 1991 |
| 8066 | 2419 x 1981 | 2539 x 2041 |
| 8070 | 2419 x 2136 | 2539 x 2196 |