Garage Doors with Pedestrian Access
The option of a pedestrian door (or wicket door) built into your garage door offers a very practical solution for anyone who visits their garage frequently on foot or has a house door entrance from inside the garage itself as in many 'mews' style properties.
The garage is used by the majority of people for anything except a vehicle these days and the door has to be part of that solution including offering security and good levels of insulation and weathersealing.
Several options are available for wicket doors in garage doors usually depending upon 3 factors – size, material and door mechanism type.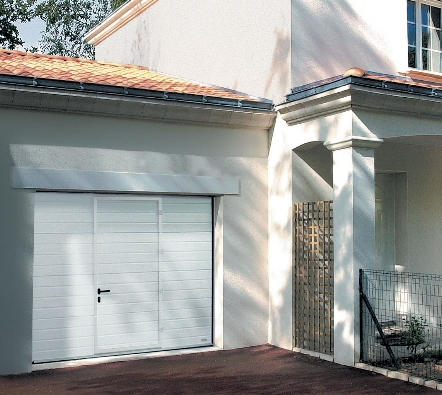 The first real feature of the pedestrian access garage door is being able to enter into the garage from the driveway without having to open the entire garage door. This means you don't have to go through the trouble of opening the whole door every time and unlocking and locking afterwards.
The lifestyle at home has also developed into utilizing the garage door as a secondary entrance into a mews style property or in many cases the garage has become an extra room.
We commonly arrive at home, open the garage door and enter the home via the garage door

When playing, the children may travel back and forth from the garage with bikes, footballs and other toys
Many garages have an alternate entrance to them. However we have commonly disregarded them as a viable entrance, usually due to their location, off to the rear or side of the garage with other obstacles in the way. We tend to take the easy way in - not fumbling with lawnmowers, bikes or barbeques left blocking the way through.
The convenience feature of garage doors with wicket doors comes with many subsequent advantages.
A simple key to the locking gives you access to the garage

The garage door stays down; therefore the contents of the garage are not exposed to the neighborhood or passers by

The Pedestrian door component swings outward. It should never have any obstructions in front of it. The more traditional entrances into the garages commonly have obstructions placed in front of them, prohibiting passage

As an entrance to the garage within the garage door, a tremendous amount of space is economized. Wall space and floor space where another entrance would have been is left for the use of the occupant for storage

In the event of a power failure, one can always enter or exit the garage via the Pedestrian Garage Door
The pedestrian garage door provides its users with a significant safety advantage. With no other point of entry to the garage but the wicket door, an intruder has to put himself in full view in the drive way in order to attempt to gain entry into the home. Each wicket door opens to the exterior so any kicks or heavy force only closes the door further more. In order to break in, one would have to pry outwards with adequate tools in full view of the neighbours. The other more traditional entry doors to the garage have often been a preferred point of entry for break-ins.

A pedestrian access garage door is an excellent product that could help you save time and energy, whilst providing a safe and very attractive point of entry to your home. See most of the various door types with pedestrian door options available currently in the UK below: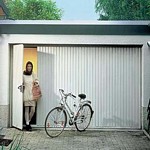 Hormann up and overN80 and DF98 European retractable garage doors are available in white or choice of RAL colours for steel and a base coat prefinish for timber doors. Sizes are available from 2250mm wide x 1929mm high up to 5000mm x 2375m.
They can all be automated with all safety devices required as additional to the basic motor to prevent accidental operation when the pedestrian door is not closed properly. Most will be manual operation.
Material
Steel
Timber
Steel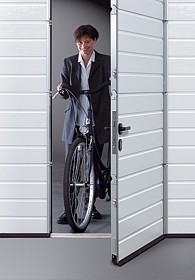 Hormann sectional doors in the LPU 40 42mm insulated double skinned steel panels.
Colours available are white, laminate woodgrain or most RAL colours at an extra cost.
Sizes available from 2250mm wide x 3000mm high to 4000mm x 2500mm with restrictions on certain designs at the larger widths and heights. Larger widths and heights can be achieved with the SPU 40 range of commercial sectional doors from Hormann and also Carteck

They can be automated with all necessary safety devices as additional to the basic motor but are always manually operated as standard.
Material
Steel
Steel
Steel
Steel
Steel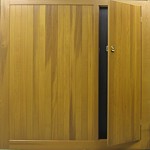 Cedar up and over timber doors in the Bakewell design as shown to the left and most other designs – Retractable operating gear only and in a base coat or factory finish stain option.

Sizes available from 1980mm wide x 2286mm high to 5487mm x 2286mm.
Timber is the most versatile of materials so making special designs by request is normally no problem at all and can provide the most personal and exact specification where detail is very important.
Can be automated with all necessary safety devices required as additional to the motor.
The pedestrian door can be on the left or the right hand side of the main door and it is possible to change the size of the pedestrian door width within the constraints of the overall door design.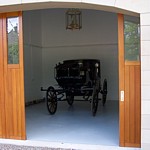 Rundum Meir round the corner doors in timber or steel sections.

Original Rundum or side sectional doors have a pedestrian door facility by the very nature of their design and if they are electrically operated have a pedestrian door option setting. When the second button is pressed on the transmitter the entire door can be set to only open a certain predetermined width and then close again on a second press, for quick and easy access on foot.

Safety is built into the motor units as standard so automation can be considerably less costly than sectional or up and over extras required for the pedestrian door option.

Sizes available are almost any size for the original Rundum and 7000mm wide x 3000mm high for the side sectional timber door.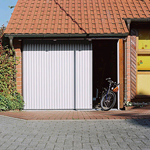 Vertico round the corner doors in aluminium insulated double skin lath sections.
Sizes available from 2000mm wide x 3000mm high up to 5800mm x 3000mm in single parting and can be doubled in width for a bi-parting door arrangement. More versatility in operation.
Automation is standard on these doors and all safety and manual override facilities are included as standard. Pedestrian opening facility is available on the second button of the hand held transmitter to open the door a predetermined width.
The Vertico is a good solid investment for your home and available in many colours including laminate foil woodgrain finishes perfectly simulating various timber species from light to dark in shading.
See our Vertico Feature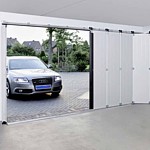 Hormann HST Side Sliding Sectional door in double skinned 42 mm foam filled steel panels as used in the overhead sectional door range.
Sizes are available up to 6500mm wide and 3000mm high. This garage door is available in manual or electric operation and has the same facility as all round the corner type doors have to partially open enough to let a pedestrian walk into the garage without opening the whole door.
A round the corner garage door offers many benefits and is ideal where there is very limited headroom inside.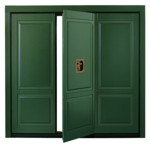 Silvelox up and over garage doors have the central or offset pedestrian door option in any of their designs for a very reasonable additional cost of around £550 over the normal garage door price.
The door is centrally positioned on the smaller sizes but can be offset in certain designs and sizes – check first!
Sizes available 1850mm wide x 3345 high to 5700mm x 2350mm
Can be manual or remote control operated with all safety and override facilities built in as standard when ordered. This is a door that can be tailored to your exact needs.

Summary
The garage doors with the access doors built in are undoubtebly a fantastic solution and superb engineering and you really do have to give serious thought asa to how you use your garage before deciding on the perfect garage door.
When looking for a garage door a with wicket door the following manufacturers are all options and remember you could also consider a pair of straightforward side hinged steel, aluminium or timber garage doors as they will offer the same principle, but practically only manufactured up to 2438mm wide.