Overlap Trackless Sectional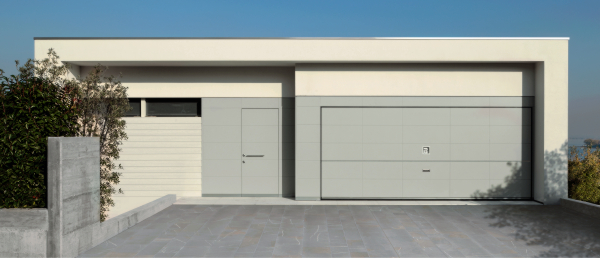 The Trackless Overlap Sectional Garage door is a unique offering with what could be described as a folding garage door, comprising of 2 solid door panels hinged in the middle which are lifted vertically to the open position. The door panels are lifted using a counter weight system which uses the tried and tested method of weights and pulleys. The weights are situated either side of the door panels and enclosed in steel casings with the cables running over the top and lifting the door panels from the sides.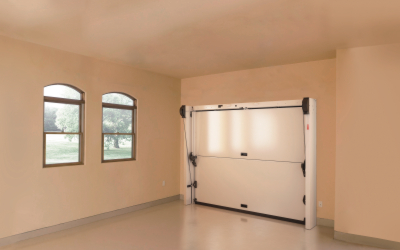 Vertical Operation

Stacking Panels

Space Saving Technology

Insulated Panels

High Security

Made to Measure

Low Maintenance Mechanism

Smooth Operation
The beauty of this trackless system is there are no internal mechanics whatsoever, no tracks coming into the garage, no arms swinging at the sides and only the 2 panels themselves moving up and down inside the garage opening.

The trackless sectional door is available as a purpose made garage door system from manufacturers Delta and Silvelox. You can have either double skinned, insulated steel panels or double skinned timber panels, both factory finished to a high quality finish with either solid paint finishes or woodgrain effects as well as wood stain on real timber surfaces.
The doors are nearly always electrically operated but it is possible to have manual operation.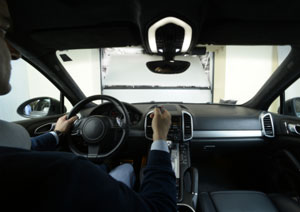 The trackless Overlap door offers great levels of security and insulation as standard compared to other garage doors.
The double skinned panels offer great strength from their construction, and the standard locking is a 2 point steel mechanical latching system with integration into the electric operation for releasing when operating the motor drive.
A manual release is included as standard for overriding in the event of a power failure.
All in all the Overlap door is a great all rounder of a garage door providing everything needed in a door but also using some unique technology to ensure a tidy and sleek interior to your garage.
Being purpose made you can optimise the dimensions inside your garage to whatever you intend to use it for - A car, gym, playroom, office or other function.