Timber Sectional Garage Doors

Why Choose a Timber Sectional Garage Door

Sectional garage doors have become a top trend for 2023. Not only do they offer a sleek and modern look, but they also come in a variety of colors to match your style. While white remains the most popular choice, homeowners are now opting for more unique and personalised options.

When it comes to choosing the perfect garage door for your home, there's a timeless option that exudes both elegance and functionality: the Timber Sectional Garage Door.

Crafted from the finest wood, these doors seamlessly blend the warmth and charm of natural materials with modern sectional design. Timber has an enduring beauty that adds a touch of classic elegance to any home exterior. With rich grain patterns and warm tones these doors create a welcoming and sophisticated appearance that stands out from the crowd in the most elegant way.
Sectional Timber Garage Doors
The sectional timber door is typically constructed from a series of horizontal, joinery made, timber door panels that are bracketed. There are also hinged with rollers at the edge of the panels, running on tracks up the side of the opening and into the garage.
Rather like a series of train carriages travelling around a bend, the rollers run straight up the track to open the door. Such operation allows for the sectional door to rise vertically, meaning there is no swinging out when opening or closing.
Timber sectional doors are ideal for homes that may have a large timber presence around in the windows, entrance door or architectural construction.
When properly specified and treated, sectional timber doors will provide many years of effortless and reliable operation, as well as their beautiful aesthetics.
Match your doors

Elevate the cohesive look of your property by harmonising your timber sectional garage doors with your entrance door. Our selection allows you to seamlessly integrate designs, creating a unified and inviting façade. Furthermore, for those seeking a touch of individuality, consider combining multiple styles of doors, all adorned in the same color palette. From side hinged doors to entrance doors, this approach adds an element of versatility and personalisation to your property's exterior, resulting in a truly customised and visually striking appeal.

Large Doors

Large format timber sectional doors are meticulously engineered to offer exceptional performance while maintaining an impressive visual presence. With dimensions designed to accommodate substantial openings. The core construction consists of a robust timber framework, providing structural integrity and insulation properties. To ensure smooth operation, heavy-duty tracks and rollers are employed, allowing the doors to glide effortlessly during opening and closing. Advanced weather seals contribute to enhanced thermal efficiency and protection against the elements. These doors can be customised with various finishes, stains, and hardware options, enabling seamless integration into diverse architectural styles. With a focus on both aesthetics and functionality, large format timber sectional doors make a resounding statement in both residential and commercial applications.
Between Fit or Behind Fit?
Between Fit and Behind Fit sectional doors are two distinct options designed to cater to your specific space and preferences. Between Fit sectional doors, as the name suggests, are installed between the structural opening, providing a seamless and modern appearance while maximising the available space both inside and outside the garage. On the other hand, Behind Fit sectional doors are positioned behind the structural opening, offering a unique aesthetic and ensuring the door doesn't encroach on the external facade. This configuration is ideal for spaces with limited headroom, providing efficient clearance while maintaining the exterior's architectural integrity. Whether you prioritise a sleek appearance or optimal space utilisation, both Between Fit and Behind Fit sectional doors offer functional and stylish solutions to enhance the look and functionality of your garage.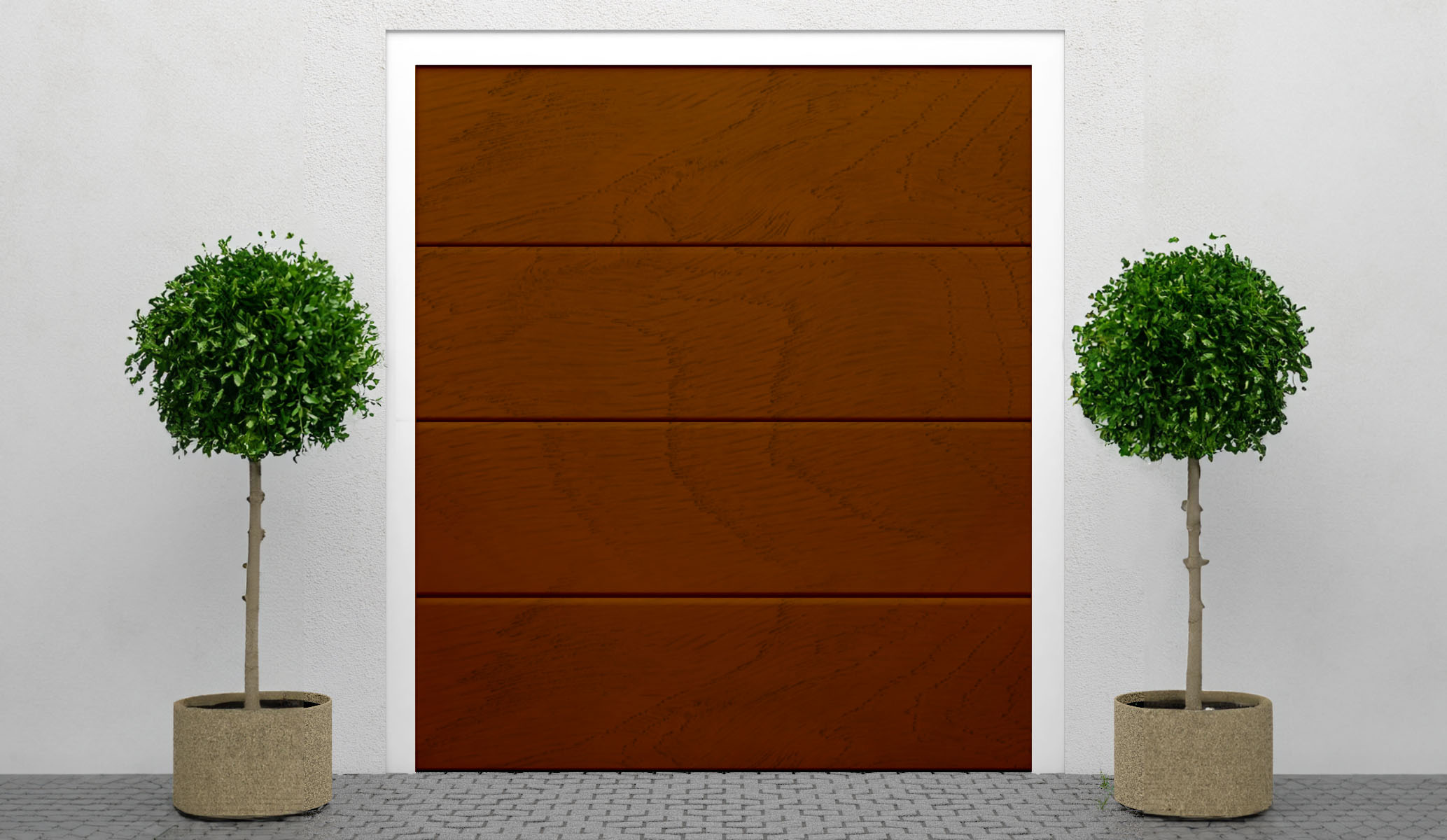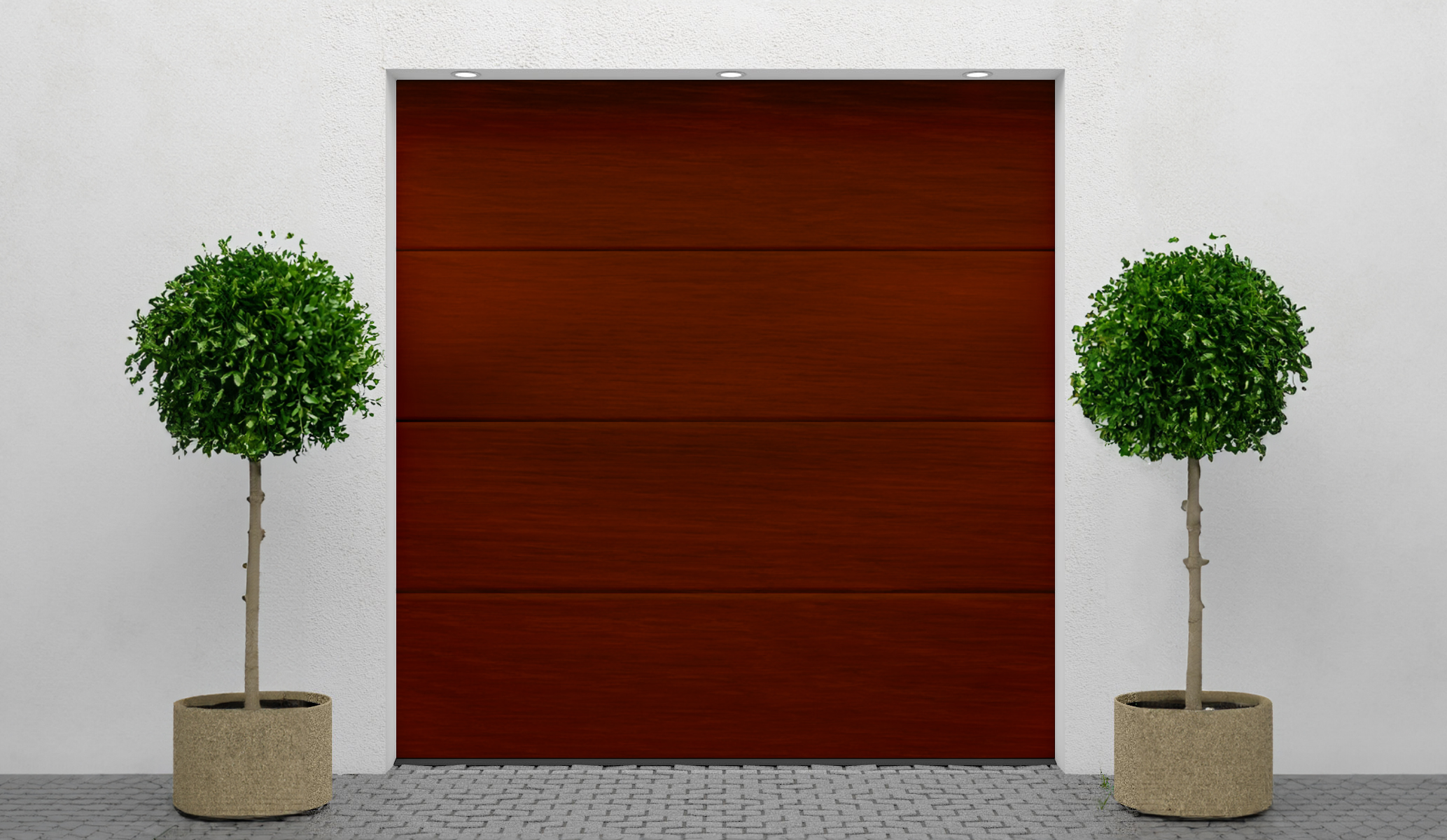 The general benefits of timber sectional doors are substantial:
Convenience:

The vertical rising action of any sectional garage door allows for a consequential lack of out-swing. This enables the whole of the driveway to be used, and whether during operation or not, it also facilitates parking before or behind the door. This is particularly beneficial if the driveway length is limited or the garage shape is arched.

Durability and Longevity: Well-maintained timber garage doors can last for decades. High-quality wood is naturally resistant to harsh weather conditions, and with proper care, these doors can maintain their beauty and functionality for years to come.

Excellent Insulation:

Timber's natural insulating properties make it an ideal choice for a garage door. It helps regulate temperature and minimises heat transfer, making your garage a more energy-efficient space.

Soundproofing:

Timber's density provides effective soundproofing, ensuring that noises from both inside and outside the garage are reduced. This is particularly beneficial if you use your garage as a workshop, home gym, or recreational area.

Fast electric opening:

Bring a new level of convenience and functionality to your garage space. Whether you're rushing to work in the morning or returning home with groceries, the swift and smooth operation of these systems will undoubtedly simplify your daily routine while enhancing the overall security and accessibility of your property

Value Addition:

A Timber Sectional Garage Door can significantly enhance your home's curb appeal and overall value. Its authentic and luxurious appearance can leave a lasting impression on potential buyers, should you ever decide to sell your property.

Customisable Designs:

Timber sectional doors offer a world of customisation possibilities. From different wood species to various finishes and stains, you have the freedom to create a garage door that perfectly complements your home's architectural style and your personal preferences..

Increased drive through width and height:

When the positioning of the tracks is behind the opening, it renders the structural width of the garage completely usable. The hang down at the head frame is minimal in comparison to up and over doors, especially when operated with a remote controlled garage door opener, allowing for it to be eliminated altogether.

Craftsmanship: Each timber door is a testament to craftsmanship. Skilled artisans work meticulously to create a door that is not only functional but also a work of art, adding a touch of sophistication to your property.
The most outstanding benefit of all timber Sectional Garage Doors is essentially their visual advantages; unique and timeless, their aesthetics are a major quality. They can often be the answer to some planning restrictions with clever computing routing in the door face to produce the desired visual requirements. Additionally, they offer a good degree of thermal insulation as timber is an excellent barrier to temperature differences.
All our Sectional Timber Garage Doors include the following as STANDARD:

* Electric Operation

* Minimum of 5 year guarantee

* Made to measure sizes as standard

* Choice of high quality timbers and finishes

* Emergency manual override in case of power failure

* Anti fall back system in place for compliance.

* Fully compliant and tested with certified documentation for the UK

* Removal of old existing door and removal from site included
What do you use your garage for?
For those who utilise their garage space for unconventional purposes, the versatility of a timber sectional door presents an ideal solution. Specifically designed to cater to diverse needs, these doors are especially fitting for individuals seeking a spacious entrance unburdened by height constraints. Whether transforming the garage into a studio, workshop, or recreational area, the ample opening provided by a timber sectional door enhances accessibility and functionality. Furthermore, for automotive enthusiasts, a timber door not only delivers generous clearance but also imparts a touch of heritage elegance. This aesthetic appeal remains consistent, even from within the garage, creating a sleek and captivating ambiance that harmoniously blends the past with the present.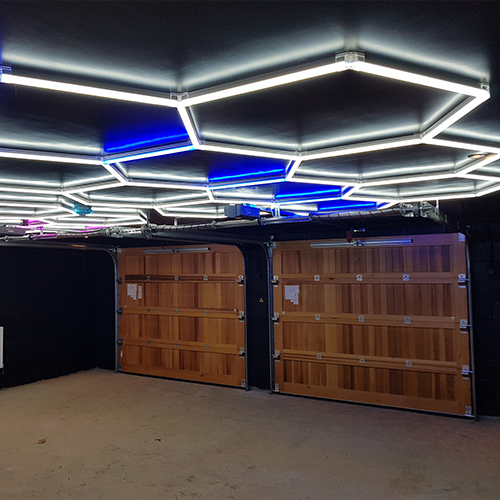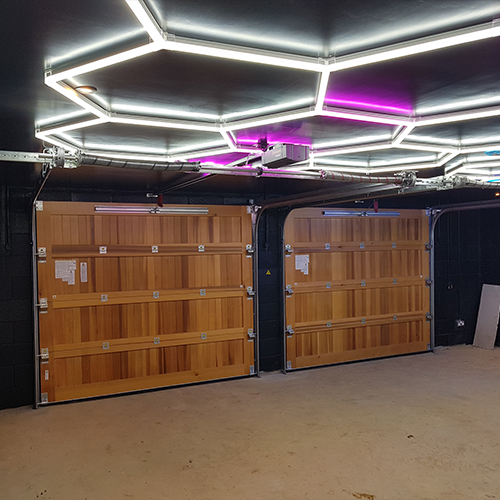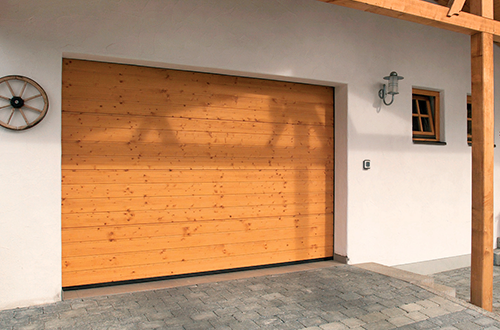 Variation of style and design
The sheer volume of designs available is staggering. Compound the design variations with the different types of timber and the quantities of stain colour, you begin to recognise how vast the choice of these doors becomes. designing your own timber panel with some manufacturers. It is impossible to overstate the effect a timber garage door can have on a property – they really can turn the ordinary into the extraordinary! Regardless of whether the property is period, traditional or futuristic – each can be complemented by a timber sectional garage door.
Planning issues/consent
Sometimes a timber sectional door will be accepted where some others wouldn't because of the ability to replicate any style of door – for example a timber sectional garage door can really appear as an authentic pair of barn doors, even down to the furniture!!! The most common use of the timber sectional door is where vertical lines are required in the case of listed properties or any building perhaps within a conservation area where, again, certain requirements for design and traditional materials are required.
Fundamental differences between steel and timber sectional garage doors
The operating gear, including tracks and rollers and the engineering components are essentially all the same although occasionally, on the larger heavier doors, reinforcements may be added for safety and smooth operation.
Maintenance requirements are obviously higher with the timber door needing treatment to maintain the appearance and durability although many top end woodstains now only need to be freshened up every 5-10 years if used correctly.
Also, whenever the door receives a coating of stain it will increase the weight of the door perhaps necessitating adjustments to spring tension, which really should be carried out by an experienced garage door engineer.
Timber sectional garage doors are invariably heavier than steel ones and may require a more powerful electric operator than a steel sectional door of the same size.
BEWARE…Unfortunately there are times when a timber sectional door is not suitable!

Sectional doors will fit most garages but there are a few things that need checking before proceeding:

- If there is a pedestrian door into the garage close to the opening there will be a possibility that the door tracks may foul the opening passageway so the positioning of the tracks needs to be established before proceeding.

- Likewise the horizontal tracks could run across stairway entrances coming down into the garage.

- Ensure that loft hatches, consumer units etc are all accessible once the tracks are in place.

- Make sure that rafters or beams set back in the garage are not lower than the lintel creating insufficient headroom, although low headroom gearing may solve this problem.

With regards to timber, do exercise caution if living close to exposed coastal areas as the timber can be affected by air borne salt deposits and may need very special treatments applied or use a ceretain timber species suitable for coastal conditions, something like Iroko or larch.


Some examples of special designs available as timber sectional doors:

Different types of timber used
Differing manufacturers favour certain types of timber but in the main you can readily order sectional doors manufactured from the timbers listed below. Special treatment may be essential on certain timbers far more than others with ongoing problems if not correctly applied on the first instance. Please ask for further details on finishing.

- Hemlock
- Oak
- Nordic Pine
- Cedar Wood
- African Okoume
- Norwegian Spruce
- Superior Spruce
- Larch
- Sapele

Please note that most manufacturers would recommend good quality electric automation for any type of oak garage door because or the weight.
Manufacturers

The major manufacturers of timber sectional garage doors are:

- Hormann
- Carteck
- Cedar Doors
- Rundum