GlideRol-A-Dor
The Gliderol GlideRol-a-Door is a space saving roller garage door. The single skin non-insulated steel structure gives it a lightweight profile which is very easy to use when there is no operator attached. Unlike traditional garage doors, the GlideRol-a-Door does not swing out in front of the garage - it rolls up vertically, affording more driveway space and more storage space in the roof of the garage. This allows you to get the most of the available space in the garage and on the driveway.
Bespoke Manufacture
Every roller door is made to order at no extra cost to optimise your garage opening every time. With it designed to be installed behind the structural opening, this door gives maximum width and height for driving through it and puts all moving parts out of the way behind the piers.
The Gliderol roller door is also manufactured with a unique profile and aluminium bottom rail to strengthen the garage door against any form of an intruder penetration. It is achieved with a double-sided locking system and is manually operated from the central handle as standard, allowing you to use the lock from both the inside and outside of the door - giving peace of mind that you can secure your property from both sides of your garage door. With this door, you will get a durable sealant to prevent outside elements and debris from entering the garage.
Low Maintenance
The GlideRol-a-Door is effortless to use. It opens and closes reliably with minimal noise and friction, giving decisive performance during every cycle. Say goodbye to oiling and greasing - just a simple clean of the guides and door surface and you're ready to roll again!
The curtain, with galvanised steel channels either side, simply slides into position without any issue of having any form of hinge or mechanism on show, giving your door a presentable and stylish look that will be desirable for a long period of time.

Automation
The GlideRol-a-Door will give you the opportunity to add electric operation with the Glidermatic GRD operator at any point when your garage door is installed; it allows the chance to use your garage door from the comfort of your property or car for ease of access.
With an electric automatic operator, it is able to operate from an open position to a closed position and vice versa with ease and quickly too. It offers a reduction in noise as the motor is housed entirely within the roll of the door, giving a quiet and smooth performance. You get two hand held radio transmitters supplied as standard with each door operator. There are also many other methods of operation such as key switches, digital key pads, etc. available to make the use of your door as easy as possible.
The risk of using another handset sharing the same code is eliminated as the transmitter uses a different code from one of two billion after every operation. Additional transmitters are available on request and a maximum of up to ten transmitters can be used with each Glidermatic system.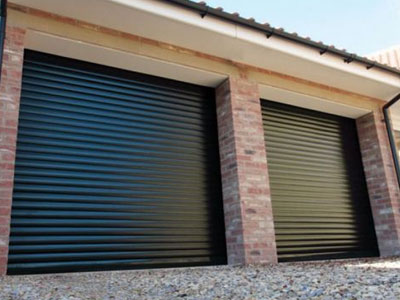 Safety
The roller door also functions with an automatic reverse system which stops the motion of the door should the downward path of the door become restricted. This system is foolproof and does not rely on infra-red beams which can become misaligned far too easily and are not compliant in the UK when used as the only safety device on a remote control roller door. The foolproof system of the Gliderol is based on a current surge when the door is obstructed and immediately reverses once detected. You can add infra-red beams as an additional device if required, useful perhaps on doors near to public pedestrian walkways.
And to top it off, the operator functions with an automatic light which illuminates your garage when the motor is activated for up to 5 minutes. This allows you the luxury of driving into a fully lit garage on those dark mornings and evenings without getting out your car to put other lighting on.
Colours
The GlideRol-a-Door is available in a selection of colours and even a few timber effects. So you are able to match the style of your windows and doors or the style of your home with your garage door. All colours are easy to clean and maintain, only needing water and a little soap to clean them down and to allow the colours to be bright and stand out against your home.