Round the Corner

Round The Corner garage doors were one of the earliest variety of garage doors used in the UK market. Often constructed from timber, panels are inserted on top hung rollers and guided through channels in the floor tracks to follow the desired path.
During their creation, many doors had problems with leaves, stones and other debris getting stuck within the floor tracks. Thanks to technological developments from leading manufacturers Rundum Meir, Hormann and SWS, this is no longer a problem and modern materials make this door a desirable product adding real value and practicality to any home.
Round The Corner garage doors operate seamlessly using manual operation or the much preferred luxury of remote control operation.
There are complete solutions in the U.K. from one of three German manufacturer:
These systems are all factory produced as a complete unit assembled in a controlled environment. All three types have a bottom tracking system which is installed onto the finished garage floor surface which also acts as a weather bar.
Hormann HST side sectional door NEW! Hormann HST New to our range of Round The Corner garage doors is the Hormann HST Side Sectional garage door. For more information, click here
The system has a good degree of tolerance built in which allows for uneven floors. The bottom tracks are very heavy duty and designed to be attractive and functional in use.
Rundum Meir also offer a sunken U channel version if required and the two types are shown in the diagram below, the one advantage the U channel version does have is to offer a better bottom seal with the bottom edge of the garage door closer to the finished floor level. As the door panels are top hung the bottom roller is only acting as a guide for the bottom part of the panels.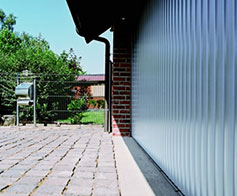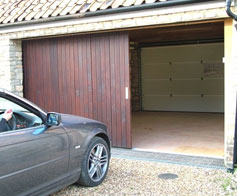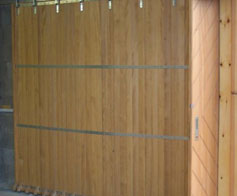 Rundum Meir produce two main types of round the corner system and have done since 1968. Both options can be produced in either timber or galvanised steel sections. Either system can be automated very easily and safely.
The timber types available include:
Norwegian Spruce

Superior Spruce

European Oak

Larch

Iroko

Mahogany

Douglas Fir

General sizing Information
The Vertico range of aluminium doors have a maximum width of 5600mm.
The Rundum Meir range of original round the corner doors can go up to very large sizes indeed. We have installed a bi-parting door 20 metres wide x 4.2 metres in height and it still operates as smoothly as a 7 foot wide door.
As the doors are all made to order then the only usual concern is sideroom and headroom although the headroom can be as little as 50mm!
The sideroom ideally is about 130mm for the Vertico and 200mm or more for the Rundum, both systems are made to suit larger returns to maximise inside space in the garage.
False walls and shelving are available to make use of the wall the door opens against if required. When there is insufficient sideroom available a false panel matching the garage door can be supplied to create enough room and still seal properly when closed.
Why would you choose a round the corner garage door system?
There are many reasons to use such door systems
Internal lack of headroom
When there is little or no headroom many of the round the corner systems we supply can operate in the smallest of headroom requirements, as little as 75mm!
Requirement for regular pedestrian access
These systems can all be set to open electronically to just the 900mm usually given to a pedestrian access rather than opening the whole door, ideal for larger openings and where you may not ever want to display your garage contents to the whole world.
Planning Issues
Round the corner doors by their very construction offer vertical lines and this is very often a requirement for listed or buildings in conservation areas. Also the timber constructed doors fulfill the requirement where certain timber species may be required too.
Very large widths
Again the construction of a round the corner door means you can almost have limitless width sizes. There is no extra stress on components for a 7 foot wide or a 30 foot wide door as the weight is spread evenly and vertically on hangars or rollers. We can produce very large widths of up to 40 feet without too much problem and the mechanism will always be super smooth and reliable in manual or electric operation.
Odd Shaped garage
Some of the door systems will follow the internal shape of the walls when required and of course if you have an arched roundthecornerdoors.phpgarage there is also no problem as the door does not travel through the aperture at any point during operation.
Because they are cool!
Round the Corner garage doors are simple in principal, excellent in operation and very reliable and yes they are always very cool to operate and watch operating!