Period Style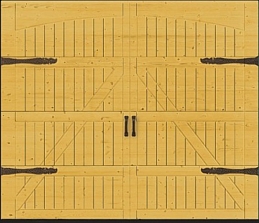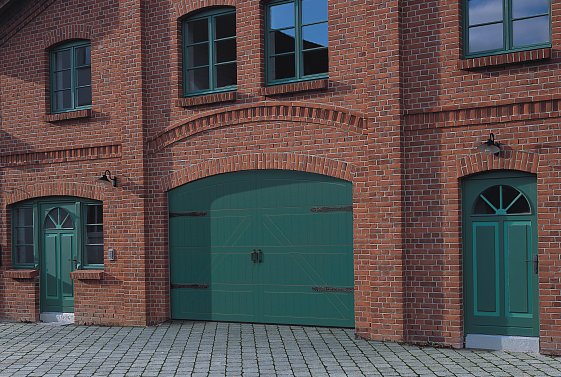 To many, garage doors in the UK are typically one-piece up and over doors, made from steel. These doors became available in the 1960's, meaning doors before this time were much more basic in operation, with a different visual style. Recreating this 'period style' garage door has become increasingly popular over recent years, encouraging manufacturers to develop garage doors using modern techniques.
Such doors are now available in a wide variety of designs and door types. For example, traditional timber doors are now available as sectional doors, giving a property the visual prestige of an older door, with the functionality and reliability of a modern sectional door.
The pictures to the right are in fact timber sectional doors, vertically rising garage doors manufactured by Hormann, available in many standard and purpose made sizes. The hinges and handles are merely decorative and the door is available manual or remote control.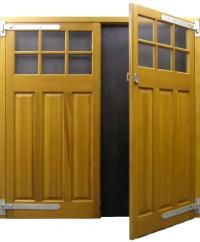 Almost all garage door types can now all offer a design to recreate the style that you might see on a 16th Century coach house in Stratford, or a 17th Century property in The Cotswolds.
For a genuine period style garage door, look no further than traditional side hinged timber constructed doors. These doors are available in a choice of standard styles and timber species, which can will satisfy most requirements. Please note, the price variations between side hinged timber garage dooors can be significant, depending on the specification of the door, and particularly on the choice of timber. Cedarwood is always a reliable choice, providing a fantastic material for many timber doors. Whilst it may be a lightweight choice, Cedarwood offers a number of useful propeties, including resistance to the variable UK weather. The light colour of the wood can also be stained to almost any required colour, and is always knot-free, which means there will be no longer-term issues with knots falling out of the timber.
Side hinged timber garage doors are only practically manufactured up to 3048mm wide (10 feet), as door panel weight becomes a concern beyond that. Doors have to be constructed more like gates with heavier hinges, thicker timber and more bracing, if sizes over 10 feet are desired. It is possible, but not advised.
Planning and local restrictions or listed property requirements can all be catered for with a whole range of different timber choices such as Oak, Cedar, Larch, Mahogany, Hemlock, Pine, Douglas Fir and Iroko to name a few.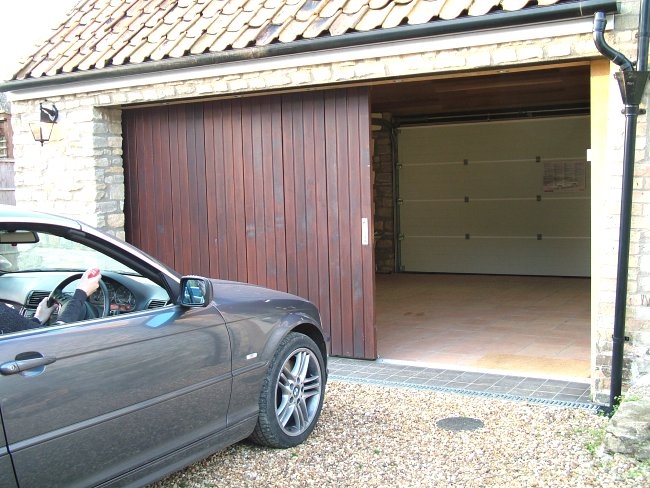 A Rundum Meir side sectional superior spruce timber garage door with remote control electric operation.
Partial opening for pedestrian access is available by pressing a different button on the 2 or 4 button transmitter

Click here for movie of door
Many of the more traditional types of garage doors have a lot to offer in today's modern home in any case. Side hinged doors are perfect for a garage that is not used for a vehicle as you can access via one door leaf when required and with options now like the 2/3rd and 1/3rd split in certain door designs this is even easier. If you need to access your garage regularly for bikes, freezer, toys and the like, this option will be much more user friendly.
Round the corner garage doors are similar in that they all have a pedestrian width electric opening option when you only want to walk in and out on foot. Many other sliding and folding type doors also give this very useful and secure method of access including a unique centrally positioned 'secret' type pedestrian pass door available in the Hormann sectional door range and the exclusive Silvelox garage door range.
The Garage Door Centre has supplied and installed thousands of special designs and door constructions over the last 24 years and has always offered a solution to the most challenging of requests.
For full details on all period style garage doors available or help with any plans you may have for an individual designed garage door call us free on (0800) 525442 or Email your requirements.