Period Style
Because garage doors in the UK generally conjure up the image of a one piece up and over type manufactured in steel or aluminium it is worth knowing that nearly all up and over garage doors in the U.K. were built only from the 1960's onwards, meaning that if you had a house built before that date the choice of garage door was generally fairly limited but also very basic in operation. This obviously means that if you want to pay careful attention to detail when replacing an old garage door or recreate a period look then you will have to look very carefully at the modern options.

Since around 2003 many leading door manufacturers as well as The Garage Door Centre have turned back the years with designs recreating traditional timber designs originally made as side hinged, sliding or folding type garage doors as the demand has become a lot higher. Using modern construction methods but traditional timber species it is now possible to have a period look garage door in a choice of very modern operating methods.

The pictures above and right are in fact timber sectional doors, vertically rising garage doors manufactured by Hormann and are available in many standard and purpose made sizes. The hinges and handles are merely decorative and the door is available manual or remote control.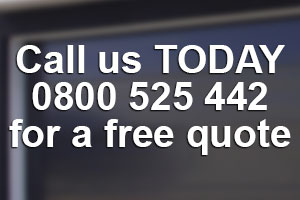 Round the Corner, Side Hinged, Folding, Sliding, Up and Over and Sectional type garage doors can now all offer a design to recreate garage doors you may see on a 16th century Coach house in Stratford or a 17th century property in The Cotswolds.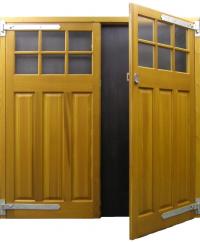 Of course for a genuine period style garage door look no further than traditional side hinged timber constructed doors. Available in a choice of standard styles and timber species they will satisfy most requirements. Be very careful with side hinged timber garage dooors as the price variations are enormous
and the only reason ever is down to the type and quality of the timber used in construction. Generally if you want a timber garage door with a good, genuine guarantee then look no further than cedarwood. It may be light in weight but that is one of its useful properties as well as being very resistant to our wonderfully diverse UK weather. It is also light in colour meaning it can be stained to almost any colour you require and also has a knot free finish meaning no long term issues with knots falling out as the timber shrinks like inferior timber doors always will.
Side hinged timber garage doors are only practically manufactured up to 3048mm wide (10 feet) as much above that width the door panel weight becomes a problem and the doors have to be constructed more like gates with heavier hinges, thicker timber and more bracing. It is possible, but not advised.
Planning and local restrictions or listed property requirements can all be catered for with a whole range of different timber choices such as Oak, Cedar, Larch, Mahogany, Hemlock, Pine, Douglas Fir and Iroko to name a few.
A Rundum Meir side sectional superior spruce timber garage door with remote control electric operation.
Partial opening for pedestrian access is available by pressing a different button on the 2 or 4 button transmitter

Click here for movie of door
Many of the more traditional types of garage doors have a lot to offer in today's modern home in any case. Side hinged doors are perfect for a garage that is not used for a vehicle as you can access via one door leaf when required and with options now like the 2/3rd and 1/3rd split in certain door designs this is even easier. If you need to access your garage regularly for bikes, freezer, toys and the like, this option will be much more user friendly.
Round the corner garage doors are similar in that they all have a pedestrian width electric opening option when you only want to walk in and out on foot. Many other sliding and folding type doors also give this very useful and secure method of access including a unique centrally positioned 'secret' type pedestrian pass door available in the Hormann sectional door range and the exclusive Silvelox garage door range.
The Garage Door Centre has supplied and installed thousands of special designs and door constructions over the last 24 years and has always offered a solution to the most challenging of requests.
For full details on all period style garage doors available or help with any plans you may have for an individual designed garage door call us free on (0800) 525442 or Email your requirements.