Garage Door Price Examples
Garage Door Price Examples
Every day we get asked the same question – How much is a standard garage door?
With advances in garage door types, materials, construction methods and operating mechanisms over the last 15 years you can install a garage door to provide a lot more than just a basic steel panel in a timber frame.
The choice of garage doors now is enormous in the UK with manufacturers catering for insulated doors, vertically rising doors, horizontally sliding doors and even garage doors with smaller doors built in for easy pedestrian access.
Shown below are 10 examples to show how 1 garage opening size can produce 10 very different drivethrough measurements and 10 very different installed prices.The example size is taken from the most frequently encountered single width brickwork size measured by our company over the last 26 years.
If you want to take your own garage opening measurements and get a more accurate price from us either go to our Interactive 3D Self-Survey Form or call us free on (0800) 525442
The brickwork opening size most encountered on single brick built garage openings is 2290mm wide (approx. 7'6") x 2250mm high (approx. 7'4 3/4"). We assume for the examples below that there is sufficient headroom and sideroom internally
The garage door prices are based on removing the old garage door and mechanism and disposing from site and the installation of a new fixing sub frame when required, the garage door panels and operating mechanism, and remote control electric operator where included. We have assumed very average times on site and no major making good work.
---
Example 1

Door Type:
Up and Over (canopy mechanism type)
Installation position:
Inbetween structural garage opening
Operation:
Manual, spring assisted
Material:
Galvanised steel
Door panel:
Single skin - uninsulated
Door design:
Horizontal Ribbed (Click for picture)
Colour:
White or Brown factory powdercoated
Sub Frame:
New box section galvanised steel matching the door panel colour
Ordering Size:
2134 x 2134 (7' x 7') (standard size)
Extras included:
Upvc infill fascia above door head frame to seal small gap as total door height including frame is 2192mm.
Total Price £680 including VAT

---
Example 2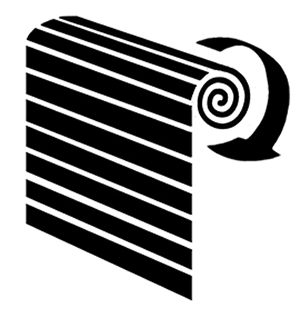 Door Type:
Roller Shutter
Installation position:
Behind the structural garage opening
Operation:
Manual, spring assisted
Material:
Galvanised Single Skin Sheet Steel
Door panel:
Single skin - uninsulated
Door design:
Horizontal Ribbed
Colour:
Choice of 12 plastisol or powdercoated colours
Sub Frame:
None – direct fix to structural opening
Ordering Size:
2286 x 2200 (7'6" x 7'2 ½") (standard size)
Extras included:
None required
Total price £685 including VAT

---
Example 3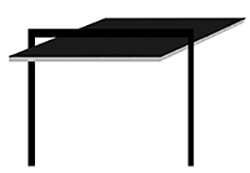 Door Type:
Up and Over (Basic Canopy Type)
Installation position:
Behind the structural opening
Operation:
Manual, spring assisted
Material:
Galvanised steel
Door panel:
Single skin - uninsulated
Door design:
Georgian panelled (9 or 12 panels with other configuration options)
Colour:
White or Brown factory powdercoated
Sub Frame:
New box section construction galvanised steel matching door panel colour
Ordering Size:
2261 x 2134 (7'5" x 7'0") (standard size)
Extras included:
UPVC infill fascia above door head frame to seal small gap as total door height including frame is 2192.
Total price £885 including VAT

---
Example 4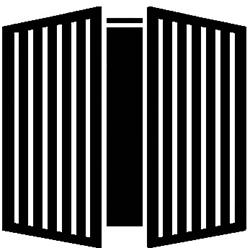 Door Type:
Side Hinged
Installation position:
Inbetween the structural opening
Operation:
Manual, hinged at sides
Material:
Galvanised steel
Door panel:
Single skin - uninsulated
Door design:
Vertical Ribbed
Colour:
White or Brown factory powdercoated
Sub Frame:
New box section steel matching door panel colour
Ordering Size:
2134 x 2134 (7'0" x 7'0") (standard size)
Extras included:
Upvc infill fascia above & to sides of frame to seal small gap as overall door & fixing frame size is smaller than structural opening.
Total price £995 including VAT

---
Example 5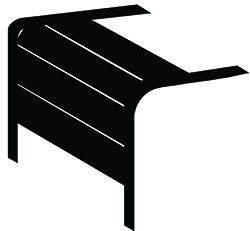 Door Type:
Sectional Overhead
Installation position:
Behind garage structural opening
Operation:
Manual
Material:
Galvanised Single Skin Steel
Door panel:
Single Skin Steel in Woodgrain finish
Door design:
S or M Ribbed Horizontal Design
Colour:
White factory finished
Sub Frame:
New L Section Construction Galvanised Steel in White Finish
Ordering Size:
2286 x 2125 (7'6" x 7'0") (standard size)
Extras included:
UPVC infill fascia above head frame - door has weatherseals in the door frame and bottom seal as standard.
Total price £1,050 including VAT

---
Example 6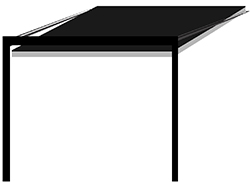 Door Type:
Up and Over (retractable type)
Installation position:
Inbetween structural opening
Operation:
Remote Control – Electric operated
Material:
Galvanised steel
Door panel:
Single skin - uninsulated
Door design:
Vertical Ribbed
Colour:
White or Brown factory powdercoated
Sub Frame:
New box section steel matching door panel colour
Ordering Size:
2134 x 2134 (7'0" x 7'0") (standard size)
Extras included:
UPVC infill fascia above door head frame to seal small gap as total door height including frame is 2192. De latch security mechanism for 3 point locking facility.
Total price £1,250 including VAT

---
Example 7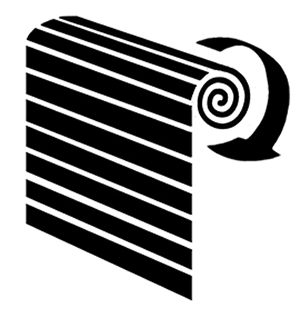 Door Type:
Roller shutter
Installation position:
Behind structural opening
Operation:
Remote Control – Electric operated
Material:
Aluminium components and curtain
Door panel:
Double skin - foam filled insulation
Door design:
Horizontal ribbed
Colour:
16 standard colours and 3 woodgrain laminates.
Sub Frame:
Aluminium guides powdercoated coloured
Ordering Size:
2290 x 2250 (7'6 x 7'4 ½") (purpose made)
Extras included:
Two hand held 'rolling code' transmitters,manual override, safety edge bottom seal & courtesy internal light & control box.
Total price £1,575 including VAT

---
Example 8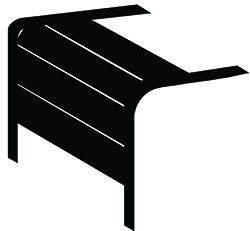 Door Type:
Sectional Overhead
Installation position:
Behind the structural opening - Direct to brickwork
Operation:
Remote Control – Electric operated
Material:
Galvanised steel
Door panel:
Double skin - insulated 42mm thick
Door design:
Georgian panelled
Colour:
White painted
Sub Frame:
Box section steel matching door panel colour.
Ordering Size:
2286 x 2125 (7'6" x 7'0") (standard size)
Extras included:
Upvc infill fascia above head frame - door has weatherseals in the fixing frame and bottom seal as standard. 2 hand held transmitters and manual override.
Total price £1,550 including VAT

---
Example 9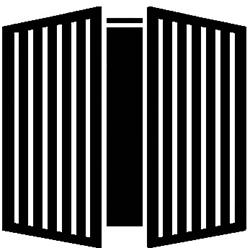 Door Type:
Side Hinged
Installation position:
Inbetween structural opening
Operation:
Remote Control – Electric operated
Material:
Timber - Cedar wood
Door panel:
Single skin - insulated
Door design:
Traditional vertical boarded
Colour:
Choice of factory finished Sikkens microporous stains
Sub Frame:
Timber – white primed or basecoat stained softwood 70 x 70 PSE
Ordering Size:
2134 x 2125 (7'0" x 7'0") (standard size)
Extras included:
2 hand held transmitters and manual override system.
Total price £2,550 including VAT

---
Example 10
Door Type:
Silvelox
Installation position:
Behind structural opening
Operation:
Remote Control – Electric operated
Material:
Timber - Okoume
Door panel:
Double skinned 80mm Insulated
Door design:
VIP or DOC (click for feature)
Colour:
Choice of factory finished treatments
Sub Frame:
Steel with matching timber fascia covers
Ordering Size:
2250 x 2130 (7'4 ½" x 7'0") (purpose made)
Extras included:
Extras included: 2 hand held transmitters, safety beams x 2, manual override facility, fully weathersealed and central pedestrian door option.
Total price £7,700 including VAT

If you want to take your own garage opening measurements and get a more accurate price from us either go to our online quotation request or call us free on (0800) 525442
For up to date special offers - go to our Promotions page