Oak Garage Doors
Oak is traditionally a very difficult timber species to manufacture garage doors with as it is extremely heavy and can be very unstable in the varying air moisture content that we have here in the U.K. However it is also a beautiful grained timber and required by many people to match existing doors, windows and other oak timber around the external house structure.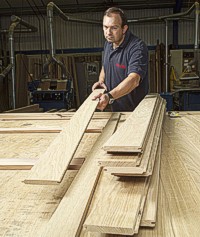 The weight of oak is the larger of the two problems as single garage doors contain 3 to 4 times the volume of timber that a front entrance door generally has and to lift it above your head in a one piece up and over panel is clearly going to be a safety issue as well as a mechanical challenge without enormous springs and oversized lifting arms. Although it is possible, the sizes are generally more restricted than with sectional or round the corner garage door systems..
We can however offer Oak garage doorsOak garage doors produced using the superb DF98 or the Hormann ET500 steel chassis system to manufacture a one piece up and over garage door panel in the UK with full CE compliance as well as complete reassurance of continued reliable use. Using various types of oak in varied designs a garage door can be produced up to about 5 metres wide maximum and a maximum height of about 2.4 metres.
The designs in the oak door range can recreate very traditional styles and are offered in a clear base coat finish or limited woodstains to enhance the natural beauty of the Oak graining and the warmth of the oak colour.
The oak garage doors that are available are built using simple joinery methods combined with elements from modern up and over garage door construction offering the very latest fully retractable operating gear fully compliant with the latest CE regulations.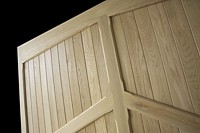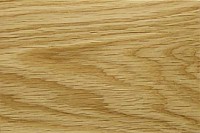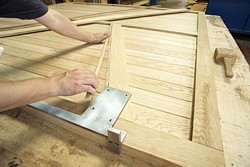 Some of the more popular Oak garage door designs in single width sizes are below but we can look at almost any design for you and quote accordingly.
If you require Oak in garage doors larger than 8 feet (2438mm) wide there are 2 other superb options available - Rundum Meir round the corner and sectional garage doors or Silvelox garage doors. These fantastic doors offer a much wider and higher range of sizes. The construction is such to offer great stability and with the round the corner doors you can have either 80mm vertical boards or side sectional door panels giving a greater variation of design options with optional glazing sections. The Silvelox doors are constructed from a high quality oak veneer, again for stability over greater sizes.
Sectional garage doors in oak are constructed with several panels divided horizontally and operated vertically so are generally very stable and balanced.
Rundum Meir round the corner garage doors in special design with windowsSilvelox GEO door in Oak, Iroko, Mahogany or Chestnut
Silvelox up and over garage door with optional pedestrian door inset
Both these garage door options offer a wide range of designs and size options up to 5.5 metres in the sectional, 9 metres in the round the corner door and 6 metres in the Silvelox. Bespoke designs are possible with both door types and drawings are produced prior to manufacture to ensure you get the perfect garage door design.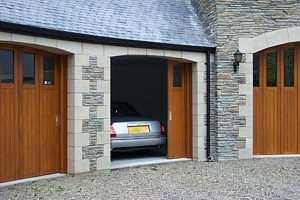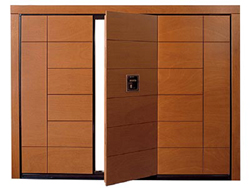 Both these manufacturers have tested and refined these garage door systems to perfection over the years so you can be confident in purchasing a high quality door system that will offer years of trouble free, safe operation whilst looking as good as the day they were installed.
Idigbo timber is also now a readily available as an option and does match oak graining very well. It is a much more light weight and very stable hardwood so ideal for garage doors.
We can quote you on almost any style of garage door design in Idigbo in sizes up to 16 feet wide (4877mm)
We also supply many doors in Hemlock which also compliments oak very well and again is a very stable timber species for use in door construction.
For any query on Oak or Idigbo Garage Doors call free on (0800) 525 442 or email your requirements.