Sectional

Sectional garage doors are now one of the most popular and practical choices for style, safety, security and are an easy to use, modern and versatile garage door system. They are called 'sectional' garage doors because they open and close in separate individual door panel sections, operating vertically without any swing out from the framework and tracking mechanism at all. Because of this vertical operation almost any shape of garage opening can be installed to, i.e. arched, angled corners etc.
Ideal for Short Driveways

Insulated Panels Standard - Ideal for Integral Garages

Vertical Operation - No Swing out

Excellent Security

Extra Large Sizes no problem
Construction
Most sectional garage doors manufactured are now double skinned as standard with foam filled insulated panels ranging between 40mm and 45mm thick, mainly constructed from galvanised steel sections. There are a vast array of smooth or various embossed effects pressed into the outside face of the panel creating very different visual effects. Various high quality standard, bespoke or metallic paint finishes as well as modern laminate woodgrain effects have now also become very popular and match or compliment many other building products used on domestic and commercial buildings. The overall integrity and construction of a sectional door provides levels of stability and strength not possible in other door mechanisms.
Space Saving
Sectional garage doors will enable the full use of the space in front of or behind your garage opening as they all open and close vertically. This mechanism is ideal for shorter driveways, garages next to pathways and internal space problems with higher 4 x 4 and taller vehicles. Standard sizes can be used in non standard openings as the door panels glide behind the structural opening, making a much more diverse range available when ordering. Properly specified and installed the sectional door can also give you the full height when the door is open which is not possible with an up and over door ever. Roller doors also need a lot of internal height and the bottom slat always hangs down when open reducing the drive through height.
Practical Use
The sectional garage door will, in most instances give the maximum drive through width and height, especially important for the larger 4 x 4 and people carrier vehicles. Some sectional doors perform better than others in this respect depending on their springing mechanism and gearing options. It is also possible to have angled tracks to follow rooflines going right through to a vertical operation if required, all maximising the internal space in your garage.
Insulation
The fantastic insulation values and security properties of a double skinned, insulated sectional garage door also means that it is an ideal door for a garage not used for vehicles and helps maintain a constant temperature inside. Some models are available with additional rubber seals to further enhance the insulation when it is a critical requirement.
A garage that is used for an office, workshop, playroom, gym or just lots of household items too large for the house would benefit enormously from an insulated sectional garage door. Sectional doors also seal very well around the perimeter to help keep the garage mainly free from dust, leaves, or rain ingress.
The insulated sectional doors also offer a far wider range of sizes and generally for most manufacturers also offer greater colour and finish choices as well as some very modern 'designer' doors.
View the performance characteristics of the Hormann sectional doors - (click here)
Materials
The majority of sectional garage doors purchased in the UK are manufactured from galvanised steel with almost any colour powder coat finish or tough new laminate woodgrain finishes available. There are 3 main materials for the sectional door panel construction:
Steel (Galvanised)

Timber (hardwood and softwood)

Aluminium (limited designs)
The steel sectional door panel sections of most manufacturers are woodgrain embossed on the front surface as standard to give a very practical and aesthetically pleasing appearance. Smooth finished panels are readily available in steel and give a very simple and classy contemporary look to complement modern architecture. These smooth finish sectional doors are known as 'Silkgrain' doors and can be viewed in our product catalogue. There are also 'Micrograin' and Decograin laminate foil coated doors now available.
Timber Sectional Doors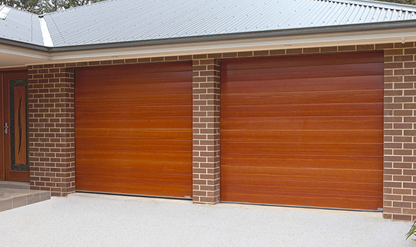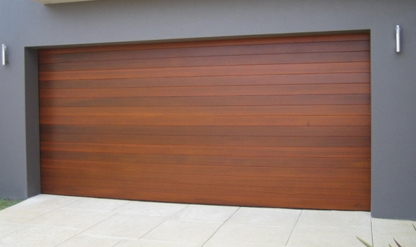 Some of the larger, more established sectional door manufacturers produce very high quality timber sectional doors in various high quality sourced softwoods and hardwoods such as Hemlock, European Oak, Iroko, Accoya, Mahogany or Cedarwood. These are made to standard or bespoke designs up to 5000mm wide. If your requirement is for a heavy hardwood timber such as Oak, a sectional door would be a perfect choice as one piece up and over and side hinged doors are only made up to 8 feet wide (2438mm) in European Oak. Timber sectional door panels are available in traditional boarded designs or cassetted panels as standard but with modern machinery and the use of composite timber panels almost any design can be routed into the door sections for an individual sectional door to be produced just for you.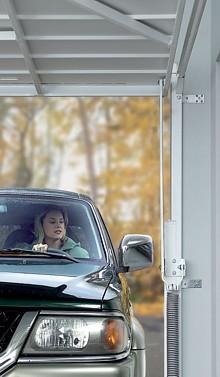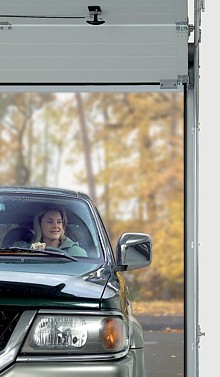 Up and over v's Sectional Garage Door
Operation
The mechanical design of any sectional garage door is quite different to that of a one piece up and over garage door. The spring system will provide far better and smoother assistance during operation than a normal up and over door can and will be particularly useful on larger sized doors. All sectional garage doors can be either manual or remote control operated and in either case are very smooth and quiet because of excellent overall construction and design elements. The panels of any sectional door are required by law to have anti entrapment design at various points to prevent potential injuries.
Up and over garage doors with retractable operating gear will always reduce your drive through width as the lifting arms sit between the framework when the door is open.
A sectional garage door will give you the full drive through width when open as there are no side lifting arms involved. The drive through height will also be higher than an up and over door.
Sizing Information
The sectional garage door is extremely versatile in its sizing for 2 reasons - Firstly the entire sectional door itself not swinging through the opening means that when the door is installed to the inside of the garage opening the exact size of the door is not as important as an up and over door and the steel fixing frame is designed to be either partially viewed or totally concealed. You can install a sectional door to an opening that is too big or too small and it will still operate fine, you only have to concern yourself with sufficient internal sideroom and headroom and what it may look like once fitted in the aperture.
Secondly the strength in the panel, particularly the double skinned panel means that large widths are not a problem, as well as heights up to 3000mm. The largest available domestic sectional garage door width is currently 8000mm. Purpose made sizes do not cause a problem at all in steel, timber or GRP, but there are a vast range of standard sizes readily available. As the sectional door does not go through the structural opening you can install standard sized doors behind openings that are slightly smaller but being conscious of the design in the door.
Installation positions
Sectional garage doors were originally designed to be installed behind (face fitting) the structural opening due to the original front mounted torsion spring mechanism and the larger guides used. The benefits of drive through width and height were also maximised by this installation position. The majority of sectional doors we install today are still like this but more and more are able to be installed inbetween the structural opening with adapted installation kits and other spring mechanism variations. Specially designed fascias and profiles also help to make sure almost any opening can be accommodated with a sectional door.
Sufficient headroom for the curve of the tracks and depth for the length of the tracks are usually the only issues to consider if constructing your garage from new. Consider the Hormann, Seceuroglide and Garador Z track system (single door sizes) or the Carteck range of sectional doors for garages with limited headroom internally.
Finger entrapment is prevented due to design of door panel sections.

Easy to operate manually with excellent spring assisted mechanism and smooth, quiet movement at any point during operation.

No need to step away from the sectional garage door when operating due to the vertical lifting operation design.

Manual operation is much easier than up and over garage doors, especially on larger sizes as the springs assist throughout the entire movement of the door.
Why insulated?
2 simple good reasons for specifying an insulated sectional garage door - panel strength for security and outstanding thermal insulation properties.
All insulated sectional garage doors supplied by The Garage Door Centre are CFC free, foam filled, double skinned galvanised steel panel construction NOT single skin panels with polystyrene stuck to the inside face like some cheaper manufacturers. The construction of the panels, 42mm in thickness gives incredible strength and reduces damage from knocks and bumps. Properly installed an insulated sectional door will give an incredibly good U value rating and reduce any heating costs on adjacent rooms such as utility rooms, etc. during the winter whilst maintaining a good constant temperature inside the garage all year round, ideal for valuable collectors car storage or valuable items of any sort that may suffer in damp conditions. Extra equipment is also now available to further increase the insulation properties if required.
All other components are generally common to either garage door panel type such as weather seals, locking, paint finish, etc.

The sectional door always offers high levels of weather sealing.
Manual or Remote Control?
The sectional garage door is one of the few garage door types where manual or electric operation gives equal levels of security, mainly due to the geometry and design of the door mechanism itself. The 4 main manufacturers - Hormann, Carteck, Garador and Seceuroglide all have different spring lifting operation methods but the one common factor is ease of operation, especially compared to a one piece up and over garage door.
A remote control electric operator is normally highly recommended if the main use for the garage is for a vehicle or the garage door is larger than 3 metres wide and used frequently. Of course always remember it is incomparable to open a garage door at the simple push of a button rather than unlocking a handle and lifting a manual door, especially in the dark or rain! The latest range of electric operators are very intelligent and offer 2 way communication to give an indication of whether your door is open or not from the hand set. See Hormann Bi Secur. Having a Hormann LPU40 door fitted fuly behind the opening and with an operator but without an external over ride, also means the door is recognised as 'Secured by Design'.
Matching Garage Door and Front Entrance Door
With many of the sectional door designs we are able to offer a matching design or complimentary design for either a front entrance door or pedestrian side door. Hormann and Carteck are way ahead on this solution.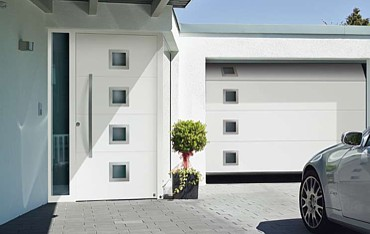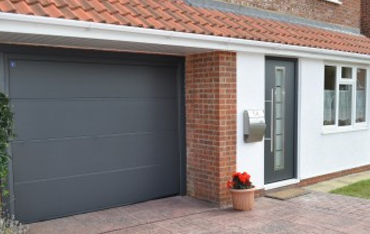 Security Sectional garage doors are definitely one of the most secure types of garage door available due to the excellent panel construction and the fact that the door panels are held into steel guides by at least 5 rollers each side of the door giving great resistance to forced entry attempts. Combined with a good quality electric operator the sectional type door can be nearly impossible to force entry without special tools (and a lot of noise!).
The Hormann Supramatic and Promatic Bi Secur electric operators have additional locking in the operator boom in the form of a steel hook which holds the door panels firm at the top as well as being held by the motor itself. Electric operators from Garador, Marantec, Carteck and Somfy also offer high quality specifications and security.
Pedestrian Door Option (Wicket Door)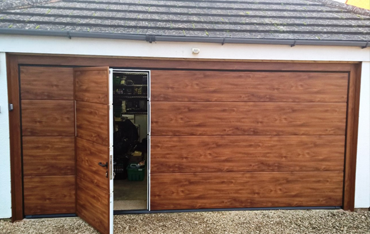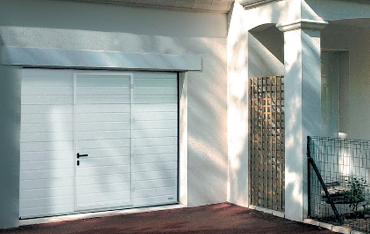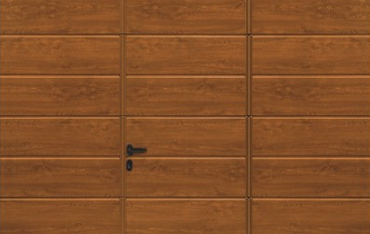 A masterpiece of engineering, the optional pedestrian (or wicket) door is a superb solution for the household using their garage regularly but not necessarily for a vehicle. Regular access to the freezer, tools, bikes, etc. is easy with the large centrally positioned door, which can be used without opening the entire garage door.
Having the bottom threshold only 10mm high allows access with bikes, scooters, wheelbarrows and the like very easy indeed.
The sectional door with wicket inset door is only available in the 42mm double skinned insulated option due to panel strength required overall. Several beautiful new finishes are now available including the Winchester, Rosewood, Dark Oak, Night Oak and Golden Oak vinyl coated woodgrain finish.
Manufacturers for this type of sectional garage door include Hormann and Carteck For an overview of the Hormann range of sectional garage doors click here.
Sectional Garage Doors - More Information
Sizes
Manufacturer's 'order reference sizes' for sectional garage doors always refer to the exact structural opening sizes when the door is being installed to the inside face, however the size of the garage opening can vary considerably, as sectional garage doors do not swing through the opening and can therefore be installed behind narrower or wider openings as long as the internal pier return size is sufficient.
Sectional garage doors can be installed between structural openings but there is no exact formula for frame size allowance as the headroom required varies considerably depending on the gear type ordered. Generally the overall width of most sectional garage doors including the tracks and framework is about 180 - 200mm wider than the ordering size - allowing for some tolerance.
For very large openings Hormann and Carteck both offer a solution based on a combination of their commercial sectional door combined with domestic door panels. The Carteck 'Super Size' sectional accommodates sizes up to 8m (26'3") wide and 3m (9'10") high and the motor drive system will be a commercial specification too in order to deal with the weight of the door. For the Hormann doors a similar offering is available.
Special Sectional Doors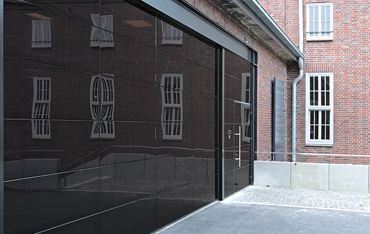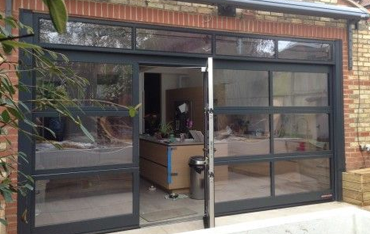 A great increase in the demand for 'designer' type sectional doors has driven manufacturers to produce doors with the flexibility to use almost any material for the front face. The 'facade' sectional door offered by Hormann is an adaptation of a commercial door with the mechanism adapted to enable the customer or contractor to plant timber and other materials onto the front face and make either a bold statement in design or subtly blend the door into the surrounding building and almost be hidden.
Hormann also offer the ALRF42 Vitraplan to accommodate the demands for 'glass garage doors', seemingly a more popular request nowadays. Offset flush glazing very cleverly hides the framework and door panel divisions with a choice of glazing options. The standard ALRF42 offers real glass in a framework with double or triple glazing options.
Call us for more information on anything out of the ordinary.

Designer Elements
A surge in demand for designer elements on many garage doors has lead to various manufacturers offering standard and bespoke designs. Not only have we seen a huge increase in the demand for special surface finishes such as the Titan Metallic from Hormann and similar metallic finishes but also in the use of stainless steel elements planted on or designed into the door panels. The new T Ribbed design from Hormann is a great example of the simple use of contrasting horizontal lines in the door design to create dramatic effects.
Operation
Sectional garage doors have a varied choice of either torsion or tension spring lifting mechanisms. The spring position can be either side mounted tension, front mounted torsion, rear mounted torsion or horizontal. Some manufacturers also produce doors with springs set into the horizontal guide channels at high level such as Carteck.
Each different option requires a slightly different headroom requirement and the important structural fixing points vary for installing the springs and tracks. Proper installation of these springs can be paramount to correct, trouble free, safe operation. All European manufacturers now provide zinc plated or galvanised springs as standard with only inferior spring operating mechanisms coming from American manufacturers.
Handles/Locking
All manufacturers of sectional garage doors offer the handle as an option as most are remote control operated. The handles and locking methods offered vary considerably from single point rotary latch to cable operated double latch. Black handles again are the normal standard with euro profile cylinder locking. Many coloured or metallic finishes are offered by most manufacturers.
Frames
Sectional garage doors do not have a sub frame like an up and over door as it does require a structural surface to install directly to or, if inbetween fitted, a special installation kit. The frame is not box section like the up and over and is not a head and legs that lock together. The frame section is really only to carry the operating gear and spring mechanism and relies on a good, straight, sound surface to install onto.
When the door is installed in between the opening you will always require a cover strip of some kind as the legs are predrilled for behind fitting as well as being only available in limited colours. This can be timber, Upvc or special designed cover strips available from Hormann.
Weatherseals
All sectional garage doors come with a good level of high quality rubber weatherstrips already built into the bottom door panel, the sides of the frame legs and the top panel fascia or door panel. Properly installed with a level floor the sectional door can provide a very high level of sealing against wind, rain, dust and vermin.
Automation
All sectional garage doors can be automated easily as they are very well balanced all the way through their operation at all sizes and can be automated using almost any good make of garage door operator.
The best levels of security will be obtained by using an operator with a built in anti force mechanism built into the towing arm area. The Hormann Bi Secur Promatic and Supramatic operators have a patented latch device and Carteck and Marantec electric operators have an electronic mechanism to 'reset' any forced movement.
Combined with a good operator the sectional garage door will be one of the most secure doors available for your garage with all the benefits of insulation and panel strength included.