Remote Control Electric Garage Door Operators
The Garage Door Centre can ensure you get the correct electric operator for your garage door, either new or existing. Call us with as much details from your existing garage door as possible to obtain the best price on a suitable electric operator
We supply and carry stock from these manufacturers:
A garage door electric operator is an electromechanical device for opening a garage door either remotely or by various hard wired access controls. The benefits are obvious - convenience, security and safety, all now available in many excellent state of the art electric operators produced by many manufacturers.
The Garage Door Centre can ensure you get the correct electric operator for your garage door, either new or existing. Call us with as much details from your existing garage door as possible to obtain the best price on a suitable electric operator
The Garage Door Centre supplies and installs electric operators for all types of garage doors and only uses top branded high quality products as we feel the installation should only be carried out once and then operate perfectly every time for years of trouble free operation
There are a lot of cheap, noisy non-European, non-compliant electric operators available in the U.K. through various sources but buyers should be very aware of what you may be purchasing as it may well be illegal or even dangerous especially if incorrectly specified for your garage door type. The electric operator should ideally be tested and certified to operate with the garage door it is fitting to.

| | |
| --- | --- |
| | |
The second stage development of the electric garage door opener system was forced onto the market because too many garage door openers operated on the same radio frequency. To rectify the problem, a more advanced (and more secure) method of opening garage doors was developed. Systems now allowed a garage door owner to preset a "code." This code consisted of about 8 to 10 dip switches on the receiver and corresponding transmitter. With these switches the garage door system now had 28 - 256 different "codes." This new system was not really designed with security in mind. The idea was not to interfere with other garage door openers, and security appeared to be an afterthought. Advances had been made in the drive method with cables, toothed nylon belts and in the U.K. a screw drive operation. However they were all still fairly basic and crude compared to todays operators. The screwdrive method of moving the door could be forced backwards if enough force was applied to the door panel itself.
Courtesy light comes on when operator is activated and switches off after about 3 minutes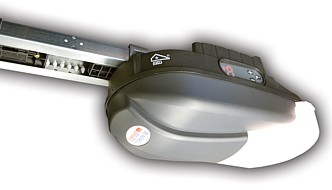 The current electric garage door operator market offers a variety of high tech garage door openers. The frequency spectrum ranges between 433- 868 MHz and most of these garage door openers rely on 'hopping' or 'rolling code' technology. Encoders in the transmitter and decoders in the receiver work on a rolling code that prevent perpetrators from recording a code and replaying it to open a garage door. Because the signal is supposed to be significantly different than that of any other garage door remote control, manufacturers claim it is impossible for someone other than the owner of the remote to open the garage. When the transmitter sends a code, it generates a new code using an encoder. The receiver, after receiving a correct code, uses the same encoder with the same original seed to generate a new code that it will accept in the future. Because there is a high probability that someone might accidentally push the open button while not in range and desynchronize the code, the transmitter and receiver generate look-a-head codes ahead of time. This system is used by roller shutter remote controls as well as sectional and up and over garage door operators.
As well as these advances in remote control operation things have developed in the mechanics of the operator boom and tow arm system to ensure the garage door is held firmly closed and even locked in three places. Security is really the main feature as well as complete safety in all modern garage door operators.
Golden Rule No. 1
NEVER fit an electric garage door opener if it does not have a fully functional, CE compliant safety return mechanism to stop the motor immediately when an obstruction is hit. Even the infra red safety beam system only protects a small proportion of a garage doors entire travel and should only be an additional safety device to a standard auto return system.
The latest CE standards require a very fast reaction time for the operator motor to reverse as soon as it has struck an obstacle for minimisation of potential injury when obstructed.
Soft start and stop operation now ensures a gentle closing and opening action taking stress out of the garage door mechanism whilst offering a smoother and quieter movement. All the leading European manufacturers also now use 24v DC motors for total reliability and quietness.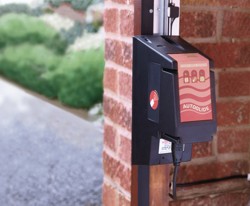 The Cardale Autoglide electric operator - specifically designed for Cardale canopy garage doors.
The Autoglide is no longer available and we still recommend as we have for many years the use of the canopy bow arm converter with a good quality boom type operator.
Canopy garage doors (springs across the top of the door) are notoriously awkward to automate properly and should be very well balanced before installing any kind of operator system.
Canopy door bow arm convertors used with boom operators will not automate all makes of canopy garage doors but are very good on the garage doors they will work with.
Speak to our sales experts for advice on the best operator for your door make and type.
Electric operators for side hinged garage doors
The Garage Door Centre can offer a whole range of different electric operators for steel, GRP and timber side hinged garage doors and there are 2 main types used. One utilises the standard boom type operator used for all other types of doors along with a conversion kit and the other type uses electromechanical or hydraulic piston driven units very similar to the type used for electric swing gates.
Click for our feature on automating side hinged doors >
Accessories have also developed with technological advances and many other methods of activating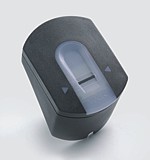 the garage door opener are now available other than a hand held remote, which quite often is misplaced or dropped and broken.
External wireless keypads are very useful when you have a lot of people in your family using the garage door frequently, especially if for accessing fridges, freezers, bikes or other items which are retrieved on foot.
Other accessories include keyswitches, internal pushbutton stations, card readers and now even security fingerscan readers. (see right)
No Electricity in your garage? No Problem!!
Hormann have developed the very latest in electric garage door and gate operators that do not require a mains power supply, the Hormann Promatic AKKU operator range. Marantec, Somfy and Seip also manufacture an operator using the same principals.
Click here for details
A range of battery back up systems are now also available for those times when you have a power cut in the morning just as you want to access your garage for your vehicle. The battery backup will allow several full operations until the main power is restored.
What to expect in the future?
Expect two way communication as becoming the way of modern electric operators with feedback from the motor unit telling the transmitter what state the door is in, i.e. open or closed. Expect more integration with opther Home Link systems andcomputers as well as portable smart phones and the like. Your garage is just as important as the rest of your home especially if you keep half your house in it like many people do or it has a doorway into your main home. Security is important as garages are too foften seen as a quick, easy target for opportunist thieves.
For a full range of electric gate operators and gate systems call our sister company AGD Systems or visit their website: www.agdsystems.co.uk
Call The Garage Door Centre free on (0800) 525442 for a full rundown on electric garage door operator types and the different security systems and applications.
Current promotional offers on electric operators >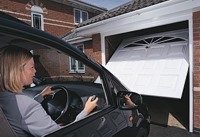 The first electric garage door opener systems were simple. A system consisted of a simple transmitter (the remote) and receiver/motor (the opener). The transmitter would transmit at designated frequency; the receiver would listen to a change in amplitude, then open or close the garage, depending on the door position. The basic concept of this can be traced back to World War II. This type of system was used to detonate remote bombs. Therefore the original garage door opener was like a glorified bomb that could be detonated remotely over and over again. While novel at the time, the technology would run its course when electric garage door openers would become widely available and used. Then, not only did a person open their garage door, they often opened their neighbour's garage door as well. While the garage door remote used was low in power and in range, it was powerful enough to interfere with other receivers in the area. The motors and hardware were also very basic and heavy with 240 volt DC motors being used which were very noisy and crude, slamming the garage door up and down during operation and not being very kind to the door panel or gear in the process. Bicycle type chains were used for the main operating boom and needed tightening and regular oiling and cleaning as they were generally not covered at all.