Timber Side Hinged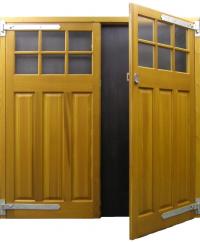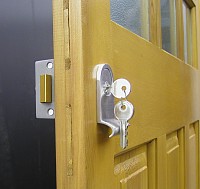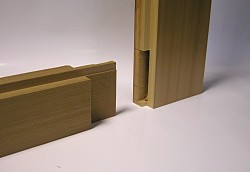 Apart from completely bespoke timber side hinged doors The Garage Door Centre supplies, distributes and installs timber side hinged doors from 3 main manufacturers, Woodrite, Garador and Cedar Garage Doors. We also offer a bespoke service to supply side hinged doors in more exotic timber species if required. Idigbo is the preferred timber to copliment the use of oak on any property and although we can provide oak garage doors they are not recommended in most cases due to weight, costs and instability in larger sections. Our emphasis is on high quality doors with traditonal construction for a long lasting solution to your requirements. Cheap, poorly constructed side hinged doors will give you nothing but trouble very quickly.
The traditional build manufacturers have a large range of standard cedarwood garage doors available up to 9 feet wide and 8 feet high as standard however larger sizes can be looked at on a one off basis depending mainly on the design and therefore the weight of the finished construction.
Traditionally constructed with solid cedar stiles and rails, with panels of either plywood or solid cedar, all joints are morticed and tenoned, glued and wedged which is the strongest joint method in timber garage door construction.
Once the garage door is built a base coat preservative woodstain is applied either by spraying the door both sides or immersing the whole door panel into a tank. Fully finished colours are now offered from a wide range of Sikkens microporous woodstain systems. This ensures total protection from the day of installation with minimal ongoing maintenance. The Woodrite doors are treated using the Teknos wood finish system and further recommends using their system for any on site finishing. Woodrite also treat every timber section BEFORE assembly for the very best in weather protection.
Many people find the benefits of side hinged doors enormous, especially if you are using the garage frequently as access is always easy without having to open the door fully like other garage door types.
Security is good as standard and can obviously be upgraded to whatever level you require with almost infinite locking arrangements inside and out to prevent forcing and lock/cylinder overriding.
Many diferent style hinges are available as well as sliding bolts for inside, door stays to hold the door panel open, foot bolts, yale locks and even electric or mechanical coded keypads for the electric operated versions.
As well as the obvious 50/50 split for the majority of door designs you can also have a 1/3rd and 2/3rd door panel split especially if the garage door opening is quite wide. This offers you a smaller pedestrian sized door for easy access with the large door leaf secured unless required open for full width access.
The Garador range of timber side hinged doors are quite different in that the cedar boarding is affixed to a strong steel box section chassis system that is also available with a box section galvanised steel fixing sub frame and when delivered all the hinges, locks and weatherstrips are all factory pre fitted. This type of door construction does make for a far easier installation on site and provides excellent sealing as rubber weatherseals are built into the steel sub frame at the top and sides. Standard and purpose made sizes are available and automation is possible using various standard boom type operators with the swing door conversion kit.

Just some of the Selection of Timber Side Hinged Doors

Burnham Woodrite

Bierton Woodrite

Coleshill Woodrite

Gawcott Woodrite



Washford

Woodrite


Adstock Woodrite

Chalfont Woodrite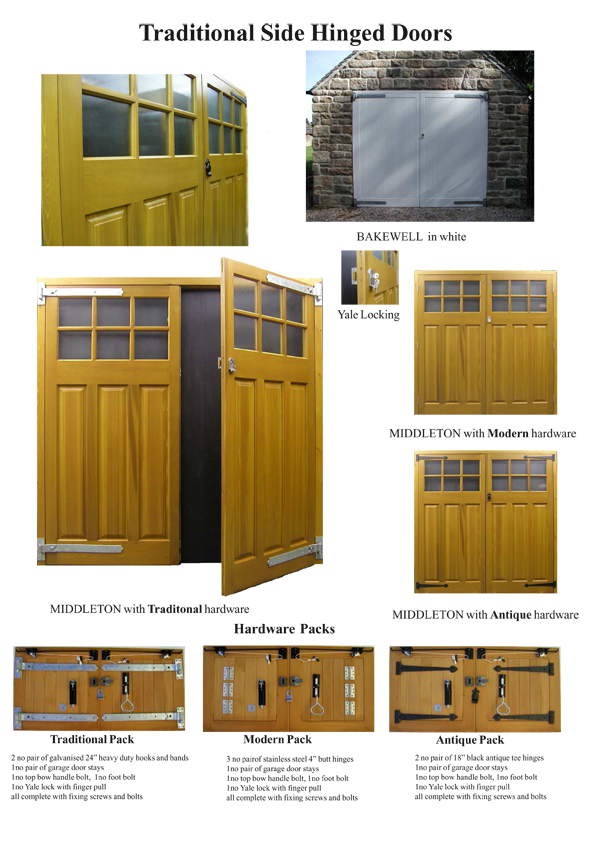 Whatever you requirements we are sure we can offer you a solution within the parameters of sensible sizing and timber species weight and durability. Call us now or email with your requirements for a free no obligation estimate or put your measurements and pictures if you have any into our online quote form for a more accurate price on your requirements.
Timber Side Hinged Doors Catalogue