Woodrite New 2012 Timber Garage Doors Range
The largest range of timber up and over and side hinged garage doors in the UK? The new Woodrite timber door range may have exactly that for 2012
Launched this month Woodrite Garage Doors have shown us the most comprehesive timber door range ever seen including a whole new range of Idigbo timber doors in beautiful designs and finishes.
The Woodrite range of doors are offered in 2 main types of construction for various technical and aesthetic reasons. They are either 'panel built' doors or 'solid built' which is a reference to the way the door panel is manufactured in the factory before the operating gear is chosen. The panel built doors are further broken down into 2 types, the Masta gear range and the Super Chassis range and now you may think this is already getting confusing but again there are always reasons for one against the other.
The Masta Gear build is a 'belt and braces' type build using an aluminium sub frame with heavy duty retractable operating gear featuring cranked lifting arms on the single size doors to improve drive hrough width.
The Super Chassis build is using a box section galvanised steel chassis derived from the Hormann Series 2000 door system and using the very same operating type gear in a retractable mechanism with a canopy option if required.
The Solid Panel build timber door is exactly as it sounds with a door panel constructed using traditional mortice and tenon jointing techniques and then having the Masta gear attached directly to the timber panel. This type of door is made purely of timber and looks as good inside as out.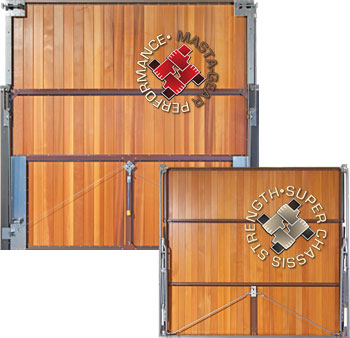 These are the panel built door options as viewed from inside showing the chassis frame system holding the timber boarding.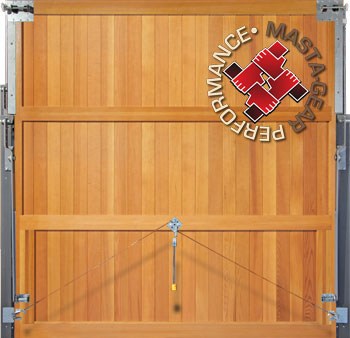 This is the 'solid built' timber door as viewed from inside with no cross bracing in steel only timber framing and mortice and tenon jointing.

Side Hinged and Access Side Doors
Also available in a huge range of styles are side hinged and pedestrian access doors all of which are constructed in the traditional mortice and tenon jointing method to give a high quality range of cedar and Idigbo timber doors.

The doors are available with weveral different hardware options and fixing sub frames so you have absolutely everything you need to complete a full installation, no extras required.
The side access pedestrian doors as a huge bonus also come completely installed into the chosen timber sub frame so all you have to do is fix the framework to the structural opening.
Factory finished options are also offered meaning no on site finishing is required.