Insulated Side Hinged Doors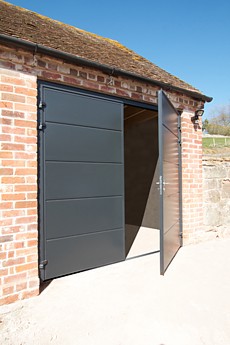 For the very best in strength, style, security and insulation look no further than the fantastic insulated side hinged garage door range from door market leaders Carteck.
New Colours for 2012!!

Not usually associated in the UK with side hinged doors but more for their superb insulated sectional door range the door panels used for the side hinged doors are derived from the tried and tested insulated double skinned steel panels of the sectional garage doors. In Germany the Teckentrup manufacturing plant do already produce many different types of side hinged doors and the Carteck range has been developed specifically for the UK market.

Why Insulated Side Hinged?

Why would you not ever have insulated side hinged doors? Most customers buy side hinged garage doors as they use their garage for purposes other than storing a vehicle and this can be anything from a workshop, games room, office, gym or a store for bikes and fridges and all the other daily items we tend to have. Access to these items will be frequent and many times the garage can have direct access to the main house from an internal door so the security is very important as well as the benefits of high levels of insulation and sealing from the wind and rain.
Create an extra room in your garage with the insulated properties of these fantastic garage doors

Solid 40mm Thick Steel Panels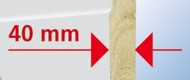 The Carteck side hinged doors are constructed from 40mm thick interlocking foam filled steel panels that provide excellent sound reduction as well as insulation from cold and heat.
The mitred door leaf and door frame are finished in a matching finish from white, Trend (limited) and RAL colours as well as beautiful woodgrain effect laminate finishes. The door panels are always RAL9002 off white on the inside face.

The inside face of the door panels are also very easy to keep clean and have no unsightly bracing bars and locking mechanisms like nearly every other type of door.

Fixing Sub Frame
All Carteck insulated side hinged doors are factory fitted with a fully finished aluminium fixing sub frame to make installation easy and precise with tight tolerances where the door hinges and closes.
The doors are all made to order to ensure a perfect fit and maximise the width and height of your garage opening
The frame is finished in the same colour as the door panel colour chosen and in the case of the laminate woodgrain panels a complimentary RAL colour is used for the framework.
| | |
| --- | --- |
| | |
| Outside view of Carteck side hinged doors | Inside view of Carteck side hinged doors |
Download the 2012 Colour PDF brochure (1.8Mb) >

Design Choices
The Carteck side hinged doors are available in 8 different panel designs with each design having options available for the woodgrain embossed surface, stucco or micrograin surface finish.
All designs can have a 50/50 or 1/3rd and 2/3rd option to offer a smaller pedestrian door for easier access, the only one that cannot be offered is the Georgian design with the tall vertical panels as the design is restrictive.
The window options available are not only secure and double glazed as standard but also extensive in variation of design and position in the door.





High Quality Furniture as Standard
High grade stainless steel handles and lock covers are standard on the Carteck and offer a tough attractive finish to the overall visual appearance.
The double deadbolt locking is extra secure and behind a metal cover strip on the leading door panel to prevent forced entry attempts.
High quality aluminium hinges are fitted as standard with secured hinge bolts making it extremely difficult to attempt to lever the door open.
Easy adjustments are possible for fine tuning the door leaf operation.
2 or 3 hinges are fitted to each leaf depending on the door size ordered.

Double weather seals and mitred corners make the Carteck side hinged doors exceptionally draught proof.
In addition to a seal on every edge of the door panel there is also rubber sealing to the aluminium fixing sub frame.

The inactive door leaf is secured with flush fitting bolts to the top and bottom and at the bottom is further enhanced with the standard feature of a rot proof floor seal and threshold to further increase the sealing properties and security of this door.

Door stays are fitted as standard protecting your doors from slamming closed or flying open on windy days.
These stays are top grade spring dampened with easy adjustment.




Colours
The Carteck side hinged doors are available in the optional standard Trend colours below for a small extra charge and also in Golden Oak, Rosewood and Dark oak laminate finishes which match very well with Upvc windows and doors using the same finishes.

White (RAL9016) is the factory standard and off white (RAL9002) inside
| | | | | |
| --- | --- | --- | --- | --- |
| | Woodgrain white surface finish | Smooth white surface finish | Micro Profile white surface finish | Stucco white surface finish |
| | | |
| --- | --- | --- |
| | | |
| Golden Oak | Rosewood | Dark Oak |
Windows
There are a choice of scratch proof, easy clean window options for any of the designs available and they are all double sealed units keeping the insulation and strength offered by the main door panel.
Round as well as square windows are available for the solid panel door designs.