Hormann Thermo65 Doors
The high-quality version with the best insultation.
The Thermo46 doors are a top quality range of highly insulated and extra secure entrance doors and the Thermo65 doors take the specification of these doors even further.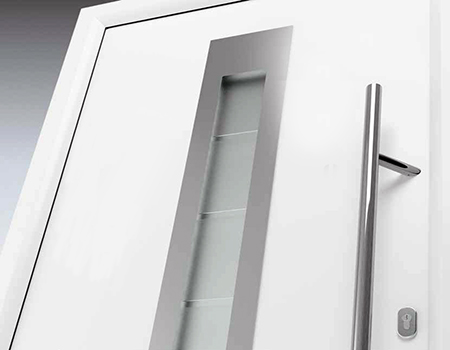 Thermo65
The Thermo65 collection is a range of 13 doors, with the introduction of a new Style THP 600 (available from 01.07.2017).
The Thermo65 Entrance Door has a 65mm thick door leaf, completely filled with PU rigid foam, providing excellent thermal insulation reducing energy bills.
Because you and your family want to feel safe at home, all Thermo65 doors are equipped with multiple locking as standard for extra security.
A continuous safety device strip secures Thermo65 doors against forced opening, giving you a reassuring feeling.
All the Thermo65 entrance doors, including those with side elements and transom lights, come with RC 2 equipment for more security for you and your family.

Click on the link below to see the whole range of the Thermo65 Entrance Doors.
| | | | | | |
| --- | --- | --- | --- | --- | --- |
| Style TPS 010 | Style TPS 015 | Style TPS 700 | Style TPS 750 | Style TPS 850 | Style TPS 900 |

Find out more about Front Entrance Doors.
What makes Thermo65 the best for your home?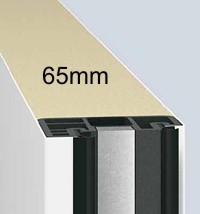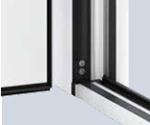 Thermo65 doors are equipped with 65mm thick solid steel door leaf with a leaf profile on the inside and a thick rebate. The door view from the inside blends harmoniously with the inside of your home. The leaf profile, made of composite material has a thermal break and is very stable, to ensure it doesn't warp.
With a U-value of up to 0.82 W/(m²·K), the Therm65 version is the best when it comes to thermal insulation, saving you energy in the long term.
All Thermo65 entrance door styles, as well as side elements and transom lights, come with optional RC 2 security features. The doors are approved for being fitted opening inwards and outwards.
The 80mm aluminium frame with thermal break and PU foam infill is available is available in a round(top figure) or rectangular profile(bottom figure).
Thermo65 doors are characterised by their well thought-out details, such as the 20-mm-high aluminium / plastic threshold with triple sealing and thermal break. This improves the door's thermal insulation, saving you energy.
Fully Secured as Standard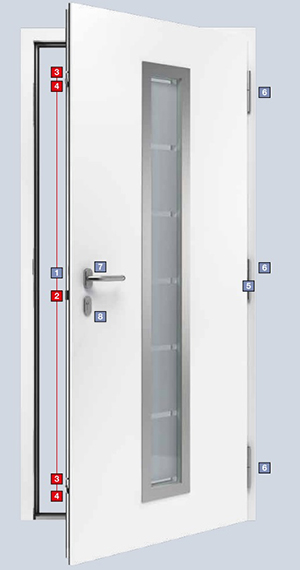 5 point security lock.
You will feel safe at home: 2 conical swing bolts engage with 2 additional security bolts and 1 lock bolt in the frames lock plates and pull the door shut. The lock plates on the Thermo65 doors are adjustable for an optimal door setting. With a soft-lock latch to quietly close the door.
1. Soft-lock Latch

2. Locking rod

3&4. Swing bolt with security bolts

5. A continuious safety strip

6. Perfectly hung with 3-way adjustable guide rollers

7. Interior Lever in stainless steel

8. Profile cylinders delivered with 5 keys as standard.
Choose your finish
Thermo65 doors are supplied in Traffic White as standard, however there are a range of 10 colours to chose from or 4 decograin finishes.
White Aluminium

RAL 9006

Terra Brown

RAL 8028

Clay Brown

RAL 8003

Light Grey

RAL 7035

Window Grey

RAL 7040

Anthracite Grey

RAL 7016

Light Ivory

RAL 1015

Moss Green

RAL 6005

Ruby Red

RAL 3003
| | | | |
| --- | --- | --- | --- |
| Golden Oak | Dark Oak | Night Oak | Titan Metallic |