Measuring Guides
When measuring for any new garage door either for a new opening or to replace a door be aware that different garage door types use different dimensions to specify, order and price the door all the way through. When measuring for a new garage door the most basic and essential measurements to take are as follows:
Width and Height of the actual structural opening

Width and Height of an existing garage door panel (only relevant for replacement doors)

Width and Height of existing timber sub frame (only when intending to reuse the timber frame) and the timber frame section sizes.

Internal Headroom (measure the clear height from the underside of the supporting lintel to the lowest point of the ceiling) For sectional and round the corner garage doors the tracks go into the garage a long way so this height measurement has to potentially be taken for all the way back, especially if fitting an electric operator unit option.

Internal Reveals (the width of the internal face either side when you stand in your garage looking outwards)
Click here for our 3d Survery form
Make notes of obvious obstructions inside the garage such as supply meters, secondary lintels or brick piers, etc. All these dimensions will be invaluable if you visit our showroom or discuss anything over the telephone with us. For us to work out the best door the more information we have the better. We can also optimise the gearing and mechanisms to provide the best use of space with so many garage doors theses days.
Measuring for a front entrance or pedestrian type hinged door requires far more accuracy and details about the floor levels especially with the latest super low threshold entrance doors where the bottom of the actual door will be so close to the floor during operation.
Below are the dimension references for all the main garage door types available:
Up and Over Doors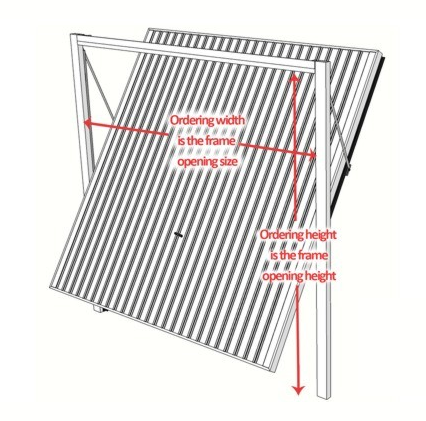 Single Skin Roller Shutter Doors

Insulated Roller Shutter Doors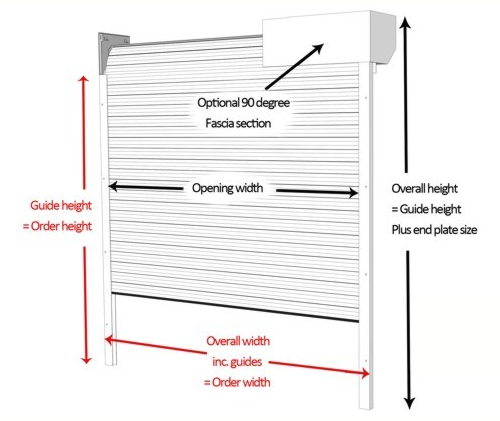 Sectional Doors