Sliding Garage Doors as a description covers a multitude of garage door options.
We can offer a vast range of sliding door options in either steel, timber or even GRP. The straight sliding action of a one piece door can also be doubled as a bi parting arrangement and can be fitted internally or externally (dependant on available wall space).
Many different tracking arrangements are possible depending on ground surface, weight of door panels and so on but with some careful though you can produce a very simple, easy to use sliding door system for long term use in either manual or electric mode.
One of the other main advantages of one piece sliding garage doors is the freedom of design it offers as there are generally no restrictions on thickness, weight or size of door panels used.
We offer sliding garage doors as a solution to both domestic and commercial requirements.

Timber Sliding Garage Doors
We have produced many sliding garage doors in various timbers over the years. The two items pictured are just one example showing the diversity and simplicity of such a system. Just like roller and sectional doors, you can park right up to the garage door and still open and close it.
The majority of sliding doors are also mounted externally and therefore give the maximum length inside the garage. The diversity also continues with this type of door in the amount of different designs you can create.
Timber is a very versatile product and although most of the doors we have installed have been vertical boarded the board width can be very important on listed or period type properties. The sliding gear mechanism for these types of garage doors is simple, maintenance free and also very smooth to operate at almost any size. Although most of the systems we have installed have been manual operation it is possible to automate sliding doors to be remote control operated.
The doors shown in this picture are using a bottom track system similar in principle to a railway track system with inverted wheels set into the bottom of the door panels sliding on a raised steel bar. This bar also acts as an effective weather bar system and does not suffer from the problems associated with U channel, sunken tracks in the ground which gather dust. leaves and gravel easily and need regular attention.
It is also possible to hang the door panels from the top if required and use a simple guide system on the ground to keep the doors in line during operation and then you have a system without any threshold at all.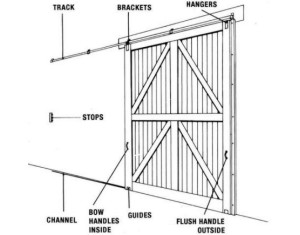 Not what you're looking for? Try our Round The Corner garage doors!
Commercial Sliding Garage Doors
Commercial Sliding Garage Doors are very unique and difficult to specify however The Garage Door Centre are able to cope with them with help from our sister company, Samson Industrial Doors.
Folding and Sliding Commercial Garage Doors provide the perfect solution when space inside is limited either for side room or headroom. Folding doors are generally constructed from steel or aluminium sections with optional glazing sections providing light or to offer high levels of vision for sales or working purposes e.g. showrooms, workshops.
Folding Garage Door panels are stacked together when open and are available as a single stack to one side or bi-folding to both sides of larger openings. This provides an excellent solution for a choice of either easy-to-use manual operation or the comfort of electric operation on larger sizes.
Despite their size and constant usage, minimal maintenance is required to keep a commercial folding or sliding garage door working at all times. This is partly due to the fact that each door has very few actual moving parts - even less of course with a one piece sliding doorset - which gives you another positive reason to opt for one of our commercial sliding or folding doors.
The Hormann Industrial Folding Doors we supply can be installed in extremely large openings measuring up to 14m width and 7 m height. We can offer 3 to 12 door leaves, in accordance with the operative requirements, which can later be individually adapted to the customer's needs.
You Don't Need A Commercial Environment To
Warrant A Commercial Garage Door
Commercial Garage Doors have many purposes thanks to their high quality construction. They can offer both thermal and acoustic insulation as well as top of the range security.
Typical installations for our commercial and industrial sliding and folding garage doors include large factories and processing plants, however they are capable of offering installation and larger entrances to the likes of workshops, showrooms, large domestic garages, storage facilities, sports halls, arenas and more.
Glazing options are available to turn that large dark room into an area bursting with light.
Wicket doors are also available to make any large sliding or folding door more pedestrian friendly and easier to use.
Low risk of collision damage
Door leaves parked on the sides substantially reduce the risk of collisions. The leaves are in the field of vision of drivers. Fitting the door with door leaves that open 180° and sufficient space next to the door also result in a maximum drive through passage width.

Low-maintenance construction
Hörmann's industrial folding doors have been designed to have a long service life and operate smoothly. This reliable construction is based on just a few individual hard wearing quality components. As a result requirements for maintenance and care are very low and the doors only entail minor consequential costs over time.
Standard and protection
Safety takes top priority when it comes to Hörmann's industrial folding doors. Finger trap protection devices made of high-quality EPDM multi-chamber profiles are fitted to all vertical closing edges, making the folding industrial door safe from the inside and outside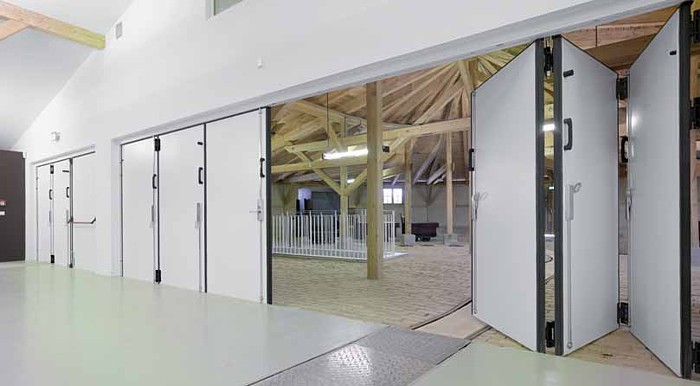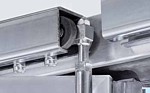 Folding garage doors present a different problem and need to be designed very carefully, especially the larger they get. We can supply folding garage doors in timber, steel and aluminium. The preferred method for operation is to hang all the weight of the door panels from the top track system as then the bottom guide tracks do not rely upon heavy duty T tracks or U channels in the floor which can be unreliable and difficult to incorporate into the floor without comprimises.
The picture above shows a Hormann FPU double skinned insulated steel folding door system with excellent sealing and insulation properties and also available up to some very large sizes.