Woodrite Timber Doors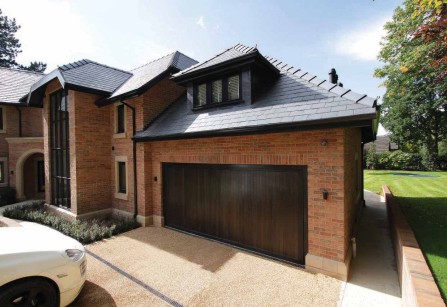 Woodrite garage doors are a relatively new addition to the garage door market specialising in the high quality manufacture of natural timber garage doors. Todays approach to timber garage doors seems to be all about uniformity, however those of us who know true beauty understand the value of wood.
Their impressive Coach House range of up & over garage doors represents the finest of its kind. It consists of finely engineered timber designs crafted by experienced joiners. With an eye trained for intricate detail and an ability to work with the natural properties of selected timbers, Woodrite produce the best.
Every door is unique with its own character. We select the timbers for each door to work sympathetically together to show the natural variations. If you are fitting doors side by side, let us know and we'll make your doors from similar tones and grains to create complementary pairing.
When preserved and well maintained, timber lasts well and is forgiving of minor knocks and bumps. Each fully furnished door Woodrite manufacture is protected by a special base treatment and UV resistant finishing coats for long-lasting good looks.
If you don't see the style you seek over the coming pages and have something special in mind, let us know -we have made hundreds of bespoke doors over the years and will help bring your ideas to life.
How is my garage door made?
All timber doors are built to order from grade one selected cedar tongue and groove boards and mouldings. All boards are individually dipped in a base coat treatment to ensure proper penetration into the end grain and grooves. A wide range of standard sizes are available, however special sizes can be made to measure in mm increments for up and over and side hinged doors.
Boarded designs such as the Tingewick and the Uxbridge have an anodised steel subframe that protects the end grain of the boards.
Panel styles such as the Radnage and Taplow are built using a cedar moulding framework with a chamfer detailing and cedar tongue and groove boarded infill panels. A polymer sealant bead is applied to prevent rain seepage into the horizontal timber rails.
A Selection of Woodrite Timber Up & Over Door Designs
Choosing your timber garage door is easy
Choosing the right timber door for you is simple -
Select the style from one of the many designs over the coming pages.

Decide which colour you'd like or would you like to finish it yourself on site?

Add any options such as a different handle colour, window leading if it's available on your style, or canopy operating gear on a single sized up and over garage door if you prefer this over the standard retractable operating gear.

Choose a fixing sub frame in either steel or timber in a wide variety of sizes and finishes.

Which colour to choose?
Each door is available with a base-treatment that you will need to stain in a colour of your choice, or factory fully finished in one of eight classic timber shades as standard, other options are available on request. Woodrite use the Teknos wood finish system and recommends this for on site finishing and any ongoing maintenance.
The finish provides a low gloss surface that can be wiped clean with a soft cloth and water. Re-staining is recommended at least every three years but keep an eye on the finish as south facing doors in strong sunlight may require more regular care.
| | | |
| --- | --- | --- |
| Antique Oak | Chestnut | Ebony |
| Light Oak | Mahogany | Silver Grey |
| Silver | Walnut | |
Introducing the new super chassis wooden garage door for extra strength...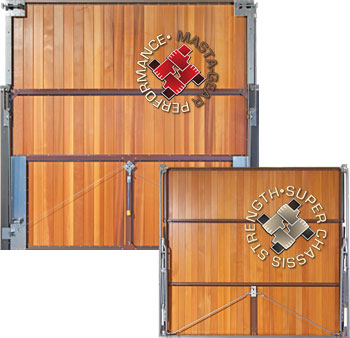 The substantial corrosion protected steel chassis that is the foundation for the new door construction gives extra strength but doesn't compromise the doors looks from the outside.
The Woodrite range of doors are offered in 2 main types of construction for various technical and aesthetic reasons. They are either 'panel built' doors or 'solid built' which is a reference to the way the door panel is manufactured in the factory before the operating gear is chosen. The panel built doors are further broken down into 2 types, the Masta gear range and the Super Chassis range and now you may think this is already getting confusing but again there are always reasons for one against the other.
The Masta Gear build is a 'belt and braces' type build using an aluminium sub frame with heavy duty retractable operating gear featuring cranked lifting arms on the single size doors to improve drive hrough width.
The Super Chassis build is using a box section galvanised steel chassis derived from the Hormann Series 2000 door system and using the very same operating type gear in a retractable mechanism with a canopy option if required.
Solid Panel Build
Solid panel built timber door is exactly as it sounds with a door panel constructed using traditional mortice and tenon jointing techniques and then having the Masta gear attached directly to the timber panel. This type of door is made purely of timber and looks as good inside as out.
The new cloaked chassis and gear brings all the benefits of a super-strong chassis and ultra-reliable lifting gear, yet from the front all you see is beautiful timber – the chassis is fully concealed – stealth technology comes to Woodrite Doors! The only exceptions are the fully boarded designs – the Chesham, Hardwick , Tingewick and Uxbridge designs from the Buckingham range – that retain a sub-frame edge to protect the end grain of the cedar boards.
Edge to edge timber
Timber framed garage doors have edge to edge timber and doors with a steel frame have a steel top edge that acts as a slam strip, closing behind the garage door frame head.
The chassis profile is extremely rigid and removes the need for additional bracing plates and cross bracings for a very neat interior
What will the size of my door look like?
Double doors over 10'6" wide are often created with the appearance of two single doors side by side to ensure proportions are retained, depending on the design of the door. Doors up to 10'6" wide use repeated features of wider proprtions for each feature to achieve an attractive and balanced design. The Chesham, Hardwick, Tingewick, Uxbridge and Wendover styles are fully boarded designs and feature an anodized steel subframe to protect timber ends. All other styles are "edgeless".
Handles & locks
Doors are supplied a standard with a black handle and key operated lock to activate the multi-point latches - security comes as standard! For doors that are to be motorized, lock deletion can be specified at the time of order - locks can always be fitted at a later date but lock holes cannot be removed! Two alternative finishes for the handle are available.
How will my door operate?
All up and over doors are supplied on fully retractable opening gear as standard. Retractable gear is ultra-reliable and perfect for electric automation. It also provides light and easy spring assisted opening when operated manually. The door slides up and back, "retracting" almost completely into the garage on tracks fixed to the garage ceiling or side walls.
Canopy opening gear is available as an option on single doors up to 8'0" wide and 7'0" high. The door slides up on spring assisted arms running in tracks fitted to the back of the frame legs and forms a "canopy" that projects out from the front of the garage.
A word about windows
Doors that feature windows are constructed with sections of stippled polycarbonate that allows light to pass into the garage but cannot be seen through. Clear polycarbonate is available as a no cost option. Toughened safety glass can also be used in most cases as an option.
The Coleshill, Radnage and Ickford styles from the Buckingham range and the York, Denholme and Shelley are also available with square or diamond leading as a no cost option.