Garador Roller Shutter Garage Door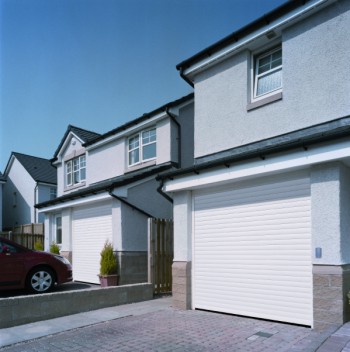 The GaraRoll is an aluminium insulated roller shutter garage door which utilises both engineering excellence and quality craftmanship to make this door to stand out amongst other products.
GaraRoll insulated roller doors come with an electric door operator as standard. Both the garage door and operator feature innovative engineering details you have come to expect from Garador. In some situations electric operation may not be required - therefore you can also order the GaraRoll Manual door.
GaraRoll doors are versatile and blend in with almost any homes architecture. There is a wide range of beautiful colours or a selection of timber-effect laminate foil coated finishes.
The aluminium laths are foam-filled providing thermal insulation, stability and smooth quiet door action. Their smooth surface finish inside and outside provides the GaraRoll with its elegant appeal.
Individualise your roller door
Foil-coated timber-effect finishes offer the natural appearance of timber whilst retaining all the cost and maintenance advantages of an aluminium door.
Add window sections for an individual design and use the daylight into your garage.
Optional audible intrusion alarm with a sound of 110db can be fitted to offer additional peace of mind.
The optional exterior emergency door release is recommended when you do not have a second entrance to the garage in case of power failure and you can also add a battery back up system to give several operations even when the mains power is lost..

Garador Colours
Profiles
Every Garador GaraRoll comes as a smooth aluminium surface for a modern and elegant design, specialised polyurethane foam for a high level of insulation and quiet door operation. Each door can be fitted with windows to allow natural light in during the day, the amount of windows is determined by width. Ventilation Grilles may also be installed to improve climate and prevent mould.
Garuntee
GaraRoll doors are versatile and blend well with traditional and contemporary architecture, incorporating innovative engineering and features you have come to expect, such as:
- Space saving design with compact box at head of garage opening
- Spring assisted to minimise strain on motor and ensure long service life
- Convenience of electric operation with two hand transmitters as standard
- Safety reversal function in the event of obstruction
- Wind locks as standard
- 5 year limited warranty
- Smooth quiet door action
- Low maintenance and long lasting
Hand transmitters are the most common and very convenient controls, and compatible across the whole Garador range. Transferring your operators code to additional hand transmitters is easy. 2 transmitters are supplied with every Gararoll as standard and you can order as many as required in several different sizes and styles.