Hormann Thermo Entrance Doors

The Garage Door Centre doesn't just ensure that your garage door impresses, but that your entrance door does too. The Hormann Thermo 46 and Thermo 65 ranges consist of steel front entrance doors with certified brand quality, and can be designed to appear in harmony with your garage door to create a desirable aesthetic for the front of your home. Both ranges offer 13 models to choose from, along with various customisable colours and styles to realise the potential of your personal taste and requirements.
The high levels of security and excellent insulation are perhaps what make these doors so desirable, especially the Thermo 65 with a U-Value under 1 - up to approximately 0.87 W/(m²K). A U-Value such as this will prevent the loss of heat and therefore can contribute to a reduction in heating bills, making it a truly worthy investment for your family and home.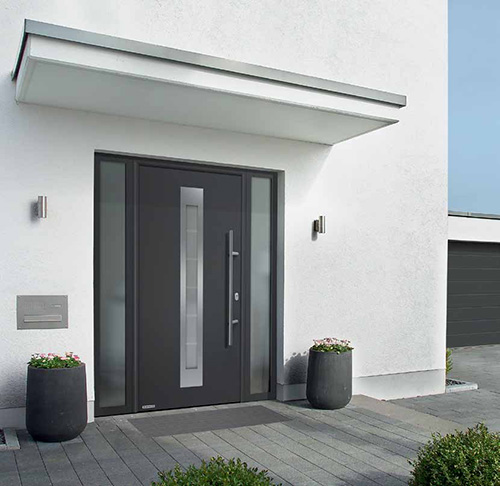 Safe and Secure
The Thermo 46 and Thermo 65 have sturdy leaf profiles in order to prevent any warping occurring and 20mm high aluminium/plastic thresholds. The door's security protects your home against the risk of unwanted untruders with their multi-point locking systems, with some of the door styles available with optional RC2 security equipment to add extra levels of security. Additionally, the glass featured on the doors is 8mm thick and laminated on the interior of the glazing, creating a barrier that is more difficult for an intruder to penetrate.
As well as the double glazed windows offering insulating properties to maintain the warmth of your home, in the interest of your personal safety, the glass splinters stay adhered to the plastic in the instance of breakage to prevent any personal injury.
| | | |
| --- | --- | --- |
| Style 700 | Style 850 | Style 015 |
Hormann Thermo 65

- 65mm thick door leaf

- 80mm aluminium frame with thermal break

- Door frame infilled with PU rigid foam

- U-Value: Up to 0.87 W/ (m²K)

- Triple sealing and thermal break

- 5 point security lock

Hormann Thermo 46

- 46mm thick door leaf

- 60mm aluminium frame with thermal break

- PU foamed door leaf

- U-Value: Up to 1.1 W/ (m2K)

- No visible leaf frame

- 5 point security lock
In addition to the numerous security and safety features the doors are equipped with, there are also a number of optional extras to choose from. With a range of technologies available for ease of access, such as radio finger scanning and hand transmitters, your front door can integrate into your modern lifestyle, whilst also complimenting your home with a contemporary aesthetic, along with additional options such as different glazing types, transom lights and stainless steel embellishments.
The Hormann Thermo doors are now available to view in our Northamptonshire showroom, based in Wellingborough - come and see for yourself! Otherwise, feel free to call an experienced member of The Garage Door Centre team on 0800 525 442.