Silvelox Garage Doors


A passion for timber as a material married with traditional carpentry skills produces one of the worlds finest garage doors - Silvelox
Unique manual operation with perfectly smooth motion achieved using traditional counterbalance weights. The system allows the door to actually open itself once the handle has been turned.

Excellent acoustic and insulation properties from an 80mm thick modular sandwich door panel.

The automatic option is built into the upper crossbeam of the frame and takes no room internally at all.

The unique pedestrian door option is a highly desirable and practical solution that does not compromise the visual appearance of any of the standard door designs available. A turn of the door handle in the opposite direction and you have a pedestrian door with a threshold as low as technically possible. Two doors in one!

Bespoke exclusive designs can be produced for an individual specification to compliment any style of property. Drawings will be produced for your approval.

The standard series Secur range offers a very high level of security with high quality locks and steel substructure. The Secur door is approved to class 1 of European norm EN 1627.

Secur Plus offers the ultimate in security and is the only timber garage door approved by the German criminal investigation police. Designed with high tensile steel inserts behind the elegant exterior the door will withstand the toughest and most professional burglar. Certified by UNI ENV 1627 Class 3.

Silvelox Garage doors are designed with safety as the leading factor with finger protection, anti accidental door drop protection, photocells as standard in the motorised version and finger protection in the pedestrian door. The door fully complies to the directive 89/106/CEE(CPD) and is fully CE compliant.

This is a door like no other and the basic range can be seen below

Site installed photos below - click for larger picture
The complete standard range of Silvelox Timber garage doors
| | | |
| --- | --- | --- |
| BIG | FOR | TOP |
| ARA | ARC | EGO |
| GEO | OLD | SPI |
| TAU | VIP | ZEN |
| | MET | |
Call us free for latest brochures and price details:

Alternatively Email us:

Front Entrance Doors
Silvelox produce a complete range of front and side entrance doors to match the superb garage doors. Built to the same exceptionally high specification as the garage doors they represent a superb investment and will greatly enhance the security and overall look of your property.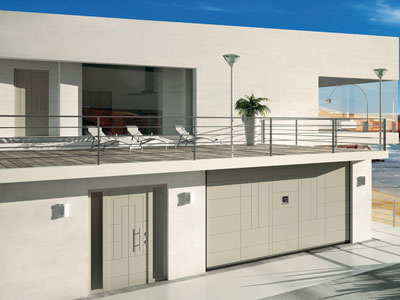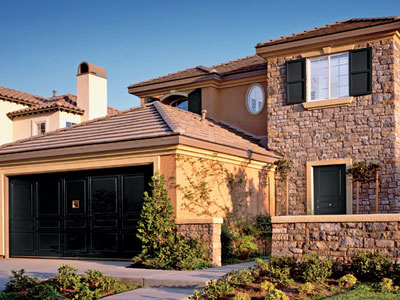 Model Specification
Perfecta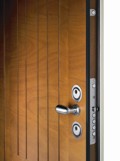 The ultimate security entrance door, heavily reinforced on the inside and is classified burglar-resistance Class 4, the highest level available.
As with all Silvelox doors, Perfecta can be personalised in many ways to create a special aesthetic solution and an individual expression of style. The inclusion of an internal attack-proof double electro galvanised steel body assures a high standard of security as well as a long life. Perfecta has passed all tests for burglar resistance class 4, air permeability, water resistance, noise resistance and architectural performance.
The Perfecta series is available with a motorised lock operated with an electronic key (transponder) and a backup system that ensures use even in the event of a power cut.
Optima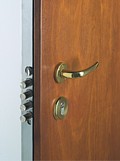 Optima entrance doors also offer a high degree of protection and are classified for Burglar-resistance Class 3.
Silvelox Optima entrance doors also offer excellent security characteristics thanks to the inclusion of an internal double electro galvanised steel body.
They have passed the following tests: burglar resistance Class 3, water resistance, air permeability and noise resistance.
The visible edge of the door, where the locking mechanism is sited, is finished in steel
Valida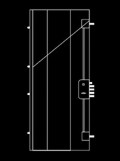 The Silvelox Valida offers high performance at an affordable price, and is certified for Burglar-resistance Class 2.
The Valida series provides high performance at an incredibly low price. Certified to burglar resistance Class 2, it is insulated with sound absorbent material and includes a draft excluder. Though other options are available, the handle is supplied as standard in anodised aluminium. The visible edge of the door is finished with a brown, pre-varnished strip.
Personalisation of the Silvelox front entrance door is as varied as their garage door range and all the obvious accessories are well catered for - letterboxes, handles, glazing, side panels, transoms and many other items are offered in many different materials and colours. If the standard range of doors is not offering the right design then turn to the bespoke design service and have a unique design created. Silvelox has a dedicated internal Design and Feasibility office where experienced draughtsmen will design bespoke entrance doors exactly to your own or your architect's design. They can work from architectural drawings, photographs of a door style that you have seen or even from a descent verbal brief. Compromise is something you will never have to consider when dealing with Silvelox.
The Standard Front Entrance Door Range
| | | |
| --- | --- | --- |
| ARA | ARC | BIG |
| EGO | FOR | GEO |
| ZEN | OLD | SPI |
| TAU | TOP | VIP |
| MET | | |
For further details, specifications and prices on any of the Silvelox entrance doors or garage doors please call free:

Or send us an email


More about Silvelox Doors