Silvelox Timber Doors
Timber Garage Doors Like No Other!
Manufactured in Castelnuovo, Italy, Silvelox garage doors are all built in timber on a steel chassis and characterised by a particular construction technique that ensures solidity, non-deformability and elegance. Stringent quality control standards, outstanding traditional craftsmanship, and timber of the highest grade combine to produce possibly one of the world's finest one piece garage doors.
The door is a counterbalance operated panel with a smooth trackless operation requiring no internal tracking.
Silvelox garage doors are without question superior garage doors. The 80mm thick modular main door panel provides very effective insulation and acoustic properties. The range of styles, timber types and factory panel finishes set the doors apart from all others with the optional pedestrian door in the main door panel being the icing on the cake.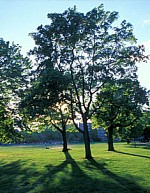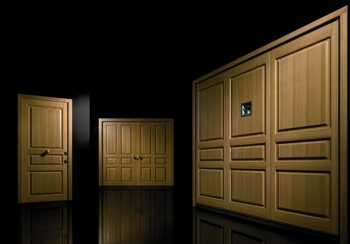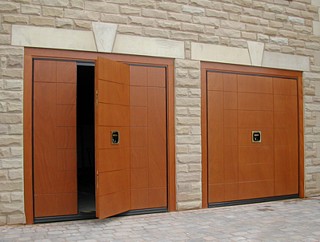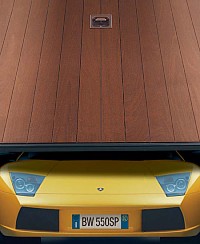 The unique pedestrian door option allowing access without opening the entire garage door is a highly desirable and practical solution that does not compromise the visual appearance of any of the door designs available. Simply turn the garage door handle in the opposite direction and you have a pedestrian door with a threshold as low as technically possible. Two doors in one
The choice of timber as standard is Okoume, Northern Spruce or Oak. Other timbers can be sourced and used on request including Meranti, Iroko, Chestnut and Teak. Wood is an environmentally friendly, renewable resource that has been worked by man since time immemorial. Because it is a living material, each section of timber is unique, and has its own natural characteristics that can be brought to the fore by skilled craftsmen.
In this way it becomes as personal and unique as the home that it will eventually grace. These are the reasons why wood is the foremost material used in the creation of Silvelox doors. We choose only the finest timbers, and treat them in such a way that they will last and keep their beauty for many years to come. Silvelox offer finishes for the wood essences chosen, using a special water soluble acrylic varnish that guarantees stability of the characteristics of timber. The finishes both enhance the aesthetics and prolong the life of the door.
For the householder who prefers exclusivity, bespoke designs can be produced to individual specifications to compliment any style of property. This includes aluminium.
The Silvelox garage door is incredibly easy to operate. Silvelox adopts a patented system that allows the door panel to lift itself once the handle is turned, thus perfecting the up and over action with lateral counterweights. Each garage door, even if ordered in the manual version, is pre-arranged to allow the use of Silvelox automation. Remote control operation is built into the upper crossbeam of the frame therefore not encroaching into internal garage space. The most basic locking is incredibly secure with 2 steel bolts driven up into the main steel frame section as a standard facility.
Security is an issue that Silvelox have focused very heavily upon. All Silvelox Up & Over doors have, as standard, the certification anti intrusion CLASS 1 relevant to resistance to burglary carried out by breaking down a door or by hook and traction towards outside. Silvelox Secur Plus is a garage door that offers the ultimate in security and is the only timber garage door approved by the German criminal investigation police. Designed with high tensile steel inserts behind the elegant exterior, the door will withstand the toughest and most professional burglar. Certified by UNI ENV 1627 Class 3 that is awarded if a garage door is intruder resistant for 20 minutes of sustained attacking. A steel plate is inserted into the garage door panel as well as increased specification locking methods.
Personal safety is also a prime consideration - Silvelox Garage doors are designed with safety as the leading factor with finger protection, anti accidental door drop protection, photocells as standard in the motorised version and finger protection in the pedestrian door. The door fully complies with the directive 89/106/CEE (CPD) and is fully CE compliant.
View the Silvelox Brochure here.
Designs These are some of the current standard garage door designs available from Silvelox.
| | | | |
| --- | --- | --- | --- |
| BIG | FOR | TOP | ARA |
| ARC | EGO | GEO | OLD |
| SPI | TAU | VIP | ZEN |
| MET | | | |
Take a look at the Silvelox matching Front Entrance Doors. For more information on Silvelox Garage Doors, Go to our Silvelox feature page
For a full brochure pack or prices on Silvelox garage or front entrance doors please call us free on (0800) 525442.
Alternatively you can Email us directly with your requirements