Hormann ThermoPro Entrance Doors
The finest, highest quality range of thermally efficient and extra secure steel front entrance doors available in the U.K.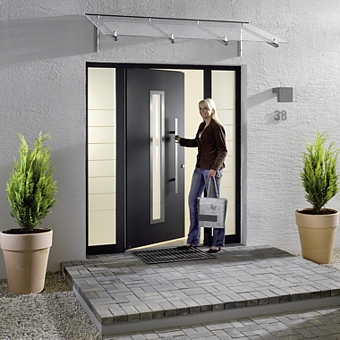 Hormann's steel ThermoPro front entrance doors come in a wide range of styles and finishes.
Now Available with Side Lights and Transoms!!
Thanks to a standard multi point locking system these very competitively priced doors give you security, save energy through excellent thermal insulation and give a stylish appearance to compliment your home.
With over 50 years experience and over 13 million doors sold Hormann has become number 1 in Europe and all their products are produced with the same philosophy - "Quality Without Compromise"
Without a Visible Leaf Frame
The ThermoPro entrance doors have an exclusive appearance with a beautifully shaped smooth door leaf in steel without a visible leaf frame for a very clean appearance.
High Thermal Insulation
Nowadays everyone is trying to save energy in their homes and ThermoPro doors can play a part in this. With a 46mm thick door leaf completely filled with CFC free foam these doors provide excellent thermal insulation with a k value of up to 1.1 W/m2K. Reduce the energy bills!
The Best Sealing Possible
Double seals are standard on all 4 sides with additional corner seals near the bottom providing extra protection against bad weather. Heat loss is kept to a minimum.
8 Point Security
To feel safe in your home and when you are away the ThermoPro doors are equipped with multiple point locking as standard for extra security.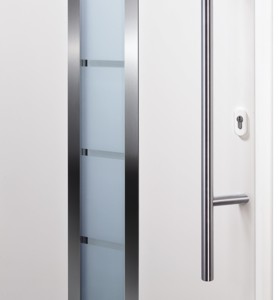 Certified Brand Quality
All ThermoPro doors are manufactured in line with ISO 9001 and regularly subjected to the very strictest quality tests. A CE mark indicates the doors totally comply with EU directives in accordance with EN 14351-1. All the important requirements are adhered to as standard:
Water tight under heavy rain
Stable under heavy winds
Airtight
Accoustically insulated
Thermally insulated
New Designs in the Plus range!
The TPS 750 & 850 are two new designs from Hormann that come as Thermopro Plus as standard, which means the doors are 65mm thick as standard, meaning better insulation and saving you money in the long run.
The TPS Plus 750 has a stainless steel handle, with a straight triple-pane insulated glass panel on the outside. The TPS Plus 850 comes with a stainless steel handle also, but features a curved triple-pane insulated glass panel on the outside in the centre of the door. The glass panel on both doors is sandblasted with clear horizontal stripes in the centre with clear single-pane safety glass inside.
Uprate most of the standard doors to the PLUS specification for a very modest uplift in the price of the standard 46mm door
TPS750 | TPS850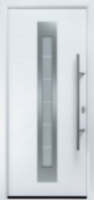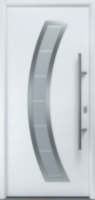 \

Quality Features
ThermoPro entrance doors are all supplied with the aluminium fixing sub frame, threshold and all locking as standard from the factory in 3 different variants. All the doors are ideally suited for use as a side entrance door if required whilst the aluminium door frame and leaf offers the best thermal insulation possible with even higher levels of insulation from the Thermopro PLUS.
Hormann Thermopro Door Designs
TPS 010

TPS 015

TPS 020

TPS 025

TPS 030

TPS 040

TPS 100

TPS 200

TPS 400

TPS 700

TPS 900

TPS 750

TPS 850
Side Lights and Transoms
The Thermopro range of entrance doors is available with fixed glazed side elements and top transoms supplied with the door for easy fixing on site.
The side elements are all made to order in size and have the same colour finished choice as the doors panels.
The width parameters currently available are between 400 - 1000mm with the same height parameters as the doors they install with. You can install 2 or more side transoms together if required to fill larger width openings.
Glazing options available in Sandblasted, Clear, Mastercarre and Ornament 504.
| | | | | | |
| --- | --- | --- | --- | --- | --- |
| Sand blasted | Clear | Mastercarre | Ornament 504 | Cathedral Small Hammered | |
Colours
ThermoPro entrance doors are supplied in a smooth white powdercoat finish (RAL 9016) as standard with the option of 15 other tough paint finish colours available at a small extra cost.
White Aluminium

RAL 9006

Terra Brown

RAL 8028

Clay Brown

RAL 8003

Light Grey

RAL 7035

Window Grey

RAL 7040

Anthracite Grey

RAL 7016

Light Ivory

RAL 1015

Moss Green

RAL 6005

Ruby Red

RAL 3003

Pigeon Blue

RAL 5014
Decograin Colours
The high quality range of Decograin laminate foil coatings available offer the very toughest finish for any Thermopro entrance door and there are 4 superb finishes to choose from currently:
| | | | |
| --- | --- | --- | --- |
| Golden Oak | Dark Oak | Night Oak | Titan Metallic |