Sectional Garage Door Offer
Hormann Insulated Sectional Garage Door Offer - 30% off Promotion with Half Price Electric Operator option!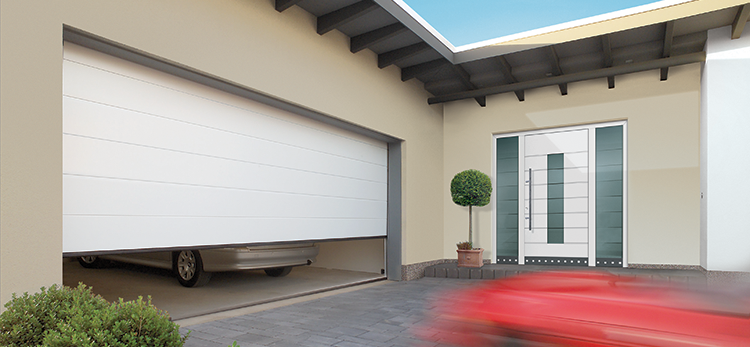 We are offering a range of single and double width standard sizes at very special prices in the 42mm double skinned insulated specification to provide you the very best insulation as well as strenght and security for your garage.
All the sectional doors are prefinished in a white paint finish with a 10 year guarantee and every sectional door is supplied with a black handle set fitted with the euro profile cylinder locking and the rotary latch mechanism if the manual operation is requested.
What Does This Special Offer Include?
A professional survey to ensure the door you have ordered is perfect for your garage

A Hormann RAL 9016 white finished door

Removal and disposal of your existing garage door

Professional installation by our own installers

VAT Included

Hormann Promatic Series 3 Remote Controlled Operator - *available as an upgraded option

2 hand held transmitters to control your door

**available with upgraded operator option**

10 Year manufacturers guarantee on your door
The Hormann LPU40 offers a range of simple designs which are very pleasing to the eye. Constructed using high quality materials with the help of highly experienced craftsmen, each door is built to last
Single Door Size Special Offers
All prices include VAT

Sizes included in offer are 7066 / 7070 / 7666 / 7670 / 7674

Double Door Size Special Offers
All prices include VAT

Sizes included in double size range offer are 1466 / 1470 / 14666 / 14670

LPU42 M or S Ribbed
42 mm insulated - only £1490!!

Save £650 off RRP!

LPU42 L Ribbed Silkgrain*
42mm insulated - only £2590!!

Save £950 off RRP! *fitted with a Supramatic operator
Please be aware that whilst The Garage Door Centre will make every effort to satisfy all customer requests we do reserve the right to restrict the areas for which we offer an installation service and that these area restrictions may change at any time without notice. In addition all orders are subject to survey and the right is reserved to decline any order at the point of survey.
For more information on Sectional Garage Doors, please view our What is a sectional garage door? page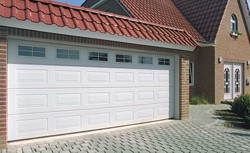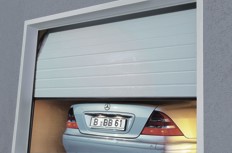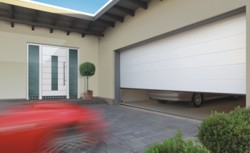 What Does This Door Include As Standard?
This special promotion offer does not include any trims, fascias or infills. Power must be available within 3 metres of the electric generator head unit. This offer is restricted to the counties listed below:
Fully sealed perimeter
With rubber seals and close fitting to steel framework. The large bottom rubber seal on a level floor will prevent leaves and dust, etc.
Vertical operation
Meaning you can park your vehicle right up to the door inside or out and still open and close it.
Excellent security
Provided by 5 encapsulated rollers in steel hinges either side of a standard door and a rotary latch locking mechanism with europrofile cylinder locking as standard.
Easy operation
Due to the spring mechanisms assisting the door during most of the operation, unlike an up and over type, the doors are surprisingly easy to operate.
Powdercoat finished
Standard on all doors inside and out with bright white (RAL9016) finish externally and off white (RAL 9002) internally - no need to paint.
Remote control ready
Due to the retractable tracking mechanism of a sectional door they are ready to have any standard boom operator fitted with no further adaptions or fuss.
Full drive-through
No reduction in the drive-through width - a 2286mm wide door gives you 2286mm when open. With the N track mechanism you get the full height and only lose about 50mm on the Z track mechanism when fully open.
10 year guarantee
On the entire door.
Watch this short video explaining the benefits of a Hormann insulated sectional garage door
Please note the offer and prices are subject to survey and any extra work required for frame trims, electrical connection, adaptation of the sizing to suit an opening or additional work requiring extra material is chargeable and will be quoted seperately. All quotations are subject to our standard terms and conditions.
Installation Areas for Offer Prices Shown
Northamptonshire

Leicestershire

Bedfordshire

Warwickshire

Cambridgeshire

Buckinghamshire

Oxfordshire

Hertfordshire
We can also supply and install throughout the UK - phone 0800 525 442 or email for additonal installation prices if applicable. Prices subject to survey and specification.
How To Order
To order your new garage door right now simply go to the bottom of this page and choose the appropriate offer and proceed to secure area. You will then enter your name, address, etc and credit card details for the deposit only. After you have sent these details we will contact you within 24 hours to arrange the survey, check the size,colour and any other items you may wish to add then the next time you see us will be to install your brand new door - simple and easy!
Alternatively pick up the phone and talk to one of our sales team who can arrange the whole thing for you including the initial survey
Once you have paid a deposit, you are in no obligation to complete the purchase of this special offer. The Garage Door Centre offers a fully refundable deposit.
If you have any queries or wish to arrange a survey or order by telephone please contact us on (0800) 525442 during normal office hours Mon - Friday 9 - 5pm, Saturday 9 -4pm or email us
To obtain any special internet prices shown on this web site you must quote TGDCWEB at the point of placing your order (unless ordering online).
Please note you cannot use any internet offer in conjunction with any other promotional offer.
strong>See the unbelievable prices we are currently offering these sectional doors for!
Be Secure, Safe and Warm inside your garage with an insulated Sectional door