Hormann with Pedestrian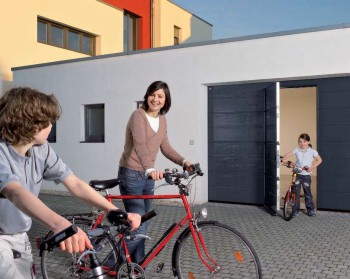 Sometimes, it's the small things that make the greatest differences in your life, and more often than not they can go unnoticed. For example, if you want to fetch your bike without having to open the entire garage door, you'll soon realise the convenience of a pedestrian wicket door built into your main garage door panel; a simple and effortless route of access on foot.
Unique and only from Hörmann - the lowest threshold of any wicket door on the market - this is a stainless steel threshold that is 10 mm high in the centre and and 5 mm at the edges. Not only does this threshold decrease the risk of tripping, but it also makes driving wheels over it exceptionally easier. A door operating within a door!!
Hormann Pedestrian Doors are available in insulated Sectional and the continental range of Hormann Up & Over garage doors. For very specialised applications of larger sizes or higher useage, the ET500 system also has the option of a pedestrian door inset in the main panel.
Hormann Sectional Garage Doors with Pedestrian Door
Hormann sectional garage doors are available with wicket doors in the LPU40 42mm insulated steel panels only. This is also only available with the front mounted torsion spring (type N) mechanism due to increased weight.
We can easily also use any of the vast range of SPU F42 commercial sectional doors from Hormann as they also offer a wicket door; these are available in larger sizes too, in any colour, and can be either manually or electrically operated!!
Each Hormann LPU40 sectional garage door is available in a variety of different finishes. There are 16 standard colours available at a surcharge, however each door is supplied as standard in white. Any other RAL colours are available at an extra cost.
Sizes are available from 2250mm wide x 3000mm high, to 4000mm x 2500mm with restrictions on certain designs of larger widths and heights. Larger widths and heights can be achieved with the SPU 40 range of commercial sectional doors from Hormann.
They can be automated with either the Promatic or Supramatic operators, with all necessary safety devices as additional to the basic motor, but these are manually operated as standard. The operators generally are best specified at the higher motor rating (P or H).

S Panelled

M Ribbed

L Ribbed

Available in most
RAL & Decograin colours!
Take a look at the short video below to view the LPU40 L Ribbed sectional door with a central wicket door inset in action at our showroom. This kind of door has an adjustable door closer, the smallest threshold available at only 10mm in stainless steel and all necessary safety devices to ensure the main door will only ever operate when the pedestrian door is closed fully. Of course, the entire door is constructed from 42mm double-skinned steel, with a foam core providing high levels of thermal and sound insulation.
Click here for more information on Hormann Sectional Garage Doors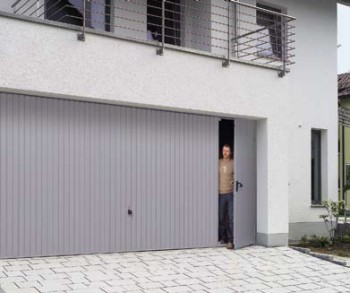 Hormann Up & Over Garage Doors with Pedestrian Door
Hormann up and over
Each garage door is available in white as standard, alternatively there is a selection of 15 other popular RAL colours. And, if you're looking for that unique style, you could also choose from ANY RAL colour to truly personalise your door!
The sizes are available from 2250mm wide x 1929mm high, to a maximum of 5000mm x 2375m. The door is set into the main panel to the left or right hand side and it will always open outwards.
All Hormann Up & Over garage doors are ready to be fitted with any of the superb Hormann range of electric operators specified, dependant upon the size and usage of the door.





Hormann ET500 Up and Over Door System

The Hormann ET500 is a door system originally designed for high useage commercial applications, and as such is constructed way above the normal strength of any normal up and over door. The principal of the door is like most Hormann doors and is based on the door panel being a box section steel structure, capable of being used without any infill whatsoever as it is strong enough just as a basic sub frame.
The door also comes complete with a very sturdy steel fixing frame system with all the operating gear built into and onto this frame.

The beauty of this strength is that the ET500 door is sold as an 'open for infill' system where you can infill the chassis with many types of materials, usually timber, and create your own unique door designs knowing all the mechanics, safety and electric operation is taken care of. Because of the incredible strength of the ET500, it is also available with a pedestrian door inset into the main panel that can be positioned in various places depending on your requirements. With its commercial roots, this door can also take very heavy timber infilling, far more weight than the DF98 and N80 systems can handle.

Download the PDF colour brochure for the ET500 >

902
Vertical Ribbed

905
Open for Infill

934
Vertical Boarded
Click here for more information on Hormann Up & Over Garage Doors