Woodrite Accoya Garage Doors
Accoya® – The ideal wood for windows, doors, cladding, decking, structural products and more.
Accoya® is essentially the future, ticking all the boxes for sustainability, the environment, performance, visual appearance and longevity. Accoya® is timber based upon acetylated wood technology, a process that has been studied by scientists around the world for more than 75 years and has produced some astonishing results and modern day benefits to construction work. This method of improving wood has been proven to deliver such superior performance that it has long been used as the "gold standard" against which other methods are measured.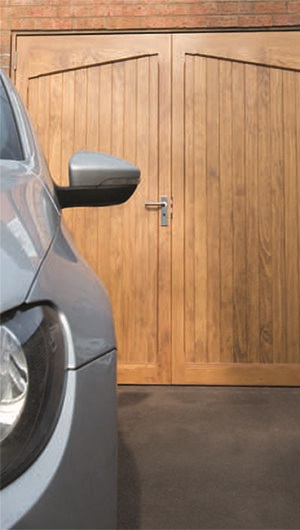 Accoya® has been used for a plethora of construction jobs that should assure anyone of its outstanding durability, including for bridges, fences, tables, cladding for restaurants, doors, window frames, gates, walkways, terraces and more. The timber was even used during the restoration of the HMS Warrior – if it can be used for such a heroic ship, then why not your garage door?
Woodrite's Thetford range consists entirely of Accoya® garage doors - view the range here >
Why an Accoya® garage door?
The stability of Accoya timber will increase the lifespan of all external joinery products.
Typically, hardwood products can be expected to last for about 50 years in external service with proper maintenance adhered to; Accoya® should add a further ten years to this service life.
PLUS - Woodrite's Thetford Range, which comprises entirely of doors made of Accoya, comes with a 10 year guarantee on finish when ordered with factory finishing. Woodrite even turn their garage doors upside down in order for every part of them to be covered with the necessary treatment to optimise the strength and 'super-technology' of their doors.
The hard and consistent structure of an Accoya® garage door produces a much finer finish after sanding, and the lack of absorption of water from the paint means that the final finish quality is better than for hardwood. An even greater finish is possible by undergoing a grain fill process prior to painting. The hardness of the timber makes it less susceptible to denting or damage, and therefore increases the likelihood of maintaining the paint coating in the long-term.
This of course improves the longevity of the products. This timber can be grown in 25 years, yet can be used for far longer in application – this makes it a net absorber of CO2 and an incredibly green building material.
Oak or Accoya®?
Oak is renownded as a timber of natural beauty, and it can often be the statement of a property that it appears in. Although in many circumstances oak has maintained its appearance and avoided rotting, it does have properties that result in it discolouring and moving, requiring plenty of upkeep. Accoya® however, is able to offer far more durable properties, and unlike oak, is far less prone to movement problems. In terms of its appearance, it can even be stained to look more like oak if desired.
Additionally, Accoya® is able to provide better levels of insulation than oak, beneficial for those who use their garage for various uses and to assist in reducing heating costs!
The Woodrite Thetford Range
| | | |
| --- | --- | --- |
| The Barnham | The Culford | The Elveden |
| The Harling | The Ingham | The Northwold |

For window frames, Accoya wood is the ultimate material of choice. Not only does it have extremely low thermal conductivity, but it also matches or exceeds the durability and dimensionally stability of the best tropical hardwoods available. It can be opaque coated in a wide range of colours, and for those wishing to enjoy the natural look of timber, translucent coated. Accoya's low maintenance requirements add to its cost effectiveness and environmental acceptance.
Exterior timber doors should always be durable and dimensionally stable in order to prevent doors potentially jamming and becoming difficult to open and close in bad weather, as well as changes in air moisture content from season to season. It should also be easy to maintain. Accoya® timber meets the whole criteria and may be used to create simple or complex designs with a choice of coating finishes with greatly improved lifetime stability.
Accoya® is a perfect solution for exterior cladding, siding and façades where aesthetics, less maintenance, dimensional stability, durability and insulation value are always key factors. It is also crucial that the wood is non-toxic, and therefore totally safe for people and pets. Accoya timber again meets these requirements. Accoya® timber has been modified right through to the core and, the acetylation process does not weaken the original wood – in fact, its hardness is improved without compromising its bending strength.
Combined with exceptional durability and stability Accoya® timber can be an ideal material for structural requirements and has been used in bridges and other large structures around the world.