Roller Door FREE SECURITY UPGRADE

If you're having a SeceuroGlide Classic installed...
Upgrade to the SeceuroGlide Excel model for FREE!
HAPPY EX-MAS! GET YOUR EXCEL UPGRADE HERE THIS CHRISTMAS!
Advanced & Certified levels of security for no extra cost... Three Month Offer
Could reduce your home insurance costs!
What is the SeceuroGlide Excel?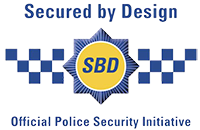 The SeceuroGlide Excel is an alternative to the SeceuroGlide Classic, and is an ideal option if you are looking for a roller garage door with extra security specifications. The reinforced design and features provide an enhanced level of security.
The Excel is Secured by Design certified, meaning it has passed rigorous tests that are approved by UK Police and insurance companies. Statistically, this makes the door less likely to be broken into due to its enhanced security features, resulting in a protected garage and peace of mind.
Plus, as a results of the Excel's increased security features, this product may even reduce your home insurance costs!
Visit our Showroom!
If you're looking into investing in a roller garage door, we highly recommend coming along to our showroom, based in Wellingborough, Northamptonshire. Here, you can see the difference between standard roller door models in comparison to the SeceuroGlide Excel.
Our excellent, professional team are on-hand if you need any guidance, and are always more than happy to help.
Offer Details
- Not to be used in conjunction with any other offer.
- Offer expires February 29th 2020.
*Terms and conditions apply.