Roller Garage Doors
What is a Roller Shutter Garage Door?
A roller shutter garage door is one the most practical garage door options available; with smooth vertical opening and no internal tracks, it operates smoothly and neatly.
The roller door is essentially a curtain that consists of slats that can roll around itself at the top of the door opening, manufactured with either steel or aluminium. A steel roller shutter consists of a single sheet of metal, whereas aluminium roller doors offer insulation.
Our range of roller doors are able to offer great security and safety levels, with additional extras and models available to enhance such features when and if required!
The small size of the curtain roll belonging to a roller shutter means the door can be installed in locations that may have limited or obstructed headroom - a solution that other door types cannot offer. If you have an awkwardly placed meter, fuse box or internal door that may block garage door mechanisms, then a roller shutter door may be the answer. The average curtain roll size is around 300mm-350mm in diameter, although this may be larger depending on the installation position and the material chosen for the curtain.

Benefits at a glance...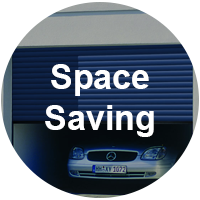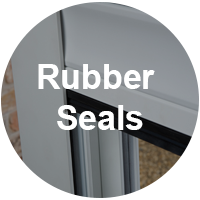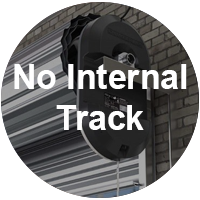 Roller shutter garage doors can often be a practical solution due to the various benefits they offer!
A siginificant benefit being that the roller shutter type of garage door demands minimal space requirements - the main feature which really makes it stand out. The roller shutter's vertical opening means that owners are able to optimise the length of their garage and driveway, as well as allowing them to park right up to the door with no obstructions when it is in operation. The opening mechanism also means you can safely park tall vehicles, like 4x4's, close to the door without obstructing the opening and closing of the door.
Another benefit that a roller shutter door offers, that many other garage doors do not, is its ability to be fitted behind, inbetween OR in front of the opening.
Most roller shutter doors are made to order, and can therefore be ordered to your exact specifications, whatever the size. There is also an almost limitless choice of pre-finished colours and woodgrain effects, allowing you to discover the most ideal roller shutter door that is suited to you and your property.

---

Be careful when selecting your roller door!
Although roller doors may all appear to be very similar when viewing images online or in print, the real differences often lay in the product's longevity.
The differences in higher quality and long lasting reliability tend to be in the numerous internal mechanics of roller doors, where the components cannot generally be easily seen.
A low quality roller door will self-destruct quickly because of the numerous small, moving components in order for their operation – a compromise on the price may well make all the difference!
---
Roller Door Types
Roller shutter garage doors are available in the UK as insulated double skinned aluminium or non-insulated single skin steel, both with the option of manual or remote control electric operation.
| | |
| --- | --- |
| A simple, practical door combining quality and functionality. Its affordability and attractive design make this door ideal for every type of home owner. | Reduce heat loss, protect your garage from the weather and increase security. We will never be the cheapest, but will ensure you get the right roller garage door! |


We aim to provide the safest roller shutter doors available.
Some careful consideration must be given to the specification of an insulated roller garage door as there are many roller doors manufactured that still do not meet the stringent CE regulations in the UK - these are technically 'illegal'.

They also do not meet the 'machinery directive' regulations, which are created to bring total safety into products that are operated electrically and by remote control.
All of our Roller garage doors are supplied with a bottom-edge safety sensor as standard. We also make sure the door has an anti-fall-back device for complete peace of mind. Smooth finished edges on the guides and the curtain are also considered.
Safety is a fundamental concern in the continuing development of the range.
All Seceuroglide, SupaRolla, Gararol, Seceuroglide Excel and Rollmatic roller doors are fully CE compliant and all come as standard with a leading Safety Edge, collision detection and Anti-Fall-back devices. Infra-red beams on their own as a safety device are not legal!

Low price is guaranteed low security - when it comes to Roller Shutters, you get what you pay for.
Most roller shutter doors are secure as standard, with manually operated versions that feature sliding bars that lock internally into the side channels. Remote control electric doors employ various different locking devices, normally held from the barrel that the curtain is attached to. A cheap, basic electric aluminium roller door with basic internal mechanisms is quite easy to break into, so you must make sure that if you require security you know exactly what you are looking for!
We reccomend looking at the Seceuroglide Excel - 'Secured by Design' - The U.K's first remote control garage door that is police and insurance approved, an insulated roller shutter manufactured by SWS.
This Roller Shutter door has been tested to offer a Level 1 'Secured by Design' rating, and is approved by the LPCB, awarding a stamp of approval by insurance companies and police authorities due to its excellent resistance to forced entry attempts. Patented internal mechanisms make this roller door the one to have for anybody who requires a good level of security and peace of mind.

Applications
Roller shutter doors are adaptable for fitting in various structural openings.
The roller garage door is the most versatile of garage doors as it can be manufactured to almost any size or colour (certain slat types only). As the roller garage door raises vertically, it can be installed behind any shape of structural garage opening, such as archways, etc. Another situation where a roller shutter door would be desired is when a garage has a particularly high ceiling, or when tracks into the garage would be running in front of a side entrance door, brick pier or similar obstruction. A roller shutter garage door can be:
Ideal for arched garage openings to maximise drive through height

Fitted onto double, triple or more garages with a multi-channel remote control system - ideal for ease of use

Specified with remote controls using the very latest rolling code technology for security - your garage door can only be operated by your transmitter
Fitting Behind the Opening

The diagram shows the typical installation position of a roller shutter door when installed inside the structural opening of the garage.

When fitted like this the maximum width and height is normally achieved, although a loss of garage length has to be considered.

Fitting In between the Opening

The diagram shows a roller shutter garage door fitted inbetween the structural opening and fitting underneath the lintel.

This position is quite normal but will not give as much of a wide drive through width or height when fully open.

Fitting Outside the Opening

This diagram shows the roller garage door installed outside of the opening on the front face of the garage opening.

A complete hood cover is required to protect the curtain roll. Guides and endplates will need powder coating to complete the appearance.
Finishes and Colours
Roller shutter doors can be the most diverse doors in terms of colour.
Single skin and insulated doors are available in a choice of standard factory finished colours as standard, and not available to be painted on site.
For an additional charge, you can have almost any RAL or BS colour as a powdercoat finish only to both sides of the curtain Guides; endplates and hoods can be matched or contrasted.
There are 17 standard Seceuroglide paint finishes and 4 standard laminate woodgrain finishes.
There are tough vinyl coated woodgrain finishes available, specifically designed to match replacement UPVC windows and front entrance doors, as well as giving an attractive maintenance free option to compliment various property styles.
The woodgrain effects that are available appear impressive, making an excellent, low maintenance surface finish.
Current standard woodgrain laminate finishes available are Golden Oak, Mahogany, Rosewood and White, with a further 42 Renolit woodgrain laminate finishes also available - you are sure to find the perfect finish!
General Sizing Information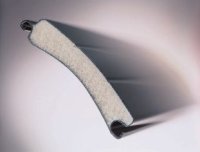 Roller shutter doors can be manufactured to many sizes - even up to 12000mm wide and 8000mm high for commerical doors.
The domestic insulated aluminium roller shutter door is available in sizes up to 5400mm wide and 4000mm high, although we can provide many other types of heavier duty commercial specification roller shutter doors in sizes up to 12000mm wide and 8000mm high, which come with the necessary safety devices for domestic use.
The panels of our roller shutter garage doors are usually 78.5mm deep, twin-walled aluminium slats, with CFC free foam for insulation and sound reduction.
Note: There may be some restriction in slat type and colour when dealing with certain size doors.
Roller Door Visual Overview
Take a look at this Hormann Rollmatic visual overview to gain a better understanding of a roller door's operation.
Brands
---
| | | |
| --- | --- | --- |
| | | |
| | | |
---
Contact us - whatever the size may be - we have never refused an enquiry to date.