Guide to Your Perfect Roller Garage Door

Guide to Your Perfect Roller Garage Door
Roller shutter garage doors are now one of the most sought-after replacement doors for many homeowners in the UK.
Their rapid rise in popularity is largely down to their ability to be used in almost any garage opening without the need for tracking or other mechanics requiring internal space. They are generally easy to install and are a suitable option for various types of application.
This guide is designed to lead you through the process of investing in a quality garage door, and how to avoid the low quality roller doors now available on the UK market.
Simply use the buttons below to navigate to the relevant information for you.
Contents
If the roller garage door is the right door type for you and your garage, the first thing to do is decide on whether you want to go for a basic single skin steel version, or an insulated, double skinned, aluminium model.
Steel, Single Skin: Popular for many of single size garages & budget friendly.
The single skin steel 'continuous' roller door is a recognised choice because it is so basic in its construction; made from a single sheet of steel, it simply rolls around itself on a barrel shaft. This is the perfect option for those wanting to simply close off a garage opening, and isn't overly concerned about performance or security.
It doesn't pretend to be anything but a vertical operating roller door based on a design originating many years ago; simple and effective. There is a selection of finished external colours to choose from, allowing the co-ordination between the door and other external furnishings.
All sizes are available with either manual or electric operation.
'Insulated' Aluminium Roller Doors: All manufactured from many variants of a double-skinned, foam-filled aluminium slat.

Double skinned roller doors are constructed from individual aluminium slats of varying sizes. The design consists of a curtain made up of slats, or 'lath' sections, which roll up around the barrel with an electric motor drive. This is either built into the barrel (a tube motor), or an external motor drive which has different safety properties, along with various other benefits.
The variants in the aluminium slats come from the depth and height of each slat section. These vary from very small slats, at around 40mm tall, through to 100mm tall slats. The latter are considerably deeper in their construction, and therefore stronger and far better insulated against cold, heat and sound. They will also offer improved security and stronger resistance to attempted forced entry.
Almost all models are electrically operated. There is a small choice of manual, spring assisted versions for single width garage sizes when power is not available.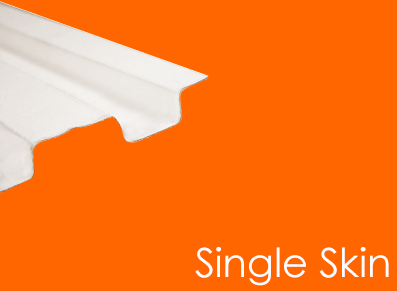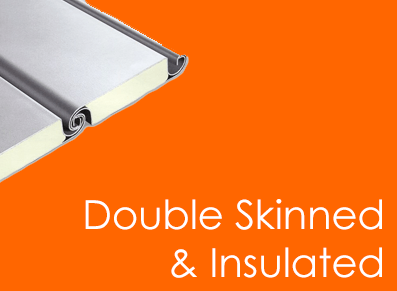 The majority of the middle to higher end quality roller garage doors will use:

- 77mm high slats that are around 19mm deep
- Foam-filled slats, double-skinned in their construction, manufactured to a tested and controlled method for consistent quality and strength
- Finished on both sides in either paint or laminate foil. Laminate foils offer woodgrain & other designs that are not possible in paint processes
- Large octagonal roller barrel for increased strength and security when closed
- Physical locking device, as well as the door being held shut by the electric motor drive
- Extruded side guides for strength, stability and security, not just guides from a window shutter or similar
- Tried and tested motor drive for total reliability and smooth operation for years of use, also with built-in radio receiver as standard
- State of the art control methods, with latest technology in the monitoring and control of the motor and safety device
Ensure You Invest in a High Quality Roller Garage Door
Be sure to avoid cheap, low quality roller doors. The nature of roller doors does make it easy for some companies to assemble them from components purchased from various sources. A strong demand for a product will always bring in low priced options trying to capture an easy share of the action.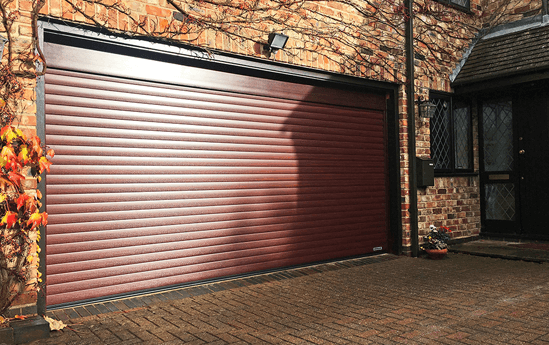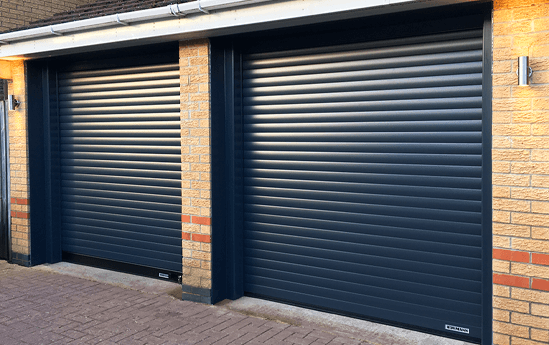 However, a 'manufactured' roller door is an altogether different product; a product that has been developed, tested, and then developed further over time, but most importantly constructed to a consistent standard. Ideally, this is the type of roller garage door you should be looking for.
Like all household investments, you really do get what you pay for, and far too often we all make the mistake of buying something cheap, and then must replace the product after a very short time, which ends up costing far more in reality.
It is important to note that the roller door will not only look quite different depending on its slat sizes, but the overall performance will absolutely depend on the slats used. They will determine whether the door is secure, effectively insulating, and the ultimate durability and lifespan. Bear in mind that the slats roll around each other during daily operation of the door, and so a cheap, inferior slat might realistically have a lifespan of under 2-3 years.
Don't get caught out purchasing a roller door that is just a quick money spinner and a result of the sharp rise in popularity. The increase in demand has led to the inevitable low price, low quality providers where the main drive is price focused at the expense of everything else.
Prices to Look Out For
With so many similar looking roller doors available in the UK, how do you make the right choice and not buy something you regret?

First, understand that at the different price points available there will be big differences in the specification, quality and integrity of the product offered. An aluminium roller 'garage' door at anything less than £800 (single garage size) is most likely to be a shutter manufactured from components used for window shutters, not actually for doorways. These would be shutters only suitable for use for moderate heat, light and sound insulation, and nothing else. It will use very thin lath sections which will have little resistance to strong winds and any attempted forced entry. The slats will potentially fail within a short period of time when used in a doorway, and either pull apart or twist and bend.

Between around £800 and £1,300 (single garage sizes), you will probably get the larger size 77mm slat but it will be of a low quality, not only in the aluminium but also in the paint finish too. If laminate foil coatings are offered at a premium, then these are also likely to be a foil applied onto the existing lath section and nowhere near as tough and durable as correctly manufactured laminate foil lath sections. If you're budget is firmly set within this range, it is certainly worth considering the single-skin steel roller door as an option.

Between £1,300 and £2,000 (single garage sizes) there are a huge range of roller garage doors available, but they will all have many differences which matter in the overall finished product and performance.

Above £2,000 (single garage sizes) and you should be looking at roller doors with unique features and far higher performance where it is more important to you. These properties are likely to be security, insulation, smooth, quiet running and enhanced control methods, let alone a guarantee of a longer lasting engineered product.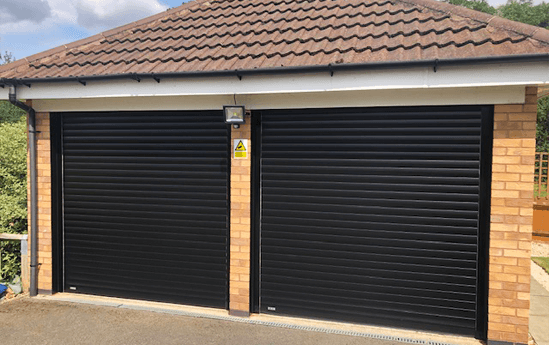 What is the right guide size and construction for roller doors?
The guides should match the requirements for the width of the door, as well as any enhanced security or wind rating features required. Thicker extruded aluminium guides will obviously offer greater resistance to a forced entry attempt, whilst wind lock guides are used to lock the curtain into the guides. In some cases, they can even provide hurricane-resistant levels of stability.
What barrel size is used for the lath sections to roll around?
The barrel size for the curtain to roll around is important, but does also depend on the slat size used. A larger barrel generally means increased strength, but with specifically designed products like the Qompact, this doesn't necessarily follow. The barrel should however be of high quality as it is key to the overall operation, smoothness and security.
What method is used to connect the roller door's lath sections together?
Bear in mind that there is an enormous amount of pressure on the door lath sections every time the door is opened.
Quality roller doors use sophisticated methods such as nylon webbing or strengthened steel connectors.
Cheaper roller doors use nylon or plastic end-locks, which literally pull apart after a while.
What electric motors are used for roller doors, and what guarantee do they have?
Be aware of generic '10 year guarantees'. If the supplier goes bust then you will have no guarantee to go back to unless the product is backed by a major manufacturer through the specialist distributor.
There are so many tube motor manufacturers and other motor drives on the market, meaning this can be a minefield to research. There are a couple of big brand names, but besides those it may be best to examine the exact details of the warranty offered. Saying a door has a 'no quibble 10 year guarantee' is usually just a sales gimmick, and is not worth being taken-in by.
What guarantee is there for the lath sections in either painted or foil coated finishes?
Matching replacement lath sections should be available from major brands if any slats become damaged.
Note that poor, cheap paint finishes will deteriorate very quickly. Foil coated doors have a far tougher surface finish, however there are some very good paint finished roller doors available too.
What is the security level of roller garage doors?
Many roller doors can be easily lifted up when closed with little effort, with many so-called locking devices being very poor or non-existent. Ensure you invest in a door with good and suitable levels of security for your application.
Make sure you effectively determine that the security and locking is what you want and expect. If you require a roller door with certified and tested levels of security, see section 3.
What safety devices are built-in?
The UK standard law calls for a leading-edge safety sensor which reverses when an obstacle is detected. Infrared beams on their own do not comply, whilst the 'light grid' option is acceptable, but can have issues in climate changes with condensation in the lenses.
For external drive motors, the safety detection is done by resistance causing a power surge, which is then detected before the motor stops and reverses.

Once the price gets above £2,000 (single garage size), you are usually getting a product which has been properly manufactured by an established manufacturer, tested for compliance and performance and will provide you with some peace of mind in reliability, safety and security BUT, this isn't guaranteed! If a company simply charges excessively for an inferior roller door product then you haven't gained anything and have potentially bought trouble.
For the very discerning there are some advanced roller garage doors available in the UK.
High Performance Roller Doors
Roller doors manufactured from 100mm double skinned slats provide incredible strength and boast U-values for the performance of insulation, unlike all others. This U-value is a tested measure of the thermal efficiency of the door.
Roller Doors for Security
There are high security roller doors available that have been tested and certified to standards laid down by independent testing companies.
These can be constructed with or without insulated slats, with models available with different sized slats from top to bottom. Such manufacturing enables the very smallest roller and box available, in addition to the highest levels of security.
New to the UK roller door market is a patented door originally designed to withstand hurricanes. It is developed to operate as a higher security roller garage door, boasting a very high wind rating too. The use of extruded, single-skin, individual aluminium lath sections are far thicker than normal slats used on a roller door. These are smaller near the top of the door, phased in size in sections from the bottom. This enables the roll to be ultra-tight when rolled up, fitting into a 165mm box - nearly half the size of a normal roller garage door!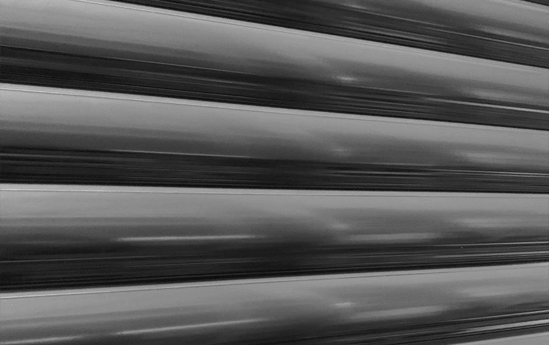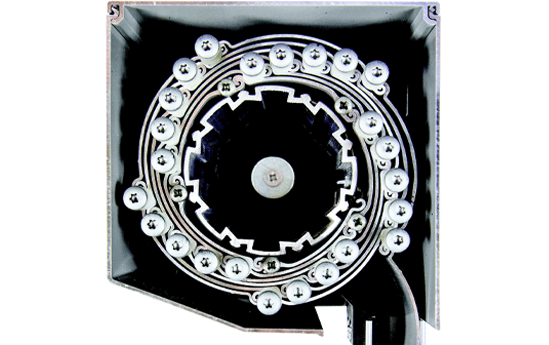 The Qompact roller door offers high levels of security and is perfect for anyone wanting to secure their garage as much as possible. Further options are available to use this system as a door or window shutter offering certified and tested levels of security. Unique painting methods and wind-locked guides ensure this door really stands its ground with performance and lasting quality.
If you're looking for roller doors with high specifications, the best option is to go and see what your options are. Go to an established showroom and see, try, and examine the various roller door options available. A demonstration from the back of a van or in your house will always be a small sample that feels stronger than a real size door. Always make sure you get what you have been promised or sold!
Today, nearly every roller door sold for use on a domestic garage will be electrically operated, especially since higher safety standards and regulations have made manually operated doors more expensive.
The 'standard' offering for many years has been two hand held radio transmitters and an internal, wall-mounted control box which has a push button control for the door. Assuming the roller door has the correct safety devices installed, the remote door can be operated by anyone within quite a wide local range. Better manufacturers will use encrypted radio controls to ensure security when being used and ensure the signal cannot be intercepted and used by criminals.

A standard roller garage door should also have an emergency manual override system to enable operation in the event of a power failure to the garage. If you have regular power failures then maybe consider a battery back-up system as these can be useful for many people, offering a few operations of the door even if there is no mains power.
Additional Door Control Options
Apart from some obvious and useful devices such as external key switches, external digital key pads, internal wall push buttons and maybe even a magnetic card reader, the more recent demand has come from home automation systems. The ability for more and more people to control devices in their home via their smartphone or tablet from any location in the world is a concept that is becoming increasingly more desirable.
Any higher quality electric roller garage door can be specified with a choice of WiFi or GSM controlled interfaces, controlling the door using an app and local radio control and offering the ability to operate from whenever, wherever. Combined with contact sensors and cameras, you could create a very useful door for many purposes with total control guaranteed by only specified users.
Integrated LED lights can also offer some useful safety and security features for the door too. These can serve as effective outdoor lighting and as a security device when combined with a motion sensor or smart camera.
The best way to see the differences in specification and prices for roller doors is to view and try a range of them for yourself.
Unfortunately, comparing roller doors online is very difficult due to the visual similarities. You won't see the important and relevant details easily without seeing a full size, operational door.
Seek guidance at an established showroom and speak to staff members with real knowledge, and ensure you ask the questions you need.
The Garage Door Centre has a large, established showroom based in Northants where we have a variety of roller doors to try, with staff happy to help where required. You can find us in Wellingborough, ( close by to Northampton & Kettering).
Give us a call or come and visit us - we want to find the perfect roller garage door for you!