Ryterna Entrance Doors

Ryterna Entrance Doors from The Garage Door Centre
Ryterna entrance doors are manufactured to become an impressive entrance to your home, whilst keeping it safe, secure and insulated. Ryterna allow their customers to customise their door down to features like the frame and threshold.
Most importantly, you are able to order a door that will visually co-ordinate with your Ryterna garage door, meaning your home will remain on-trend and boast a harmonised appearence.
Ryterna are high quality made to measure doors, made out of steel and aluminium for maximum endurance and performance. Not only this, but they are all at affordable prices, cheaper than the equivalent doors from other makers such as market leaders Hormann.
There are three ranges of Ryterna entrance doors: the RD65, RD80 and RD100 ranges.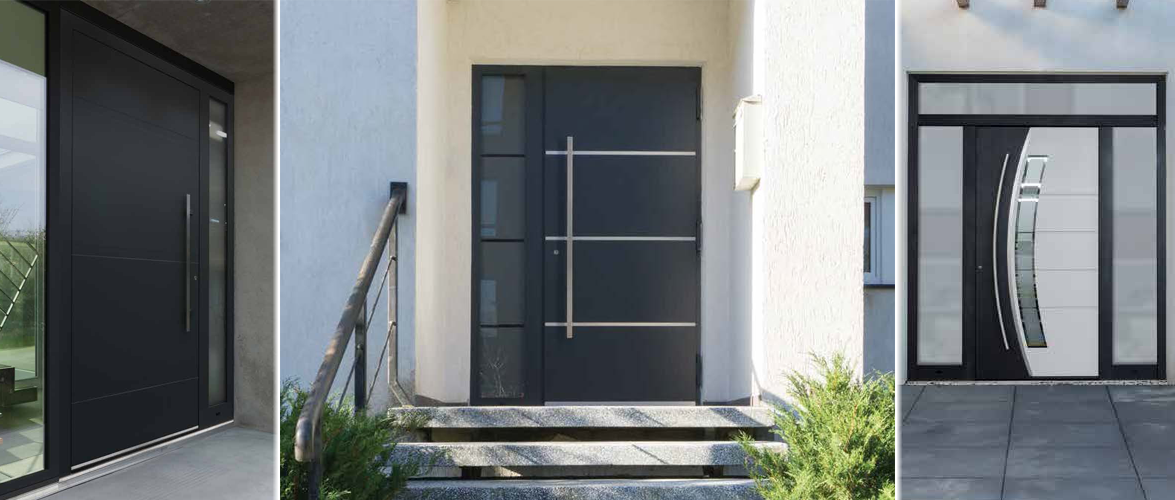 Insulation
Every Ryterna door is designed to keep your home warm and insulated, however there are three models available to choose from depending on your requirements.
Their most insulating door is the RD100 at a significant thickness of 100mm, providing U-Values of up to 0.65 W/m2K, and therefore offering fantastic levels of insulation.
Take a look at the three door leaf diagrams below for a visual comparison:

Ryterna Entrance Doors Features:
RD65

- U-Value up to 0.73 W/m2K

- Frame: made up of aluminium profiles

- 24mm thick thermal break

- Leaf is 65mm thick, made of steel sheet skin

- Equipped with three hinges, adjustable in three directions

RD80

- U-Value up to 0.68 W/m2K

- Frame: made up of aluminium profiles

- 20mm thick thermal break

- Leaf is 80mm thick, made of aluminium sheet skin

- Brushed with aluminium

RD100

- U-Value up to 0.65 W/m2K

- Frame: made up of aluminium profiles

- 34mm thick thermal break

- Leaf is 100mm thick, made of aluminium sheet skin

- Brushed with aluminium

Selection of doors from the RD65 range - STEEL Entrance Doors
There are various designs available for Ryterna entrance doors, however here are just some examples of their standard designs:
Selection of doors from RD80 and RD100 Ranges - ALUMINIUM Entrance Doors
The design oppurtunites available for Ryterna entrance doors are extensive, however here are just some examples of their standard designs: