Design Your Own in Timber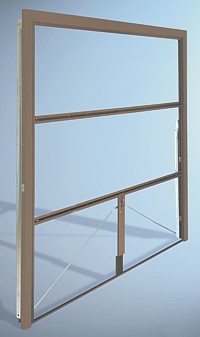 If you cannot find the design of timber garage door you require anywhere or need to match a specific architectural feature on your property then take a look at the superb Hormann 2011 'open for infill' garage door system. This garage door system is known as either a N80 for single width doors or a DF98 for larger double doors.
All Hormann up and over garage doors are constructed using a box section welded steel chassis framework whether they are steel, timber or GRP door infill panels. Take out the infill panel and you have the solid basis for applying your very own timber boarding to and creating a bespoke garage door. The door panel is supplied with predrilled steel struts at 30mm spacings to allow for fast, easy fixing of your chosen timber or other material. The tension springs supplied will allow for a standard infill weight of 6kg per square metre and this can be increased up to 16kg per square metre with the DF98 system. The total infill thickness can be up to 18mm deep.
The galvanized steel chassis is factory prefinished in Dark Brown RAL 8028 as standard but can also be supplied in white in certain sizes and other colours on request. All the operating gear, locking bars and springs are prefitted at the factory. All the doors are supplied with a box section galvanized steel fixing sub frame to provide the very best operation and security. The UK sized door range can be supplied without for fixing to a timber frame if required. This is one example of a creative timber garage door design using the Hormann OFI infill system. Almost any pattern can be achieved with glazing sections if required. Cedarwood is nearly always the preferred timber type for infilling garage doors as it is light in weight na dlight in colour taking on woodstains easily to get the colour you require.
Advantages
The 'open for infill' system takes away all the guesswork and potential warping problems encountered with traditional joinery methods on up and over one piece garage doors. As this system has been produced for over 40 years the operation, locking, safety and security is all highly tested and developed and all that is required is the infill part to complete the door.
Sizes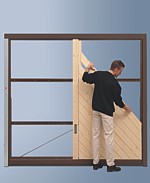 The Hormann N80 door is available in standard and purpose made sizes up to 3000mm wide and 2500mm high and the DF98 up to 5000mm wide and 2750mm high. The ordering size system is different to all other garage doors so be careful when ordering to understand the dimensions carefully as these doors are always pre framed with a steel box section sub frame system which cannot be simply adjusted like a timber frame usually can!
Pedestrian Doors
It is also possible to order the open for infill type garage door with an open for infill pedestrian door already built into the framework. This can be on the left or right hand side, opening outwards only. For regular access to a garage it provides the perfect solution for daily use.
Matching Side Door
Open for infill side doors are also available to help match your garage door perfectly. A range of standard or purpose made sizes complete with fixing frame in steel provide the perfect solution.
For more information and prices on the Hormann timber or open for infill N80 or DF98 doors please call us free on (0800) 525442 or email us now.
Another superb system allowing the creation of a unique timber garage door is the Hormann ET500. This is a one piece up and over based garage door system with an enormous capacity for lifting weight as it was primarily designed for a car park system allowing mutliple users to operate many times during the day and therefore has very high specification components and is an electric operated door as standard.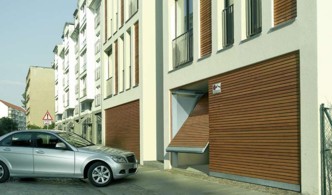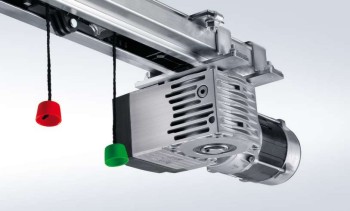 All the Hormann ET500 garage doors are made to order for a perfect fit and always come complete with a steel sub frame for installation to the structural opening.
The Hormann ET500 door is constructed using high grade galvanised steel and can have the sub frame powder-coat paint coloured to a choice of 'special' colours or the any RAL colour paint option with the main door panel either matching or a different finish. A range of different handles are available for the pedestrian wicket door option as well as door closers and hold open devices.
A range of matching side doors are also available in purpose made sizes or a pedestrian door can be built in to the main door panel itself.
Hormann ET500 doors are available up to a maximum size of 6000mm wide by 2500mm high. This allows for a good width and plenty of height to easily access the garage whatever the vehicle type.
Advantages of the ET500 at a Glance
Smooth, quiet, precise door travel

Tested combination of door and door operator for low electric operator wear, long service life, high operational safety and low operating costs on normal daily use

Door construction designed for at least 250,000 door cycles

Low headroom needed, ideal for tighter spaces. An optional subframe is available for fitting situations without lintel and sideroom available

Galvanised, powder-coated door leaf in RAL 9006 White Aluminium - more RAL colour finishes available on request

Minimum swinging out of the main door leaf during operation

Double lifting cables and counter weight technology for safety, low wear and permanent reliability of door operating action

Synthetic rollers with ball bearings

Available with built in wicket door and matching side door in similar construction