Up & Over Garage Door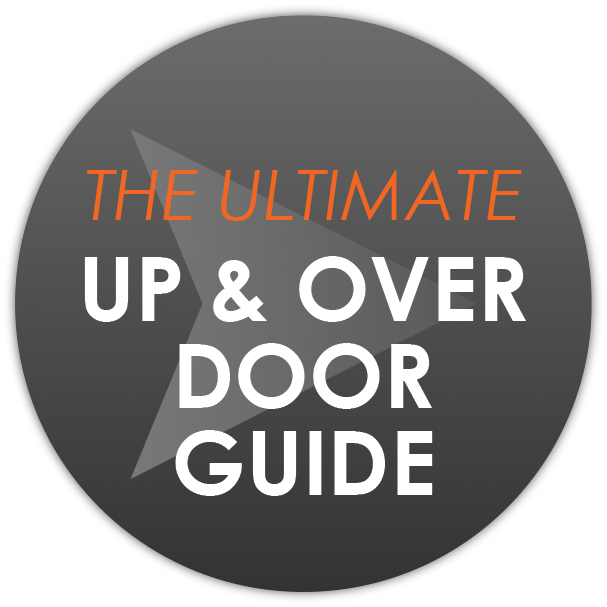 Enjoy the simplicity and diversity of panel design with the one-piece Up and Over garage door, the most popular type of garage door in the UK for many years. These doors can be made to measure, optimising drive-through sizes to accommodate extra width or height.
Up and Over doors are available in steel, timber, UPVC, and GRP with various designs and finishes. Many designs also include window glazing for added light and visual appeal.
With two main operating mechanisms - Canopy and Retractable - there are some differences to consider. Canopy gear is only available in doors up to 2438mm (8 feet) wide. However, retractable gear is available for all doors wider than this, offering a wider range of options to suit your needs.
The biggest benefit of an Up & Over Garage Door is its space-saving design. These doors open vertically and slide up into the garage ceiling, requiring minimal space both inside and outside the garage. This feature makes them ideal for homeowners with limited driveway or interior garage space, allowing for easier access and maneuverability.
Plus, there are various high quality options for all budgets, lots of colour choices and all of the below...
* Made to measure as standard
* Electric or manual operation
* Space saving inside and out
* Large range of bespoke and standard options
* Perfect for self install and DIY projects.
* Comprehensive service, including surveys and installation.
​We are here to help, call our team today on 01933 229135.
We only work with the best!
Benefit from the best in the industry, with the likes of Hormann and Garador you are in safe hands when it comes to choosing your Up & Over Garage Door! We are proud to offer only the highest quality garage doors from well-known trusted manufacturers, view our manufactuerers below.
Our experts are here to help you!
We dont do hidden costs!
All our Up & Over Garage Doors include the following as STANDARD:
Assured guarantee for at least 5 years, extendable up to 10 years
Custom sizes as a standard offering
Selection of standard and premium finish colours
Provision of manual override for emergencies during power outages
Utilisation of top-grade aluminium
Built-in anti-fall back system for compliance
Thoroughly tested and fully compliant with certified documentation
Includes service of removing your old door and removal from site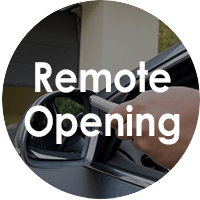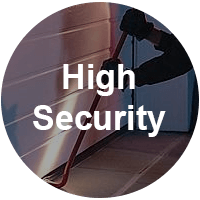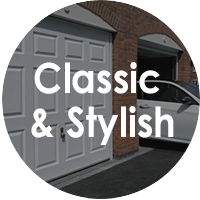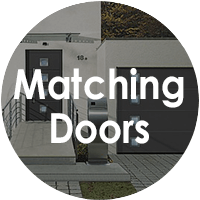 What is the difference between Canopy and Retractable?
Canopy Up & Over Garage Doors
For years, the canopy type Up and Over garage door was the most common and simplest type of garage door mechanism. Its name came from the fully opened garage door panel protruding about a third forward of the sub frame, creating a canopy. At the turn of the 21st century, it was the biggest selling Up and Over garage door type.
The canopy door provides the maximum drive-through width when open and is the easiest door to install. The door panel is balanced and assisted during operation by torsion springs located above the door panel on the head of the fixing subframe. Steel cables on either side of the door attach to wheels running in a channel, lifting the door panel.
It's important to note that the canopy Up and Over door mechanism is typically only available for doors up to 8 feet (2438mm) wide. This mechanism is not commonly used if the garage door is to be controlled by an electric garage door operator for automatic opening with a handset. The canopy mechanism is a basic option designed for small doors without electric operation, but it is very efficient and generally easy to install.
Retractable Up & Over Garage Doors
In the UK, the retractable Up & Over Garage Door is rapidly becoming the more popular of the two mechanisms. Its name derives from the garage door panel fully retracting into the garage when open on horizontal tracks. This mechanism is the easiest to convert into electric operation and requires the least amount of equipment for safe and efficient use, electric operation is popular amongst home owners for convenience and efficient use of their garage.
Please note that the drive-through width on a retractable mechanism is always reduced as the lifting arms at either side sit between the sub-frame when the door is opened. When choosing a retractable garage door, be mindful not to compromise vehicle access too much when limited for opening width.
However, there are options available to address this problem, such as the Retractable Plus gear from Hormann's doors. This special mechanism is designed specifically for doors up to 7'6" (2286mm) wide and helps to maximize drive-through width without compromising on functionality or safety.
Compared to the canopy door mechanism, the retractable door mechanism can handle much heavier loads. The adjustable tension springs on the sides of the door can easily be increased in size and strength to accommodate the weight of heavier door panels, such as those made of hardwood which are a popular option to add depth to period homes and those wanting a more natural look.
Up & Over Garage Door Materials: Choosing the Best Option for Your Home
With their one-piece panel structure, up and over garage doors remain the most versatile option for homeowners looking to choose from a range of materials and designs. These doors can be crafted from an array of materials, including steel, fiberglass, UPVC, and various types of timber, providing flexibility and choice when it comes to selecting the perfect garage door for your home.
Over the years, our expert team have installed numerous beautiful bespoke garage doors made of timber, steel, and GRP. However, due to stricter safety regulations, the maximum size of a one-piece up and over garage door has reduced. As a result, sectional garage doors are now preferred for larger door sizes. Steel remains the most cost-effective material option.
When it comes to up and over doors, there is a wide range of timber species to choose from, including Cedarwood, Idigbo, Oak and Accoya. Some doors come with standard wood options, while others offer exotic timbers depending on the required sizes.
To explore our product catalogue and select from different material types, please consult our website.
Automate your Garage Door
Automating your up and over garage door is possible through the use of a ceiling-mounted electric operator, providing the ultimate convenience in garage door entry. With just the press of a button on your remote control, you can enjoy easy access to your garage via your automatic garage door system.
For canopy gear doors, a bow arm converter is necessary if you wish to install a traditional boom operator, although this may not be possible with all types of canopy doors. Retrofitting automation is generally easier with retractable up and over doors as they do not require a bow arm.
Not all up and over doors are compatible with automation, but our team of experts can guide you on which doors can be automated and which cannot. Remote operation is highly secure, using advanced encryption systems between the remote and the receiver.
Thinking about security?
Home security is a top priority for many households, especially when it comes to protecting valuable assets like vehicles and other items stored in garages. While up and over doors are generally secure, with 4-point locking available on many models, some garage doors are specifically designed with enhanced security features.
The Garador Guardian range of garage doors, for example, prioritises security and comes with reinforced steel bracing on the inside, steel plates at critical attack points, and 4-point locking as standard. Independently tested and approved to Level 1 by the LPCB, this door is also recognised as a "Secured by Design" approved product, providing homeowners with peace of mind when it comes to home security.
What is Secured By Design?
Secured by Design is an initiative launched in 1989 by the UK Police Force to improve the security of buildings and their immediate surroundings. The initiative aims to reduce crime through effective design and technology, using products and materials that are tested and certified to meet high security standards. Products that are approved by Secured by Design have undergone rigorous testing and meet specific security requirements, providing homeowners with greater confidence in the safety and security of their homes. We offer a wide range of security focused products such as high security garage doors and are proud to display the Secured by Design certification, ensuing customers have peace of mind when purchasing a door from us.
Matching your doors
For homeowners looking to match their garage door with their entrance door, Hormann offers a range of matching doors in both single skin or double skinned steel or timber. These doors are designed to complement each other aesthetically and come in a range of practical standard and purpose-made sizes.
Additionally, Garador provides a range of single skin steel side doors that can match their up and over doors. With these options, homeowners can create a cohesive look for their home, ensuring that the garage door and entrance door work together to enhance the overall appearance of the property.
Up and Over Garage Doors for Home Owners and the Trade
Homeowners and professionals can benefit from our wide selection of products to perfectly match what they are looking for. To discuss your specific requirements, schedule surveys, and obtain pricing information, please don't hesitate to call us at 01933 229 135. Our friendly team will be happy to assist you in selecting the best garage door for your needs.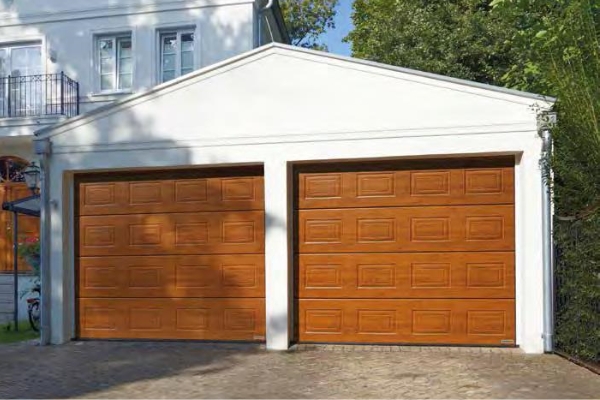 Homeowner?
Call one of our experts today for advice
01933 229 135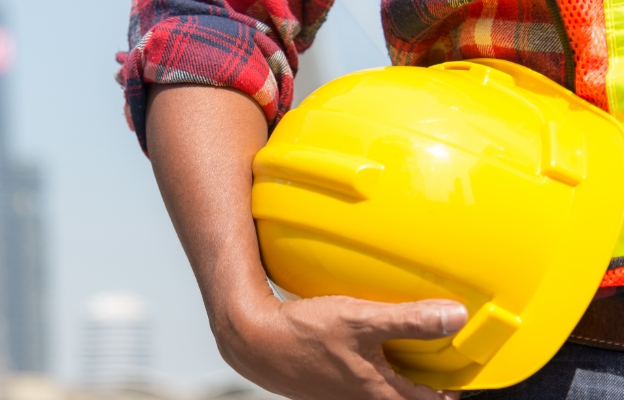 Professional?
Bulk order deals with a trade account
01933 448 855