When you're in need of a garage door accredited by 'Secured by Design,' rest assured that The Garage Door Centre can now offer a diverse range of appealing options to fulfill your requirements.
What does Secured by Design mean?

Secured by Design (SBD) is the official security initiative endorsed by the police, aiming to enhance the safety of buildings and their immediate environments, creating secure spaces for residential, commercial, and recreational use.

The Police Preferred Specification, an accreditation program offered by SBD, establishes a widely accepted benchmark for security products designed to discourage and minimize criminal activities.

At present, numerous companies are manufacturing a wide array of anti-attack and crime prevention products, spanning 30 distinct crime prevention categories, all of which have attained recognition under the Police Preferred Specification.
The Garage Door Centre Range
We now have an up and over door, roller shutter door and sectional garage door all with the Secured by Design specification to offer!
For further information on the Secured by Design initiative, you can refer to their website: www.securedbydesign.com

Garador, a manufacturer of high quality steel doors of many years, dedicate a range purely consisting of garage doors that have been tested and approved by Secured by Design.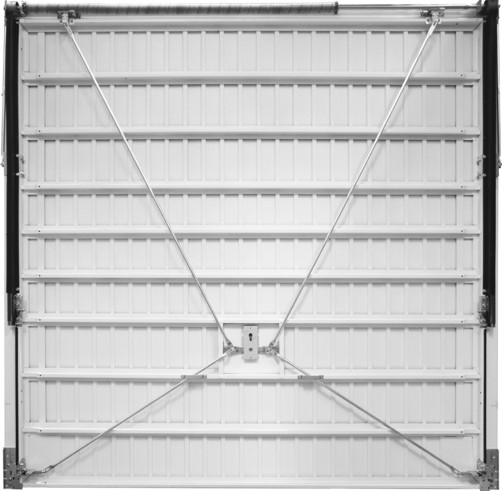 The Guardian range offers a range of steel up and over doors that have been tested and approved with the prestigious 'Secured by Design' accreditation. This accreditation is gained by having a specific specification tested and approved by an independent body to give a rating. The Guardian Secured by Design Level 1 door is an upgraded version of their existing steel door. This door was already recognised as one of the strongest door builds for a one piece up and over, with the following specification built as standard:
Lock Body protection - A reinforcing plate is added to the rear of the garage door panel behind the lock body to prevent attack and access to the internal workings and locking rod anchor point.

Anti Snap Cylinder - The standard cylinder is changed for a new 'anti-snap' version which also incoroporates a sacrificial front.
The new cylinder is designed to prevent entry even after an attack.

High Security Bracing - Braces on the rear of the door panel are increased from 2 to 8 for extra protection against leverage and forcing.
The number of spot welds has been increased by more than 70 further securing the door skin.

4 Point Locking - the door has four steel locking rods and four points of securing at each corner. Such measures ensure maximum resistance to attack with crowbars and other items of force.

Improved Lock Security - Additional steel plates have been added to protect each locking point in the corners. These plates ensure the latches remain in tact even after extreme attack.

Steel Sub Frame - Automatically supplied with a steel fixing sub frame for maximum security, far stronger and resistant than a timber sub frame would ever be.
The Guardian range of steel up and over doors are offered in the Horizontal and Vertical designs. Each door can be have either canopy or retractable operating gear up to sizes 9'0" (2743mm) wide and 7'0" (2134mm) high. Ordering sizes with the steel frame size to add in each order size.
The doors are White powdercoat finished as standard, but are also offered in six standard colour options at a small extra charge, including the steel fixing sub frame.

Retractable PLUS gear is also offered on doors up to 7'6" wide. This increases the drive through width if required by lifting the side arm geometry, giving full width where the wing mirrors on an average car would be.
These doors can only be certificated as manually operated doors. It is possible to add an operator, however the door would not be certified if you chose to do so. In this case, you would still have a very strong steel up and over garage door. If you added the security de latch device, it would be still locked in four points whilst the electric operator holds it secure as additional security.
Call now for full details on this garage door and the latest sizes and prices on (01933) 229135.
Give us some dimensions of your garage and we will happily provide you with some prices. If you like the prices, we can arrange for a survey to ensure you get the right size and specification. Once confirmed, you can order and have your door delivered or installed professionally.


The superb SeceuroGlide Excel aluminium electric roller garage door was the first in the UK to obtain the prestigious 'Secured by Design' status. This was achieved after many years of hard work improving the already fantastic SeceuroGlide Classic, where it then passed the test by the LPCB.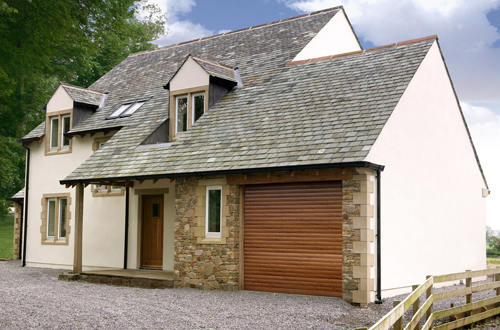 The Excel is a fully remote control, electric, double-skinned, insulated, aluminium roller garage door available in a very wide range of colours and finishes. The roller door is made to order to ensure a perfect fit, and when subject to installation by a trained engineer, offers a Level 1 status from the LPCB. The original roller door before certification was already, and still is one of the most secure roller garage doors of this aluminium type in the UK, offering all the very latest in technology.
Technical Innovation
The SeceuroGlide Excel is fitted with an innovative patented locking mechanism that automatically secures the door every time is closes. When the door is closed, the aluminium slats lock firmly, stopping attempts to break through or lift the door. To prevent the curtain from being forced out of the guide rails, the Excel also features unique enhanced bottom slat anchors.
In addition to this, steel end pates and the curtain webbing assembly system also contribute to the security rating. For additional security, the SeceuroGlide has steel teeth at a high level to further secure down the curtain when closed, making sure there is no leverage for any attempt at forced entry.
Real Security
This roller door offers true security against the most determined, would-be intruder, and also offers high levels of insulation and style. You can now also have a GSM or Wi-Fi enabled connection to this door and operate from your mobile phone. The SeceuroGlide Excel offers security without compromise. A product for the security conscious home-owner, the SeceuroGlide Excel adds the highest available security specification to the benefits of the original SeceuroGlide to create one of the most advanced and secure roller garage doors on the UK market.