Garage Door Lighting
We have various solutions available that you can have specified with, or attached to, your garage door to keep your garage light and safe.
As long as electric garage doors have been sold and used in the UK, the electric operator which moves the door, regardless of door type, always tended to include a light. This would illuminate each time the remote control button was pressed to operate the door. The light would normally be on a timer for about 2-5 minutes, the whole purpose to provide some light inside your garage when entering. Lights are also used as a warning system. It is normal in Italy and other European countries to see a flashing light for any electrically operated gate, barrier or door system to indicate movement - so keep away.
As time and technology has developed, we now find ourselves with an enormous choice of newer, high powered LED lights and the option to control in many different ways inside and outside your garage. Not only does the light give an indication of the door moving for safety purposes, but is now extensively used for convenience and security. Garage door lights can be a part of your outside lighting scheme to provide either mood lighting, or to help illuminate the outside in winter months.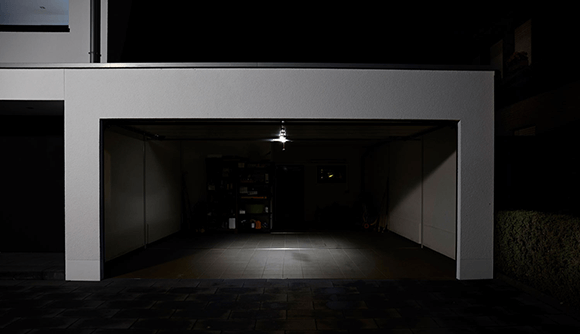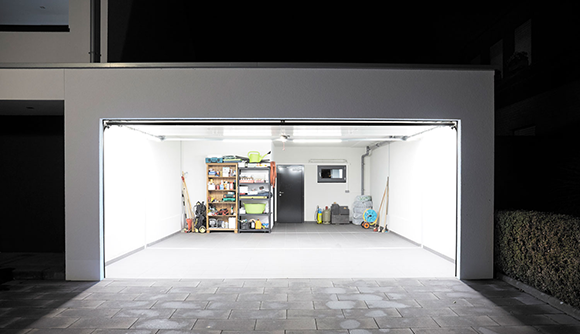 High quality LED lighting can now be specified in components of some doors, into the soffit above the door, inside with LED lighting strips mounted to the door mechanism and even in the windows of some doors! The lighting can be simply controlled by the same control board for the electric motor drive or as a separate control system. Smartphone apps can also be used to separate the door and different lighting circuits. These can be operated with timers, calendars and 'scenarios' created by you and unique to your home life movements.
The LED lighting now used in most doors is of a very high quality for excellent power output in lumens, but also a long lifespan too.

As a garage can be a totally separate part to the average home and often detached and away form the home, it does make sense to incorporate the door with the lighting and the same controls used in most cases.
Lighting Options
Take a look at the three lighting options below to gain an idea of what we have on offer to enhance the lighting in and around your new garage door! Don't hesitate to enquire which options are best and available to you with our team on 01933 229135.
---
Soffit Lighting
We are able to offer a modern & sleek light bar that can be mounted underneath the soffit and above the door for selected roller garage doors.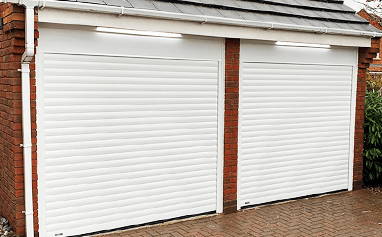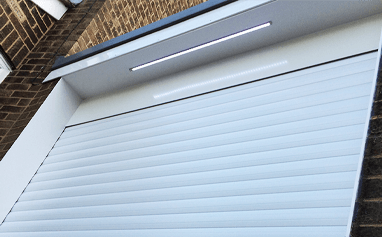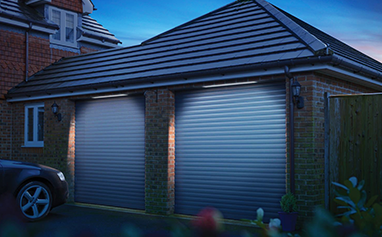 Varying slightly between manufacturers, these down lights truly enhance your property in stylish fashion, whilst conveniently offering light as you return home and drive into your garage.
These can be set to light up when movement is detected, create an element of additional security and even remain 'on' for additional outside lighting.
---
LED Lighting Strips
A fantastic addition to your garage door is our LED lighting strips, designed to attach to your garage door's tracking.
These strips allow you to not only add light to your garage, but also really brighten it up! Garages can often be a relatively low-lit and dull room in your home, however this solution allows you add lots of bright, appealing light!
Plus, these lighting strips save space too - the strips simply magentically attach to the tracking, rather than taking up space elsewhere in the garage.
The image to the right demonstrates the appearance of the strips before they are placed on the tracking.
- 6m of magnetic lighting strips
- 6000 lumens!
- Low power consumption, drawing only 72 watts
- Motion sensor activiation for convenience and security
- Remote control infrared handset
- Compatible with all Carteck sectional garage doors
LED It Shine...
Take a look at the video below which demonstrates the benefits of the Carteck LED strip lights.
---
Courtesy & Operator Lights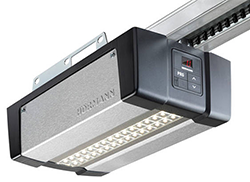 All of our electric garage doors are fitted with a courtesy light as standard to provide light when the garage door is opening. This aids in helping to create a safe environment when the door is in operation with lots of moving parts as you drive into your garage.
We also have additional lighting available as an optional extra for your operator head or control box if a more, brighter light is required. As another optional extra, motion sensors can also be incorporated for your convenience.
If you're looking to invest in a Hormann garage door, we are able to use the Supramatic operator to control other lighting systems inside the garage, in conjunction with the operator light itself - this comes as standard!
The Supramatic (right), boasts up to 3-5x brighter LED lighting in comparison to alternative Hormann operator models, so be sure to consider which operator you select if lighting is an important factor for your garage.